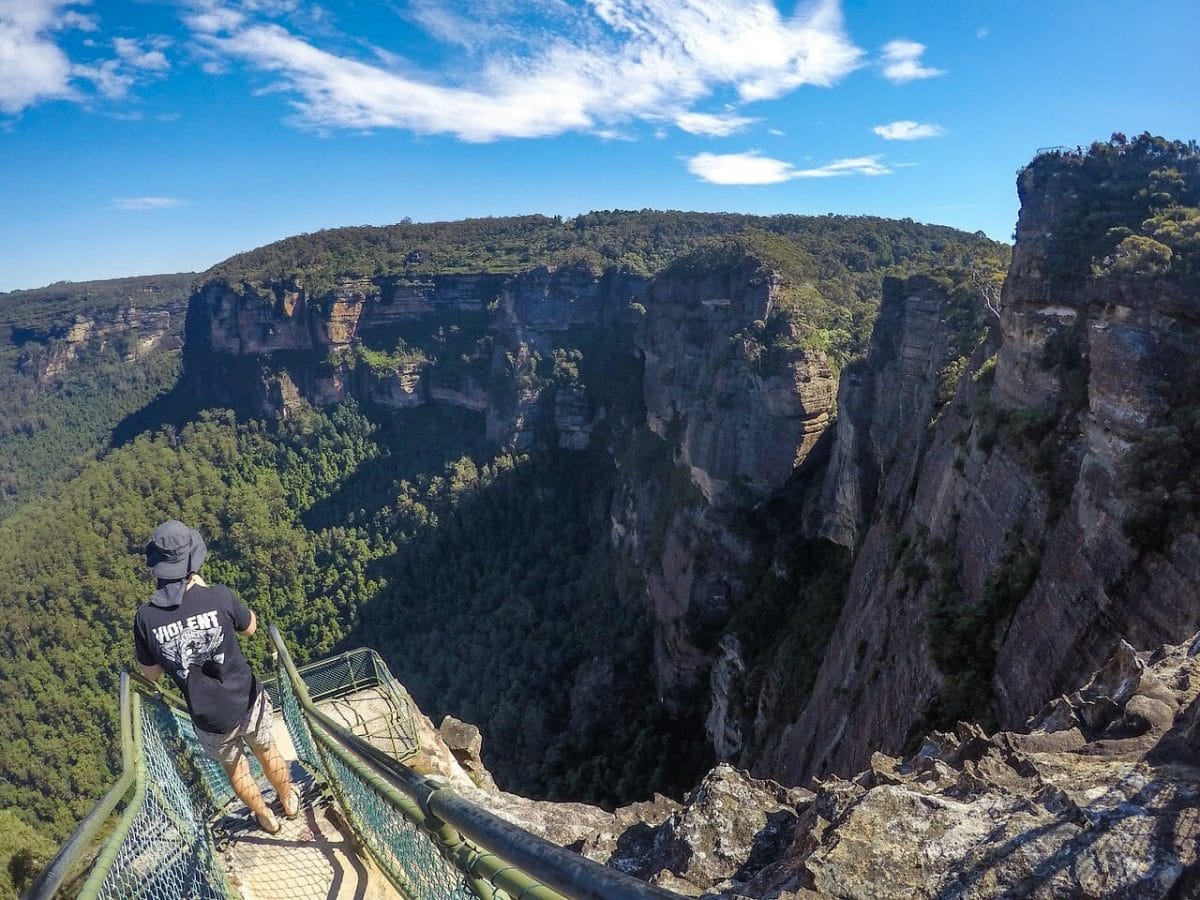 Easter long weekend in the Blue Mountains
After spending the last few months working in Melbourne, Cal finally moved back to our apartment in Wollongong last weekend and started his new job in south Sydney. The commute is brutal, but we are both excited to be in the same state again.
As luck would have it, Cal's first week at work backs up on the Easter long weekend, so we decide to go camping and enjoy some of the sunny weather before it's all gone (boo winter). After a very poor attempt to get on the road early, we finally finish packing and shopping around 10am and set out for The Blue Mountains, swag on board.
Unfortunately, about 5 million other people have had this same idea, so the 2 hour drive quickly transforms into 3, and we don't make it to our first stop until well past midday. We are both questioning our choice of destination, particularly as we struggle to find a carpark literally anywhere, but that's the price you pay for trying to go away on a public holiday that also falls in the middle of 2 weeks of school holidays for the kiddies and 1 week of break for uni students (I don't actually get this week break, though, because postgrads aren't allowed to relax).

Wentworth Falls
After many struggles, we eventually park and get out of the car to explore Wentworth Falls. There's a great view of the Falls not too far down the trail, but we continue to the actual waterfall for sweeping views out into the mountains. We are no longer regretting our choice of destination.
It's actually perfect weather, a very mild 20C, so I'm wishing that we could stay and do the 4hr loop hike out to further viewpoints, but it's a bit late in the day and we don't even know where we are camping yet. Plus, there are heaps of other things I want to stop and see, so the 1hr trail will have to suffice (for this visit, at least).
The Three Sisters
We drive another 30min to Katoomba and are met by what appears to be the entire population of Australia and about twice as many international travellers, all visiting the Leura-Katoomba area for the Easter holiday. I recognise Leura from the trip I took to The Blue Mountains with my grandmother in 2013 (she visited me in Wollongong in between playing bridge on cruises), but I certainly do not remember it being this much of a zoo..
We can't actually find a park within 50km of the Echo Point visitor centre, so I get dropped off to ask about free bush camping in the area (but actually spend 90% of my time sprinting down the walkway to take sneaky photos of The Three Sisters while Cal waits for me impatiently in the car).
The Three Sisters is definitely the most iconic rock formation in the Blue Mountains, and probably also Top 3 in all of Australia (behind Uluru and The Twelve Apostles). According to Aboriginal legend, three brothers fell in love with three sisters from the Katoomba tribe. As weddings between different tribes were forbidden, the brothers kidnapped the sisters, which obviously didn't go over well with the rest of the Katoomba tribe. To protect the three sisters from any harm, a witch doctor turned them to stone, intending to turn them back into women as soon as the fighting stopped. Unfortunately, the witch doctor was killed in the squabble and the three sisters remained stone forever. A sad story, but a spectacular view.

Blackheath & Govetts Leap Lookout
I really wanted to take Cal to Scenic World, the incredibly touristy nature park in Katoomba, and home to the world's steepest railway (who knew). I actually found it surprisingly fun when I went a few years ago, but it's totally out of the question after seeing the sheer volume of people in the Blue Mountains this weekend. Instead, we drive about 20min up to Blackheath, find a picnic ground, and cook up chicken and haloumi for lunch on our gas cooker.
Bellies full, we visit Govetts Leap Lookout before driving towards the Megalong Valley in search of camping, which we find at Old Ford Reserve Campground, about 15km down Megalong Valley Road. It's fairly full, but we are able to claim a nice spot near the river to park and set up the swag. Cal is immediately off in search of wood to start a fire, but I refuse to help because I know that woodpiles are basically just one big spider party and I want no part of that.
After we get a small fire brewing, we grill up some delicious chicken burgers with goat's cheese and guacamole and lay back in our camp chairs to relax. Before long, we transition this relaxing into the swag and fall asleep to the loud electronic music coming from the neighbouring campsite.

Mt. Victoria & Pulpit Rock Lookout
We have another delicious grilled breakfast in the morning and then set off for Mt. Victoria, a small town near Blackheath. We stop at Pulpit Rock Lookout on our way, which ends up being the highlight of our whole trip to the Blue Mountains. It's a network of stairs and boardwalks and viewing platforms, and there are less than half a dozen other people there. Compare that with Echo Point Lookout yesterday over the Three Sisters, which had about 20 million people all jostling for the same view..
We take one last walk to a lookout over Grose Valley before heading back to Blackheath for ice creams and then onwards towards home. Despite the traffic and excessive crowds, it's been a marvellous Easter weekend in the majestic Blue Mountains.