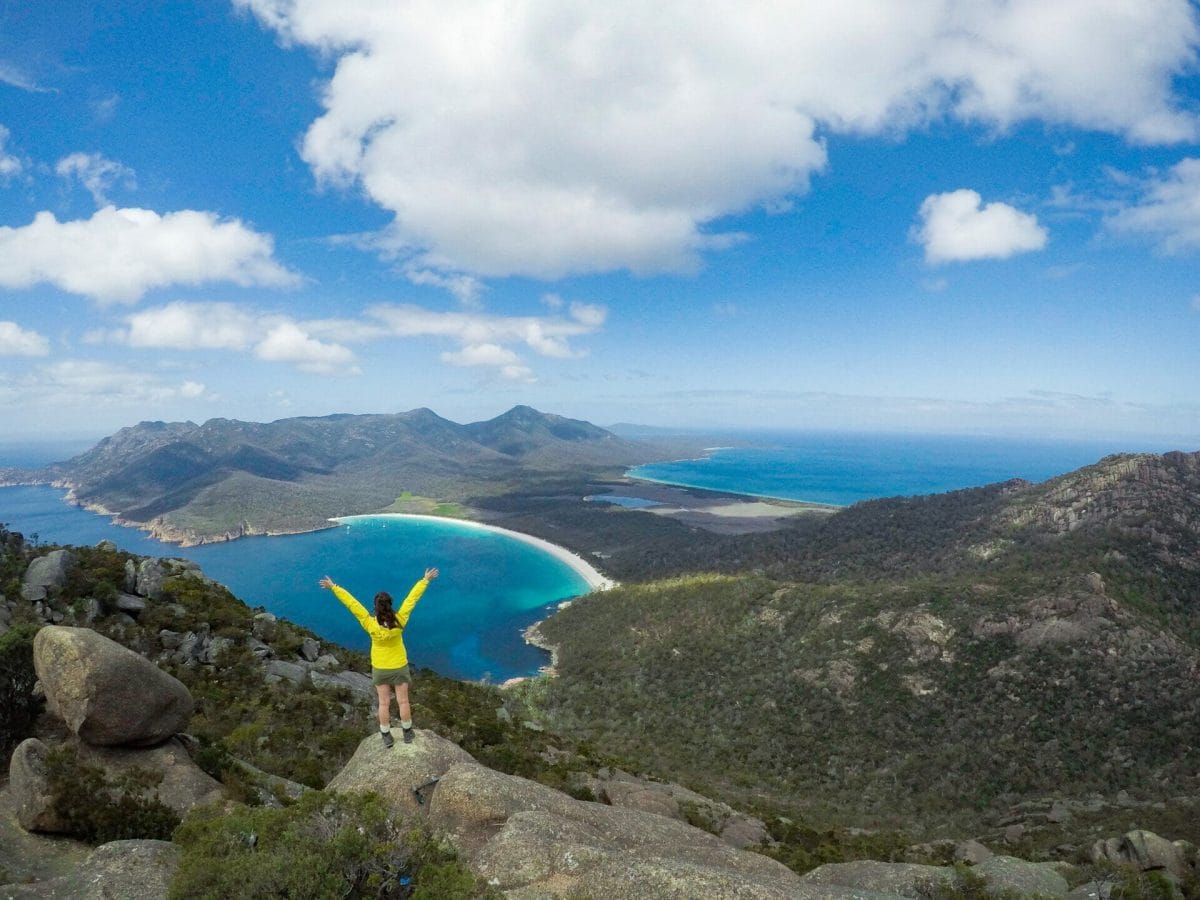 Summiting Mt Amos for the absolute best view of Wineglass Bay
One of Tasmania's most instantly recognisable beaches, Wineglass Bay draws thousands of Australians and international tourists alike to the shores of Freycinet National Park each year. And there is truly no better way to experience the blindingly white crescent of sand and vibrant turquoise waves of this coastal paradise than from the summit of Mt Amos, towering, as part of the Hazards Range, over the picture-perfect beaches below. For unparalleled views (and a fairly demanding workout), scramble up enormous slabs of pink granite and navigate narrow cracks all the way to the top. The views are guaranteed to erase all memory of the perilous ascent.
All the details: Mt Amos summit
Getting there
Mt Amos is located about 5km from Coles Bay on the Freycinet Peninsula, a 2.5hr drive from Hobart
Starting point
Wineglass Bay Walk carpark (just inside Freycinet National Park— you will need a Parks Pass, which can be purchased from onsite ticket machines)
Total distance
4km return
Walking time
2hrs, including a few photo stops on the way up
Difficulty
Challenging; you will gain 400 vertical metres in under an hour, almost entirely from scrambling over uneven rocks and steep granite slabs
Safety
One trekking pole is extremely helpful on sections of this steep hike, but it can also get in the way during some of the more involved scrambling, so make of that what you will; sturdy walking shoes or hiking boots are essential; a jacket is also crucial, as the wind can get wild on the summit
Amenities
There are nice toilets at the trailhead, as well as access to drinking water
My rating
5 STARS for incomparable views over Wineglass Bay, plus a challenging scramble that keeps the walk exciting all the way to the thrilling summit
The trail
We set off from the Wineglass Bay Walk carpark just after 5pm to make our first ascent of Mt Amos (which, at the time, was also intended to be our only ascent, but we just couldn't stay away). There is some residual wildfire smoke lingering in the air and heavy clouds are beginning to move in directly overtop, but we are still optimistic that the views from the summit will be worthwhile.
According to the TasParks website, this is a 3hr return trip, so we do need to move with reasonable purpose to make it up and back before dark. After forking off of the Wineglass Bay Lookout walk towards Mt Amos, the first 10 minutes of our hike is along a flat, natural trail, followed by another 10 minutes on a steeper, but still manageable, rocky track. Just as we are beginning to think that all the warnings about Mt Amos have been greatly exaggerated, we approach a sign indicating that the trail ahead is extremely difficult and to proceed with caution. Finally, things are starting to heat up, and they don't calm down until 2 hours later (when we are blasting the aircon in the car).
The climb
True to the ominous track warning, our gentle trail soon gives way to complete and total scrambling, which continues for the remaining 40 minutes to the summit. Between scaling 50* granite rock faces and climbing up narrow cracks in the mountain, Cal and I are dripping with sweat almost immediately, but we also love the challenge of hopping from rock to rock or running up slabs of granite as we smile through heavy panting.
The summit
The sun has been slowly creeping down during our climb, covering the coastline in a beautiful golden glow that has made for some wonderful photos back onto Coles Bay. By the time we are within a few metres of the summit, though, a thick layer of clouds have caught on top of the mountain and we have to finish the last steps of our ascent in nearly blinding fog, which obviously does not bode well for our view over Wineglass Bay. Indeed, when we arrive at the top and peak over the side, there's nothing but white cloud as far as the eye can see. We linger for close to an hour, enough time to catch some very enticing glimpses of the Bay, but just not enough to satisfy me, which means that we have no choice but to make a second go of it in the morning— I've invested too much to go home without this view!
Thankfully, our second climb is easier than the first, partly because we know what to expect and partly because there is a fresh breeze blowing the whole way up that keeps us a bit cooler than yesterday's humidity. Aside from the group of Asian men who are taking fully nude photos on the summit, the view from the top is everything we had hoped for— panoramic views of Tasmania's iconic Wineglass Bay, an aquamarine semicircle of water flanked by a brilliantly white crescent of sand. Perhaps we really are "gluttons for punishment", as one passing hikers puts it upon learning that this is our second climb in two days, but I still think it was totally worth it for the view.
The descent
If the ascent was physically demanding for our lungs, the descent is just as challenging on our legs, but actually more mentally exhausting than anything (the constant risk of falling straight off the granite makes me a bit edgy). All the steep sections that required careful navigation on the way up seem twice as steep as we make our way down towards the car, so there is a palpable feeling of relief when we make it back to the dirt trail and finally the trailhead.
Overall impressions: Mt Amos summit
Far less popular than the (admittedly much quicker and easier) walk to Wineglass Bay Lookout that begins from the same trailhead, Mt Amos is a thousand times better and worth all the effort you'll expend to get to the summit. Panoramic views of Wineglass Bay and Coles Bay don't get any better than this, unless you're in a helicopter. The TasParks estimate of 3hrs return is a little long, but this is still a very challenging scramble— all part of the fun, if you ask me!
Read more about our adventures in Tasmania
THE OVERLAND TRACK: A COMPREHENSIVE DIY GUIDE TO TASMANIA'S MOST ICONIC MULTI-DAY HIK
TOP 5 MOST BEAUTIFUL SPOTS TO EXPLORE IN TASMANIA'S BAY OF FIRES
WHAT TO DO ON BRUNY ISLAND: THE PERFECT DAY-TRIP ITINERARY
WHAT TO DO IN TASMANIA: 30 AMAZING ADVENTURES ON AUSTRALIA'S ISLAND STATE
8 BEST DAY HIKES AND MULTI-DAY TRACKS IN TASMANIA