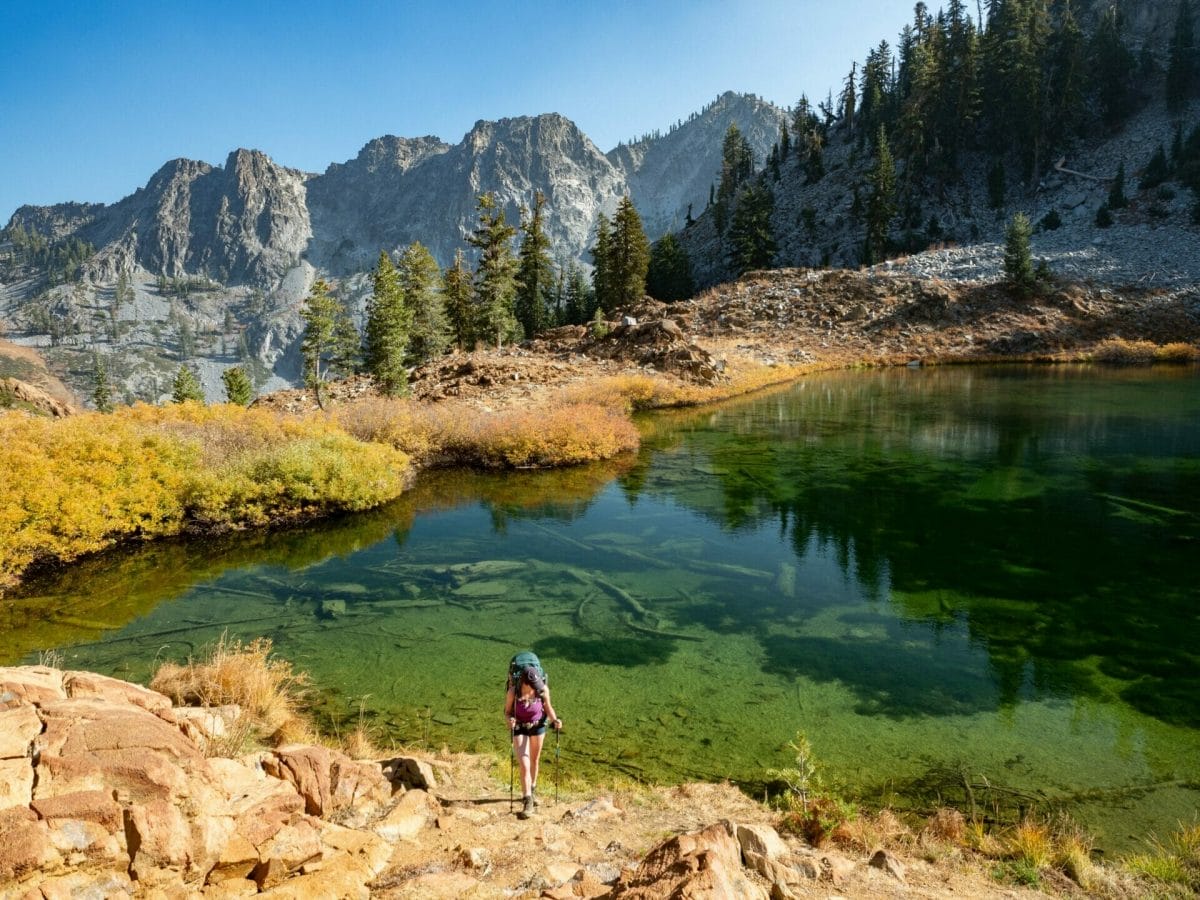 Four Lakes Loop (days 2 & 3): Summit Lake to Long Canyon via Siligo Peak & Luella Lake
Continuing the Four Lakes Loop past another 3 sparkling lakes in the Trinity Alps Wilderness, the next two days on the trail bring more smoke-free, sunny days and only further cement the impression that this is one of California's best hidden gems. From our summit of Siligo Peak to a refreshing dip in Lake Luella, this is truly a wonderful start to my long autumn adventure down south.
Trail stats: Summit Lake to Long Canyon via Siligo Peak & Luella Lake
Distance | 13.5km (day 2) + 8.6km (day 3)
Elevation gain | 719m (day 2) + 10m (day 3)
Trail hours | 7hrs (day 2) + 2hrs (day 3)
Highlights | Summiting Siligo Peak for views of Seven-up Peak and Mt Shasta; sunny lunch at Diamond Lake; incredible afternoon swim at turquoise Luella Lake; incredible fiery colours on the shore of Deer Lake; sunrise in Long Canyon
Awakening to beautiful clear skies and another perfectly sunny California day, we stretch out our departure from camp to enjoy the scenery at Summit Lake, only tearing away reluctantly just before 10am.
Eileen gets a slightly earlier start and bee-lines for Diamond Lake, while dad and I make the short ascent back up to Siligo Pass, dropping packs at the trail junction. From here, it's a short scramble upwards to the summit of Siligo Peak, from which we enjoy breathtaking views in every direction.
The Southern California smoke still hasn't materialised, and we can even see Mt Shasta towering behind Seven-Up Peak. For a short side trip, you couldn't ask for better scenery, nor could the Trinity Alps impress us any more!
We return to our packs just 1hr later, although the several dozen photos made it feel far longer, and then continue downwards along the trail to rendezvous with Eileen at Diamond Lake. We can see her little speck relaxing against a log, basking in the sun, and I long to stretch out and tuck into a big snack. We encounter one other hiker along the way, the first we've spoken to since we set off along the trail, and not long after we are situated lake-side, cheese and crackers in hand. 
After an extended break in the sun, we continue only slightly downwards into a sun-soaked valley, dropping over Luella Pass to Luella Lake. If we thought Summit Lake was beautiful, Luella's convoluted shores lined by autumn foliage and shadowed by the Gibson Peak massif are beyond scenic.
Even more delightful are the thousands of tiny frogs flinging themselves in every direction as we approach the water, some breastroking away and others begging for rescue in the hot rocks (I help a few of these back to the water, worried they'll bake in this heat). 
Here, we can't possibly resist a swim— both dad and I leap in off a well-positioned rock and are shocked to screams by the ice cold water. Dad frantically paddles for shore, but I stay in a couple minutes longer and manage to develop a brain freeze by the time I do haul myself out. The rush of blood back into my limbs creates an artificial sense of warmth, and I feel invigorated and ready for the onwards journey.
Eventually pulling away from the lake, we descend farther into Deer Creek Meadow, its golden expanse ringed by orange mountains and dramatic granite peaks bathed in late afternoon lights. It's beyond beautiful, yet another reminder of how special this region is, despite the fact that it was neither our first choice nor a place we'd ever heard of. 
I'm gasping in delight every few seconds, and it only continues as we climb upwards to Deer Lake. The sun hangs low over Siligo Peak and lights up the entire lake, the Deer Creek Valley glowing in the background and yellow shrubs on the shore burning gold in the afternoon heat.
Yet again, it's a challenge to pull away from the lake, but we do finally manage to peel off and head upwards towards Deer Creek Pass. The views behind us are positively staggering, but we also become distracted by the fascinating geological phenomena in every direction and stop to point out countless peridotite inclusions into the granite and enormous crystals in the diurite. 
By the time we catch up to Eileen at Deer Creek Pass, it's late afternoon and we make a plan to get as far back down Long Canyon as we can, shaving off time from tomorrow's return journey. Entertained by constant views and mountains stories, we arrive at a site too good to pass up around 5.30pm.
Just beneath the vibrant orange of Gibson Peak, with slightly smoky Long Canyon stretching below us, we set up camp and watch the sun set on another fantastic day in the Trinity Alps. The following morning, we have an easy 2hr downhill return to the car, eager to get back on the road and onto the next adventure.
Map: Four Lakes Loop
READ MORE ABOUT CALIFORNIA
FOUR LAKES LOOP (DAY 1): LONG CANYON TO SUMMIT LAKE
MORE COMING SOON