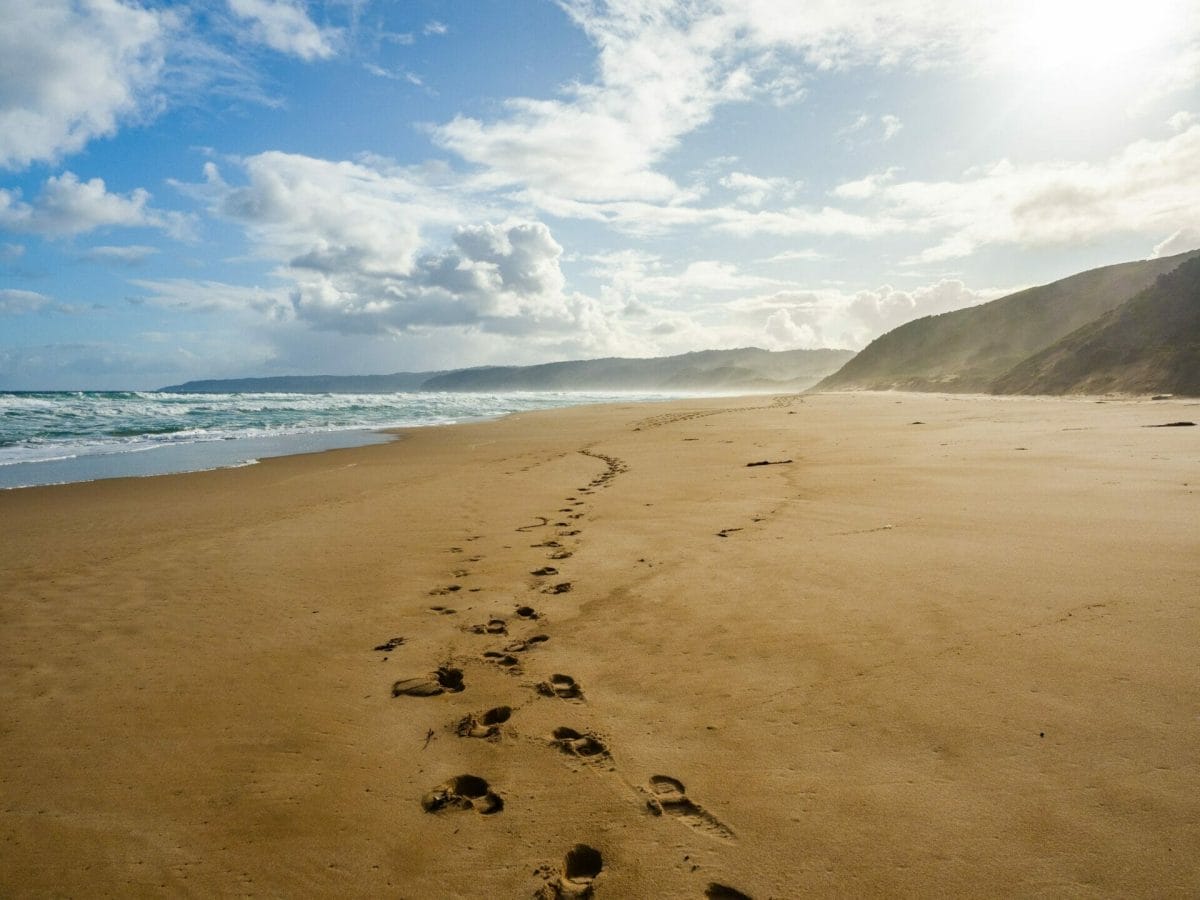 Great Ocean Walk (day 3): Cape Otway to Johanna Beach via Aire River
Passing the Great Ocean Walk's halfway point today as I journey nearly 24km from Cape Otway out to Aire River and along popular Johanna Beach, I am well and truly into the swing of things. Being accustomed to the heavy rain and spontaneous sun-breaks that have characterised the trip thus far just means that I relish every clear moment along the coast, and there are some seriously wonderful ones today!
Trail stats: Cape Otway to Johanna Beach via Aire River
Distance: 23.4km
Trail hours: 6hrs
Highlights: Wild coastal views between at Castle Cove; fairytale manna gum and grass tree forests; severals kms of walking across Johanna Beach; camping with an incredible view of the coastline
Campsite: Johanna Beach GOW Hiker Camp
Read more: APOLLO BAY TO TWELVE APOSTLES: A COMPLETE GUIDE TO SOLO HIKING THE GREAT OCEAN WALK
Fully dried out and very pleased with myself at having pitched my tent under the shelter at the Cape Otway campsite last night, I roll out quickly and efficiently this morning to hit the trail for another long day. By estimates given online, these two stages from Cape Otway to Aire River and onwards to Johanna Beach should take around 8.5hrs. Although I'm confident I can do it in less, I am still conscious of the impending 5pm sunset and the need to get to camp with plenty of time to pitch my tent before it gets dark.
The first part of the morning is incredibly wet and very cold, but otherwise uneventful. I arrive to Aire River in just 2hrs, taking refuge under the campsite shelter while I attempt (unsuccessfully) to pour the water out of my boots and wring my socks dry. Eventually I give up and accept that I'll just be walking in water inside of my boots for the rest of the day (and as soon as I warm up a little, I actually don't hate it).
My fingers are also numb from the constant rain, so it is with some difficulty that I unwrap my Clif Bar for today's lunch. This is probably a valuable lesson on the importance of packing appropriate waterproof gloves for a winter hike, and I make mental note to add them to my standard gear list.
While I'm nursing cold fingers and nibbling at my lunch, I actually see the first group of hikers I've yet encountered. They're a group of 4 doing a middle section of the walk, setting off from their camp at Aire Beach towards Johanna Beach at the same time as I'm heading out on the second half of today's walk.
We leap-frog along the trail for the next several hours, me passing them as they stop for a rest and them passing me again as I rummage around for my camera. It's nice to have a little bit of trail chatter, but I still spend most of the afternoon moving at my own pace and lost in my own thoughts. Just as I like it.
By early afternoon, that wild Victorian coastline is back, making countless appearances as I skirt the waves on clifftop paths and beachside trails. Breaks in the clouds reveal golden sand and perfectly turquoise water at Castle Cove, inviting if not for the hulking whitecaps. As always, the rain knows exactly when to subside so that I can enjoy the best views.
Even the forest along this section of the walk is beautiful, winding on narrow boardwalks (an attempt to slow the spread of Cinnamon Fungus, which is contributing to plant rot in the area) through a tangle of spindly manna gums and overflowing grass trees.
The light filtering in through the leaves transforms the whole scene into something out of a fairytale; think Brothers Grimm. I turn each corner half expecting to find a witch, or at the very least, some barefoot girl foraging for berries. I'm certainly tempted to play the part myself.
In no time, I've descended all the way down the headland onto the most perfect crescent beach yet, and I know I must be at Johanna. This is one of Australia's best loved beaches, renowned for its impressive surf (and therefore not the place you want to hop in for a casual swim, although I would otherwise be very keen).
The walk is slow-going across the loose sand, but I'm grinning ear to ear as the sun burns high overhead. No matter the challenges of this morning, the day has yet again come good when it counts.
After traversing a few kms across the sand and around rock platforms, I finally come to the Johanna River, flowing quickly from between the dunes out into the sea. I parade up and down the bank several times in search of a narrowing, or at least a shallow section I might be able to walk across. When no such section appears, I eventually strip my boots off and blaze my own way right through the flow. It's freezing, but surprisingly refreshing on tired feet.
I never do put my boots back on, opting to walk the remaining distance across the sand and up to the campsite with bare feet. On the beach, this is unbelievably pleasant; as storm clouds gather and trail markers lead me up a gravel road, less so.
Boots hung from my shoulder by the laces, legs dripping from the rain, and feet caked in mud, I arrive to the Johanna Beach campsite (which is actually on a bluff some 600m above Johanna Beach) looking like the hot mess I truly am. But smack me if I'm not having the time of my life.
Read more about the Great Ocean Walk
GREAT OCEAN WALK (DAY 1): APOLLO BAY TO ELLIOT RIDGE
GREAT OCEAN WALK (DAY 2): ELLIOT RIDGE TO CAPE OTWAY VIA BLANKET BAY
GREAT OCEAN WALK (DAY 4): JOHANNA BEACH TO DEVIL'S KITCHEN VIA RYAN'S DEN
GREAT OCEAN WALK (DAY 5): DEVIL'S KITCHEN TO TWELVE APOSTLES