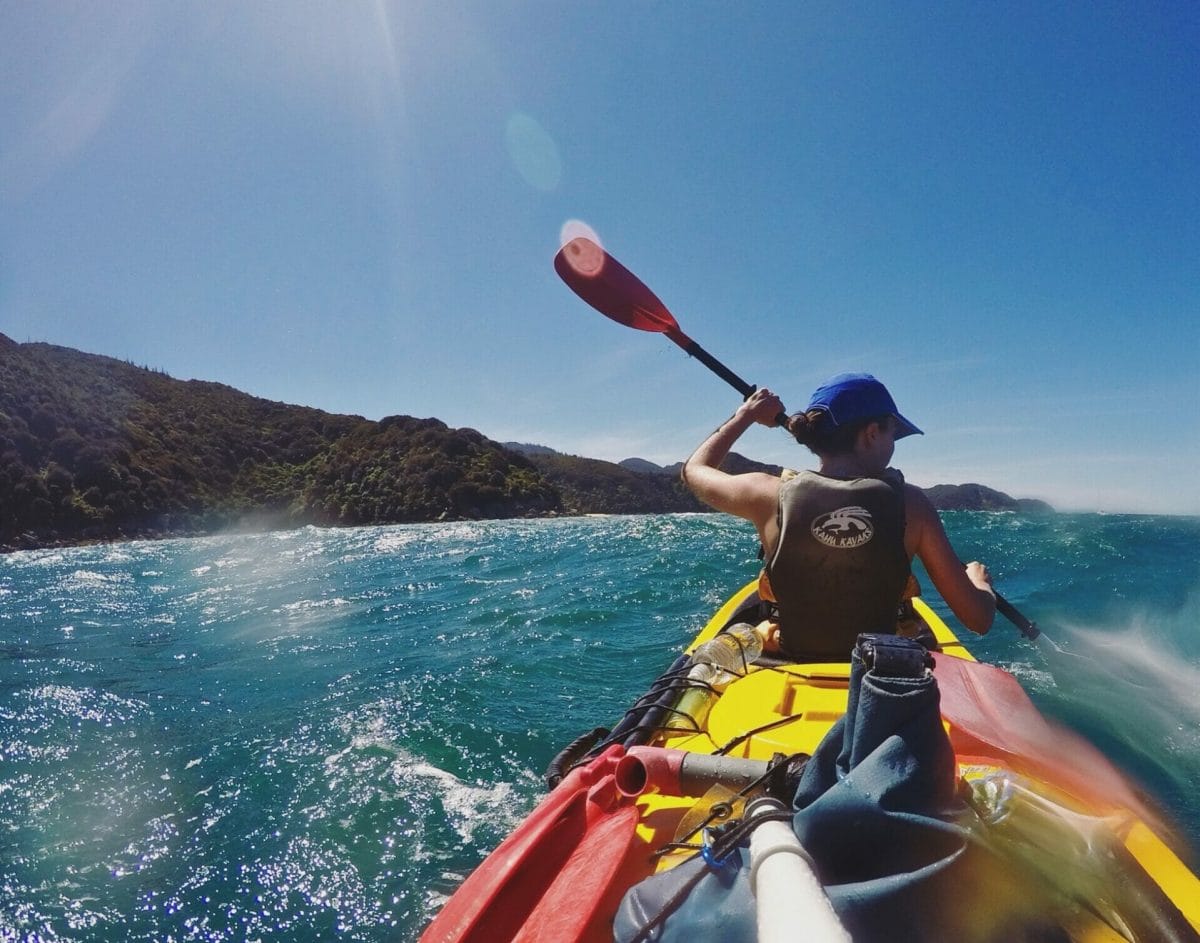 Kayaking the Abel Tasman Coast Track
After a very unfortunate fiasco with the ferry tickets from North to South Island, wherein I mistook the 9am departure as 215pm and had us trotting around Wellington in search of food while our boat was boarding and leaving, we finally to make it to Picton on an 8pm sailing thanks to a very nice ticket lady who obviously took pity on me while I fought back tears at the ferry desk.
I'm in high spirits, considering how close we just came to losing $300 on ferry tickets, and also quite pleased to be sailing out the same day. The bad news is that we will miss camping our first night of the coastal walk at Apple Tree Bay, but the good news is that we gained several extra hours in Wellington to organise our kayak hire. Just in the nick of time, since most companies were fully booked, we snatched up one of the last double kayaks from Kahu Kayak and even managed to enjoy a few hours on the beach in Wellington before heading south.
All the details: Abel Tasman Coast Track
Cost: Kayak hire through Kahu Kayaks in Marahau is $115 per person for 2 days, which includes all of the gear (lifejackets, dry bags, etc) and a safety briefing. At whatever end point you designate, Kahu Kayaks will then come and retrieve your kayak, as well as deliver any pre-arranged belongings (like your pack, if you're continuing on foot). Aside from the kayaks and the campsites, the only other expense is a water taxi back to Marahau if you're walking one-way. This runs around $50, and can be booked online for any of several stops (Totaranui Bay, in our case).
Getting there: The Abel Tasman Coast Track spans along the northern coastline of New Zealand's South Island. Hop into the water at Marahau, a 3 hour drive west of the Interislander ferry terminal in Picton.
Where to stay: There are a number of campsites along the Coast Track, several of which are only accessible via the water. You can reserve a spot at one of the campsites online for $15 per person, or make the bookings in person at one of the many i-Sites or DOC Visitors Centres. We personally stayed at Mosquito Bay and Waiharakeke Bay.
Length of track: 60km, usually tackled across 3-4 days from Marahau to Totaranui or Wainui Bay. Have a look at this guide from the DOC for a more detailed breakdown of the length between campsites and the elevation profile.
Difficulty: The walk itself is quite easy, very flat and well marked. The kayaking portion may be challenging if the seas are rough, though, and it's often hard to know just how far you can paddle each day if you aren't experienced.
Top tips: Even though you can do all the campsite booking online, I'd recommend going into one of the i-Sites and getting assistance. The staff are incredibly knowledgable and they can help you map out an itinerary to suit your experience level, which is especially important for the kayaking portion of the Coast Track.
Once in Picton, we have several hours of driving on a zig-zagging highway before we pull into Marahau at 230am and snuggle up in the car for an unsatisfactory sleep that finishes all too soon. By 730am, we are just down the road at Kahu Kayaks checking in, though it's nearly 10am before we actually put our kayak into the water and paddle off. We are covering more than 15km to Mosquito Bay today, a distance that should take about 6 hours "even at a slow pace", according to the kayak people. "This isn't the Olympics; just enjoy yourselves."
Our plan is to make it to Anchorage Bay for lunch, a beautiful stretch of beach about halfway between today's start and finish. We make better time than anticipated, powering through even the more challenging stretches of paddling around headlands, and, in our usual fashion, are found yelling overzealous things like "This IS the Olympics, bitch!" at kayaks we've left far in the distance.
We enjoy a slow lunch and a lot of beach lounging before we even consider getting a move on. This proves to be an unfortunate decision, as we run into a storm almost immediately after getting back in the kayak. It takes us an hour to get out of the bay, struggling against the waves, but once we come out past the headland, we are in open water catching full force northerly wind, forcing the kayak backwards almost as aggressively as we can manage to paddle. By this time, we've been kayaking 5 hours and would likely find lifting an oar off the ground an unrealistic task, but we also know that we will lose all of our progress if we stop paddling for a rest.
A couple kayaking distantly in front of us, and clearly struggling to do so, throws in the towel and gets picked up by a water taxi, a surrender that we waste no time mocking. Moments after the words "poor pussycats can't handle a wittle water" leave my mouth, we are nonchalantly scanning the ocean for more boats that might come to our rescue. After 20 minutes of increasingly frantic scanning, it becomes clear that the water taxis have officially stopped running and we are pitifully on our own. And we're probably going to die out here.
In a stroke of genius, we point our kayak at a somewhat near 5m stretch of sand and just pour our last drops of power into making it to the beach. Once on the beach, we contemplate lighting our flare, but decide that we'd rather die on the beach than humiliate ourselves with an emergency rescue. We have a small breather before noticing how quickly the tide is eating up our small piece of beach. It becomes obvious that the whole thing will disappear in about 10 minutes, leaving us not only stranded without a kayak and food, but probably dead, limply floating through the water, too fatigued to paddle anywhere of use. After several sad attempts that we are glad no one was present to witness, we manage to get the kayak back into the water and paddle 500m to a neighbouring beach that looks large enough to at least partially survive the incoming tide.
Around this same time, a whole fleet of kayaks (which later turns out to be a single family) is aimed at the beach and we all end up stranded together. Cal runs our kayak 100m from the water to avoid the tide, which hardly ends up being enough, and we all sit behind a hill to cook dinner out of the wind. Sucked dry by today's demand, we are famished and cook up a veritable feast, which does later come back to bite us when we run out of food on day 2. (More about that incident later.)
After an hour and a half of eating and mucking about with the map, we realise we are remarkably close to our camp and decide to give it a final go, seeing as the storm has quieted a bit. A few sandbank incidents later, we are back in the water and motoring along remarkably more successfully than before. In about a half hour, we paddle in to Mosquito Bay and collapse on the beach with exhaustion.
The next morning, we pack up our tent very slowly and hesitantly get back into the kayaks. I can hardly grip the paddle, I most certainly cannot support myself to sit upright and "paddle from the core" as advised. No paddling from the core happening here. In fact, there's very little paddling happening at all. Cal eventually tells me to pull my paddle out and have a rest because I'm just splashing him in the face and causing a lot of confusion. Today is a very quick paddle from Mosquito Bay to Onetahuti, but we lap around Tonga Island in hopes of seeing some fur seals. Despite choppy water, we see seals swimming and several dozen lounging about on rocks nearly immediately upon approaching the small island. We are a bit enchanted by them, though they appear wholly unfazed by us. I contemplate taking a small newborn seal home, but suspect that kidnapping an animal from a marine reserve would be slightly frowned upon.
After our jaunt around the island, we paddle another hour through increasing winds to Onetahuti Bay, where we will be leaving our kayak and continuing the journey on foot. Unfortunately, we are about 3 hours early for our packs being dropped off, so we kill time playing cards and puttering about in the sand.
Finally, our packs are dropped off and we hit the trail, bound for camp at Waiharakeke Bay. Initially ecstatic to be using leg power over arm power, we soon realise that we are just generally exhausted and reaching camp proves increasingly difficult. With a narrow window for tide crossing, we try to scurry along quickly, but still manage to reach the crossing a bit late. Determined, we take off our boots and trod through knee-deep salt water for nearly 1000m before reaching dry ground. A blister the size of a a sixth toe has formed on my foot and made it impossible for me to put my shoes back on at all, so I limp barefoot the whole way to camp, where we make a miniature meal out of our remaining food.
From the moment we go to sleep until well into the next day, we are pelted with rain. Our champion of a tent holds up brilliantly, but Cal lost his rain jacket on the North Island and is struggling with the wetness before cleverly fashioning a makeshift jacket out of a garbage bag.
Not long into our hike that morning, we run into a line of people, all from our campsite, waiting for the tide to lower so we can cross a beach. After a quick suss, Cal decides we can easily run across the beach on rocks, so we leave everyone behind and make sprints from rock to rock between sets of waves. Eventually, we are back on the trail and motor on through the our final destination of Totaranui, where we will catch a water taxi back to the start of the hike at Marahau.
Upon reaching Totaranui, we are told that no boats are operating today because of the weather, which sends us into a small panic. Luckily, the weather improves over the next 2 hours and we do eventually escape back to Marahau, bug-bitten, wet, and exhausted.
Read more about New Zealand
15 AWESOME THINGS TO DO IN QUEENSTOWN, NEW ZEALAND (UPDATED 2020)
ADVENTURES ON THE SOUTH ISLAND: 11 OF THE BEST HIKES IN NEW ZEALAND (UPDATED 2020)
BEST OF THE SOUTH ISLAND: 10-DAY NEW ZEALAND ROAD TRIP ITINERARY
THE ULTIMATE SOUTH ISLAND NZ ROAD TRIP: 3-4 WEEK NEW ZEALAND TRAVEL ITINERARY
TOP 13 PLACES TO VISIT IN NEW ZEALAND
THE ULTIMATE NEW ZEALAND TRAVEL GUIDE
15 ESSENTIAL TRAVEL TIPS FOR ROAD TRIPPING AROUND NEW ZEALAND