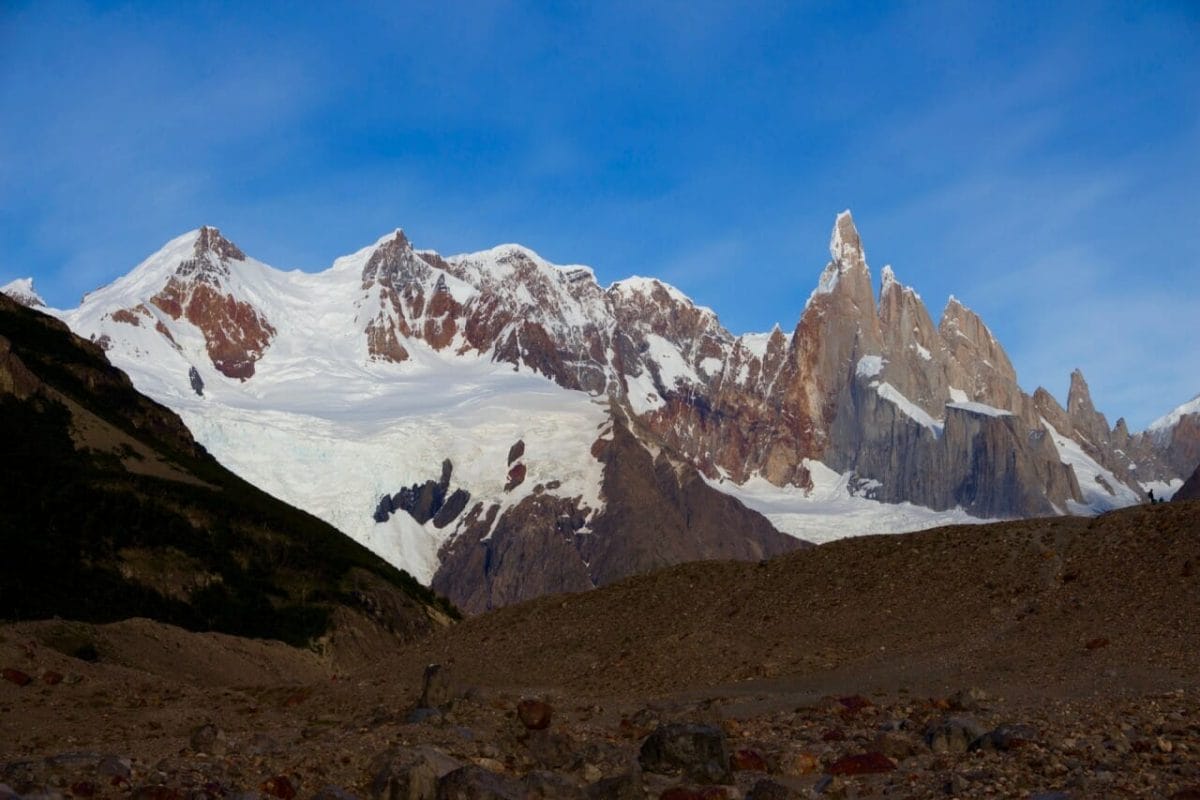 Trekking through Parque Nacional Los Glaciares
After our amazing experience in Torres del Paine, Aristo and I are both very eager to head back out for more trekking–this time, on the Argentinian side of Patagonia. We spend one well-deserved rest day at a nice hostel, taking hours-long hot showers and washing our dirt/sweat stained clothes, before we are off again on another bus.
First we travel to El Calafate and spend a few days preparing ourselves before booking a bus to El Chalten. After the usual routine of wandering hostel to hostel, trying to find an available and reasonably priced room, we end up in a dorm room, which appears to be all but booked out to a group of no less than 40 Israelis, just returned from their conscription and eager to cause as much of a raucous as possible. No where else in the world, probably not even in Israel, will you find as many Israelis as in Patagonia. I can't explain it. We have met some really nice people, but the majority of the 10+ person groups have an attitude like "I'm a trained combat soldier, you will use the bathroom when I say you can use the bathroom". It is tiresome.
We had originally tried to rent camping equipment from El Calafate, foolishly assuming that a larger town would have more selection and lower prices. The result was four hours of aimless wandering and very empty hands. Luckily, as it was our last hope, El Chalten had a couple shops and surprisingly lower prices (though, still shocking– it's Argentina). It literally costs us more to rent gear and camp for two nights at free campsites than it cost to stay in the dorm bed, but at least there aren't a dozen other travellers inside the tent with us.
First, we hike out towards Laguna de los Tres, with plans to camp at Poincenot. Compared to Torres del Paine, the hike is short and sweet, not to mention well-marked. The downside is that our packs are massively heavier, due to a poorer quality of rented camping gear, and seem to have lost the efficient streamlining we worked so hard to perfect in Chile.
Everything is bigger and heavier and causes our packs to hang off our backs like a potato sack. On top of this, I've still got my pegleg going on, as my knee has only declined in recent days and we start to notice my right leg stepping forward while my left leg steps out and around like the breastroke. I don't just look ridiculous, I'm definitely not feeling so hot either. The short 10km to camp feel like a lifetime and I can't finish the extra couple kms to the mirador until morning.
It's impossible not to make comparisons between Los Glaciares and Torres del Paine. In many ways, the Argentinian side is better, boasting nearly empty campgrounds, all free, and well-signed trails. However, I just can't help but miss Chile. The scenary of both parks is incredible, so maybe it's just the atmosphere of all the hikers struggling together to complete the same strenuous W that makes it so fun. The price of gear in Argentina is also about triple or quadruple the price in Chile, which does not help.
Our second morning, we wake up late and trek up a very steep mountainside for about an hour to reach the Laguna de los Tres, which sits right in front of Fitz Roy, the most famous peak in the area. Due to some annoying clouds, the points of the mountain are obscured, but the view is still stunning.
All yesterday, we had increasinly closer views of the snow-covered Monte Fitz Roy and it is even more spectacular up close. Quite a bit of time is spent sitting under a rock (shelter from the wind) staring at the mountain before we turn and trek back down, finally giving up on the clouds clearing to expose the pinnacles.
We have another short day, around 10km, to reach the next camp at Laguna Torre. It is, yet again, filled with glorious mountain views and it's difficult to peel our eyes away long enough to take a step. The old knee is in foul form today and the last few kms of the trek are peppered with yelps and wimpers as we decend downhill on loose rock that is most determined to be anywhere but safely underfoot. We reach another sparcely-populated, riverfront campsite and settle in for the night. Probably contributing to the weight of the packs is the laptop Aristo has packed along, but it makes for a very fun movie-dinner in the tent. We watch The Usual Suspects and I fall asleep thinking that my limp has made me look just like Kevin Spacey when I hike.
We summit a few hills in the morning, craning to get better views of the mountains, before packing up and booking it back to town. We have a morning bus to catch from the station and we've overslept, yet again, so there is definite urgency. Luckily, it's only a short two-hour jaunt back to town. We return the camping gear and treat ourselves to a second breakfast of empanadas from the bakery. Before we know it, we are back on a bus to El Calafate, bidding Monte Fitz Roy goodbye.