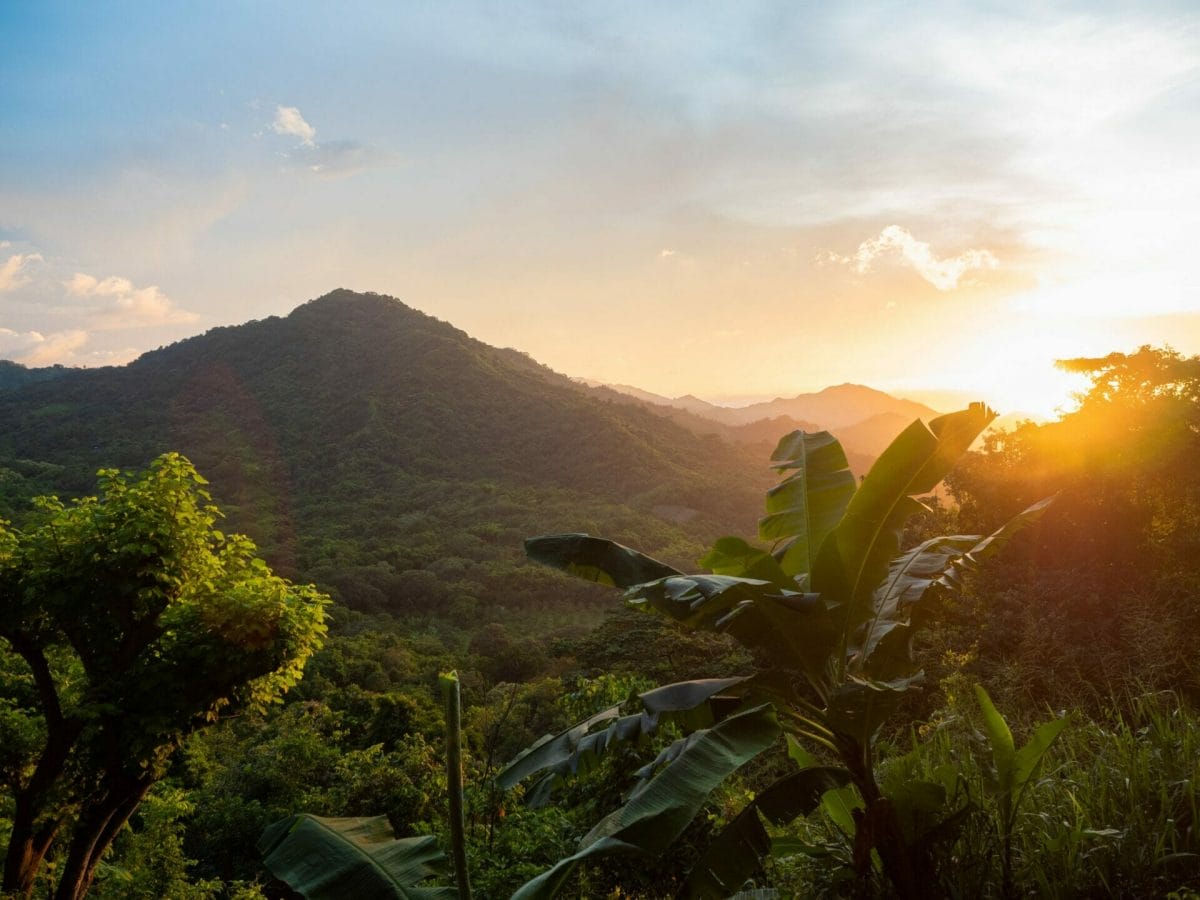 How to get from Medellín to Santa Marta (bus or flight): Colombia transport guide
After exploring Colombia's most innovative city, swap rolling hills and vibrant street art for the crystal-clear water and sticky heat of the Caribbean coast. It's a pretty fair distance from Medellín to Santa Marta, though, which leaves many travellers wondering whether it's better to save a few dollars by taking the bus or save a few hours by flying between these two popular destinations (plot twist: you can fly for pretty much the exact same price, including a checked bag!).
This Colombia transport guide will cover absolutely everything you need to know about travelling from Medellín to Santa Marta via bus or plane, including how to get to the bus terminal or airport in Medellín, how to buy tickets, how to get to your hostel in Santa Marta, and how to get onwards to other destinations like Minca or Tayrona National Park.
Travelling between other popular destinations in Colombia? Check out all of my Colombia transport guides:
What's in this travel guide
Taking the bus from Medellín to Santa Marta
Buses in Colombia are incredibly nice, very inexpensive, and perfectly safe, which makes them the best transport option about 99% of the time. One notable exception, however, might be the 18hr+ bus journey from Medellín and Santa Marta, where a very strong case could be made for flying. For those looking to avoid the airport at all costs, here's how to get from Medellín to Santa Marta by bus.
At a glance: bus from Medellín to Santa Marta
* 195,000COP / $76AUD
* 18hrs travel time (+ 1hr getting to & from bus terminal)
* Book directly at the bus terminal or online with BusBud
Step 1: Get to the bus terminal in Medellín
Public transport to the bus terminal in Medellín
Buses to Santa Marta depart Medellín's busier northern bus terminal (Terminal Norte), which is directly and very conveniently connected to the Caribe Metro Station.
From El Poblado, you can easily walk to the metro (Poblado Station) and purchase a one-way ticket for 2,550COP ($1AUD). You can buy the ticket directly from the counter, and there's no need to say where you're headed— all tickets on the Medellín Metro cost the same! From Poblado, hop on a train towards Niquía and then disembark at Caribe Metro Station, which is attached to Terminal Norte.
Uber to the bus terminal in Medellín
If you want to take an Uber instead, it should only cost around 10,000COP ($4AUD) from El Poblado to Terminal Norte, although that is subject to change based on time of day and how busy the roads are.
Step 2: Buy bus tickets to Santa Marta
Once you get to Terminal Norte, head straight to ticket windows 22-24 or 31 to find buses bound for Santa Marta. The 3 main companies servicing this route from Medellín are Expreso Brasilia, Transportes Rápido Ochoa, and Unitransco S.A.— although I can't speak for every bus, I always had a very good experience travelling with Expreso Brasilia in Colombia, so this would be my first choice.
Between companies, you should have plenty of departure options throughout the day, but I'd specifically recommend the night bus so you can at least sleep through some of that LONG drive to the coast. Expreso Brasilia has buses departing at 8pm or 10pm (which then arrive at 12pm or 2pm the next day in Santa Marta— but expect to arrive at least several hours late).
I didn't have any trouble just rocking up at the bus station and buying tickets whenever I was leaving each city in Colombia, but if you're travelling during the high tourist season (North American/European summer or around the holidays) you might consider pre-booking your bus from Medellín to Santa Marta.
The best way to check bus routes, current timetables, AND buy tickets online in Colombia is the super-handy comparison site BusBud. The Expreso Brasilia site is also very easy to use as long as you can read Spanish!
Cost of bus tickets from Medellín to Santa Marta
And now for the bad news: the Expreso Brasilia bus from Medellín to Santa Marta comes in at a whopping 195,000COP ($76AUD). Other companies charge pretty much the same.
It's probably one of the most expensive bus tickets you can get in Colombia, a country whose overland transport is usually very backpacker friendly, but if you're determined not to fly, it's really your only option!
Essential Spanish for buying a bus ticket
Me gustaría comprar un boleto a Santa Marta, por favor. | I would like to buy a bus ticket to Santa Marta, please.
A qué hora es el próximo bus? | What time is the next bus?
A qué hora el bus llegas en Santa Marta? | What time does the bus arrive in Santa Marta?
Cuánto cuesta este boleto? | How much does this ticket cost?
Es posible pagar con una tarjeta? | Is it possible to pay with a credit card?
El bus tiene un baño? | Does the bus have a toilet?
De donde sale el bus? | Where does the bus depart from?
Before you get on the bus
If you have a bit of time before getting on the bus, stock up on snacks and drinks at the bus terminal (there are heaps of little shops and restaurants, so you will not be short of options).
Just before you get on the bus, staff will sight your ticket, tag your large bag (you get a copy of this tag to reclaim your bag later), and then place it under the bus. This is totally safe, but it's always a good idea to keep your valuables in a carry-on just so they don't get too knocked around on the journey.
Step 3: Travel by bus from Medellín to Santa Marta
Despite bus companies listing the drive from Medellín to Santa Marta as 16-17.5hrs, it's really more like 18-20hrs— and it's not unheard of to spend even more than that on the bus if traffic or road conditions are bad. Do not expect to arrive on time (and that pretty much goes for all buses in Colombia).
Tardiness aside, Colombian buses are incredibly nice, and you can expect comfortable seats and even seat-back TVs (playing Spanish films) with most companies, including Expreso Brasilia. On this route, buses will also typically have a toilet on board, but I wouldn't recommend sitting too close to the toilet unless you enjoy frequent whiffs of urine and the constant bustle of other passengers walking by your seat.
Make sure you pack a jumper or even a blanket in your carry-on for the bus, as the aircon will likely be blasting and it will make the journey unbearable if you aren't prepared— I don't know how many times I had to learn this lesson, but now I DO NOT forget a jumper and scarf when I travel by bus.
Step 4: Get to your hostel in Santa Marta
The Santa Marta bus terminal is just 10min from the city centre, which means you have a very quick last step before you can finally relax. Depending on your hostel (Dreamer Hostel is outside the city and therefore more expensive to reach), you should be able to grab a quick taxi for 7-15,000COP ($3-6AUD).
Dreamer Hostel is the absolute BEST place to stay in Santa Marta, with great aircon rooms (120,000COP or $45AUD for private), a lovely pool area with heaps of hammocks, a lively onsite restaurant & bar, AND cheap colectivos to Tayrona National Park and Minca departing directly from the hostel. Read more in this post: COMING SOON
Flying from Medellín to Santa Marta
This is one of the few routes in Colombia where I'd actually recommend flying over taking the bus. Not only is the 18-20hr bus ride a little intimidating if you're not used to long-hauls, but it's actually CHEAPER to take a 45min flight from Medellín to Santa Marta, even factoring in the cost of a checked bag and an Uber to the airport (if you can share with at least 1 other person).
Some people will say that you're missing all the spectacular scenery between Medellín and Santa Marta by flying, and while that might be the case, the extra 15hrs you'll have to enjoy the scenery from OUTSIDE of a bus in Santa Marta will be worth any missed views, I promise.
At a glance: flight from Medellín to Santa Marta
* 80,000COP (+ 45,000COP check bag + 20,000 boarding pass) / $56AUD total
* 45min flight time (+ 2hrs check-in + 1.5hr getting to & from airport)
* Book online with Viva Air or compare flights using Skyscanner
Step 1: Get to the airport in Medellín
José María Cordova International Airport (MDE) is actually located about 35km out of Medellín, so there's no option to just hop on a quick and convenient Metro train to get there from El Poblado (the main tourist neighbourhood).
Thanks to a newly completed tunnel running through the mountains, though, the previously hour-long drive from Medellín to the airport now only takes around 30min. If you're not overly concerned about an extra $20AUD and you just want to get to the airport quickly and without hassle, Uber is your best bet.
Now, there are ways to get to the airport in Medellín using shared transport, but catching a colectivo to the San Diego Mall and another colectivo onwards to the airport isn't super straightforward if you aren't familiar with the city or great if you have a couple bags. Instead, I'd recommend forking over the money for an Uber (60-80,000COP; $23-31AUD), which will get you and your bags to your flight on-time, without any stress.
Step 2: Check in for your flight to Santa Marta
Check-in for your flight as usual, just be aware that budget airlines like Viva Air LOVE to charge you for "extras", which range from standard add-ons like checked luggage (45,000COP / $18AUD online and double that at the airport) to absolutely ridiculous fees like 20,000COP to print your boarding pass. Learn from my mistakes and print your boarding pass before you leave home OR ask to print at your hostel!
When you consider the cost of the ticket (80,000COP) + checking a backpack (45,000COP) + printing a boarding pass (20,000COP), the total cost of flying from Medellín to Santa Marta is $56AUD at MOST.
Purchase your flights online through Viva Air and buy checked baggage at the same time, as this will save you considerably.
Step 3: Fly from Medellín to Santa Marta
The flight from Medellín to Santa Marta is typically under 1hr (as quick as 45min), and although budget airlines like Viva certainly don't have any fancy trimmings, it's more than comfortable enough for a short journey.
Step 4: Get to your hostel in Santa Marta
Shared transport from the airport in Santa Marta
There's a very inexpensive minibus connecting the airport to central Santa Marta, which you can pick up right out front the airport for 2,000COP ($0.80AUD). No need to worry about route number, apparently all of the buses here will get you to the city centre— although it may take 1hr+ and you will still need to walk/taxi to your hostel.
Taxi from the airport in Santa Marta
The airport in Santa Marta (Simón Bolívar International Airport) is only about 15km out of town, which means it's pretty quick and easy to get to your accomodation in a taxi. You should be able to get to Santa Marta for 25,000COP ($10AUD) and to Dreamer Hostel a bit out of town for 35,000COP ($13AUD). And if you are staying at Dreamer, I would suggest just getting a taxi instead of the bus, as this still won't get you even close to where you're headed and you'll end up in a taxi anyway.
Wondering where to stay and what to do in Santa Marta? COMING SOON
Travelling from Santa Marta to Minca
Minca is one of my absolute favourite places in Colombia, and thankfully also a super easy excursion from Santa Marta (I don't want to call it a day trip because it deserves WAY more than just 1 day).
The cheapest way to get to Minca is by colectivo or a shared jeep departing Calle 11-12/Carrera 9 in the middle of Santa Marta (you'll know you're in the right place by the Cootrasminca sign). These run pretty much constantly throughout the day and cost just 8,000COP ($3AUD) for the 45min drive into the jungle.
If you're staying at Dreamer Hostel, the staff actually organise shared departures right out front, which you can sign up for at the reception desk. These are the exact same transport as what you'll find in downtown Santa Marta, just with the convenience of coming to you! We paid 9,000COP and our drive was a little shorter than 40min, since Dreamer is closer to Minca than Santa Marta town.
You can also get a private taxi to Minca for 40-50,000COP ($15-19AUD), which works out to be more or less the same as the shared bus if you can get a few travellers together to split the cost. Ask around at your hostel, and if you can't find someone to share with, the bus is SUPER easy!
Read this post for all of the best things to do in Minca: COMING SOON
Travelling from Santa Marta to Tayrona National Park
Another incredible place and very popular place to visit from Santa Marta is Parque Tayrona, a stunning national park with beautiful Caribbean beaches.
As with the journey to Minca, you can reach Tayrona National Park by public minibus from Santa Marta (departing Calle 11/Carrera 11 every 30min; 7,000COP / $3AUD), shared minibus from Dreamer Hostel (15,000COP / $6AUD), or private taxi (50-70,000COP / $19AUD). There are quite a few onward steps from the park entrance, and you can read about every intimate detail in my complete guide to visiting Parque Tayrona COMING SOON
Check out this super comprehensive guide for more information on Tayrona: COMING SOON
Travelling from Santa Marta to Medellín
If you're travelling from Santa Marta to Medellín, just reverse these directions! All the same prices still apply, but going from the airport to Medellín is considerably easier than the other way around, so it might be worth catching shared transport. Here are the details:
Shared transport from the airport in Medellín
The best option in terms of shared transport is the official Aeropuerto-Combuses (busetas) departing near gates 2A and 2B (10,000COP or $4AUD; buy your ticket from the driver). It will take approximately 60min to get to Medellín on this bus, which terminates at the Hotel Nutibara.
From here, walk about 300m to the Parque Berrío Metro Station, purchase a one-way ticket (2,550COP / $1AUD), hop on a train bound for La Estrella, and disembark at Poblado about 15min later. Allow around 1.5-2hrs to get to your hostel in El Poblado using this option.
Wondering what to do and where to stay in Medellín? Check out my complete guide: 9 AWESOME THINGS TO DO IN MEDELLÍN, COLOMBIA'S MOST INNOVATIVE CITY
Read more about Colombia
11 AMAZING THINGS TO DO IN SAN GIL: A GUIDE TO COLOMBIA'S ADVENTURE CAPITAL
HOW TO GET FROM BOGOTÁ TO SAN GIL: COLOMBIA TRANSPORT GUIDE
TRAVELLING FROM BOGOTÁ TO MEDELLÍN VIA BUS OR PLANE: COLOMBIA TRANSPORT GUIDE
THE BEST WAY TO GET FROM SAN GIL TO MEDELLÍN (BUS VS FLIGHT): COLOMBIA TRANSPORT GUIDE
EVERYTHING YOU NEED TO KNOW ABOUT VISITING GUATAPÉ AS A DAY TRIP FROM MEDELLÍN, COLOMBIA
9 AWESOME THINGS TO DO IN MEDELLÍN, COLOMBIA'S MOST INNOVATIVE CITY
HEAPS MORE COMING SOON