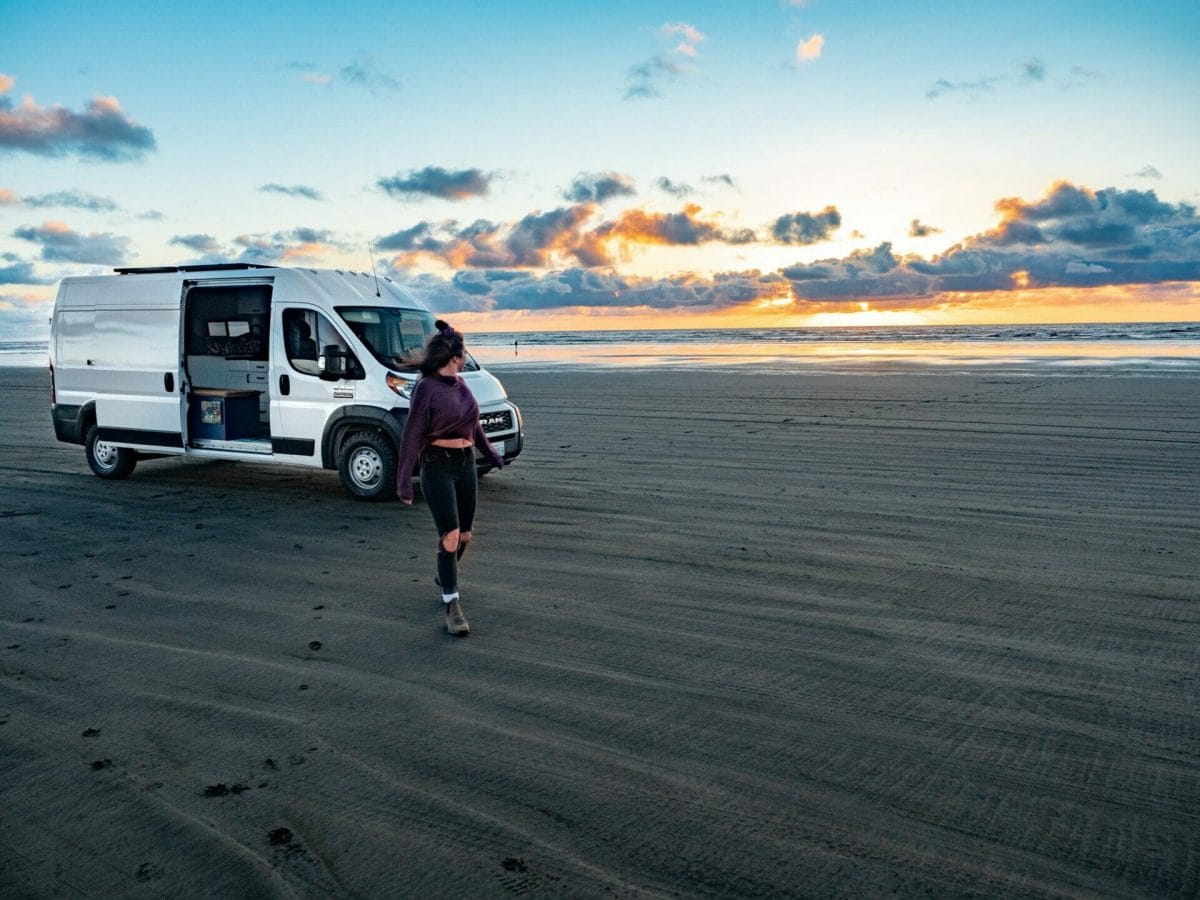 Vanlife Diaries #1: Washington & Oregon coast
In case you missed it… it's official, I LIVE IN A VAN!! After months of tireless organising, coordinating, packing, selling, and about 60 Amazon parcels, Dan and I hit the road on Wednesday for the first 4-month leg of our 2-year van adventure— we are beyond excited to finally be travelling full-time and even more so by all the amazing opportunities that come from being self-contained.
We are also SO in love with our van, a 2019 Dodge Ram 2500 Promaster 159″WB that was fully converted by a super talented couple in LA prior to us taking over ownership last month.
Despite a wonderful build with just about every feature we could imagine, there was still plenty to do over the past few weeks as we prepared for take-off, from installing new all-terrain tires to re-upholstering the cushions (thanks mum) and painting the bench seat to stocking our pantry and finding the perfect storage bins to maximise space in our little closet.
Tensions reached new highs over decorating decisions, both equally particular (and often at odds) in our approach and vision— Dan citing his previous 4 decades of life (none of which were spent living in a van), while I referred him repeatedly to the fact that I'm a doctor and therefore an expert on all things under the sun.
In the end, good old fashioned bargaining did the trick and we are now the happy owners of a floral Anthropologie duvet cover that, I think we can all agree, really does tie the van together.
Our rough itinerary over the next few months has us travelling south through Washington and Oregon to southern California, where we'll climb/hike through the desert to our hearts' content and eventually cross into Baja California, Mexico.
When we've had it with the beautiful Mexican sun (or, and this is more likely, when we've exhausted all available days), we'll whip around and head back north via Arizona, Utah, and Idaho to arrive in Seattle at the start of July for some can't-miss mountaineering. By late August, we'll be off again— fully adapted to vanlife and geared up for the long haul to Central & South America.
The plan is admittedly ambitious but, with my 1-day-per-week remote work schedule and a modest amount of collective savings threatening to burn a hole in our pockets, the time is right for an adventure of truly grand scale.
And so, a big welcome to my inaugural Vanlife Diaries post, the first in what I hope to be a long series of exciting updates and great snaps as we trace our way around the Americas on a 2-year road trip!
What we've been up to this week
On Wednesday, we rolled out of my mum's driveway to whoops of excitement and headed south on 101 all the way to the coast at Long Beach, the world's longest stretch of drivable beach.
Keen to check it out for ourselves (although Dan had done so previously), we took the van out onto the sand for a few cautious loops at low tide as the falling sun turned everything sherbet orange and the wind whipped my hair into a mad frenzy. 
We were all wild smiles and salty cheeks with the realisation that this is now our life, eagerly piling back into our tiny home and driving a short distance to camp amongst the trees.
The following day, we crossed into Oregon at Astoria (making the requisite stop at Fort George Brewery to buy more beer than we actually have room for) and then we cruised snail-pace down the Oregon coast over the coming days through Manzanita, Cannon Beach, and Pacific City.
The weather was uncharacteristically sunny— even with the near-freezing temps, we were desperate to be outside, and strolls along the beach became a twice-daily occurrence.
In Tillamook, we temporarily lifted the van-wide ban on excessive dairy consumption for a self-guided tour of the factory and some cheese-related souvenirs, and even managed to pack our own picnic into another excellent local brewery, de Garde.
Whether it was sitting on the beach in Pacific City, nose-deep in blankets and drinking frosty cans of IPA (courtesy of the open container laws), or the back-to-back flights we ordered at Beachcrest Brewing and Yachats Brewing further down the coast, it's looking increasingly likely that the entire van trip was just a poorly disguised beer tour of the Pacific Northwest. When queried on this matter, Dan declined to comment.
Even with heavy rains keeping us inside for most of Sunday, both that and the previous night provided some of our best camping on roadside pull-outs at Cape Perpetua and Gold Beach, with the kind of scenery right out the back doors that vanlifers LIVE for. It seems impossible to beat afternoon tea overlooking the beach and late nights listening to the waves crash against the rocks, all from the warm and cozy comfort of bed.
With all this rugged Oregon scenery, we might have headed south a bit slower if not for the impending wine weekend with mum in Paso Robles next Friday, but we're also fairly eager to hit nicer weather in southern California, so it's all worked out. By the next weekly update, expect us to have purple teeth and a new appreciation for Zinfindel.
Where we stayed this week
This week was an excellent variety-pack of free vanlife camping, including several nights at state campgrounds, secluded forest roads up in the hills, and "there's no sign saying we can't sleep here" pull-outs along 101.
Aside from Dan bravely testing the outdoor shower on Sunday, there wasn't a lot of bathing this week— but early spring weather on the coast ensured that there was an equally minimal amount of sweating, so there were no major complaints. And for those taking bets at home, yes, I was the first one to use the composting toilet and it was a proud moment for all involved.
Cape Disappointment State Park Campground ($30; 10 March)
Nehalem Bay State Park Campground ($30; 11 March)
Forest road outside of Pacific City (free; 12 March)
Thor's Well viewpoint on Cape Perpetua (free; 13 March)
Beachfront pull-out near Gold Beach (free; 14 March)
What we spent this week
Week #1 of this update series is just a shortie, since I'd like to get onto a Monday – Sunday schedule for ease of counting and calculating— so our budget isn't looking too shabby despite the fact that we did overspend in just about every category during our first week on the road (oops).
The most obvious culprit was our thinly-veiled brewery crawl through Oregon, but thankfully all our free nights camping were a massive help, so we aren't too disappointed at the $449 bill for week 1 (split between both of us).
Groceries: $120
Eating out (including beers with meals): $65
Fuel: $112
Accommodation: $0
Activities (including brewery flights): $152
Some other fun weekly stats
Distance travelled: 925km / 575mi
Amount of time Brooke spent driving: < 10min
Breweries visited: 4
States explored: Washington & Oregon
Times we had to empty the liquid component of our toilet: 2 (and not quite soon enough, if you catch my drift)