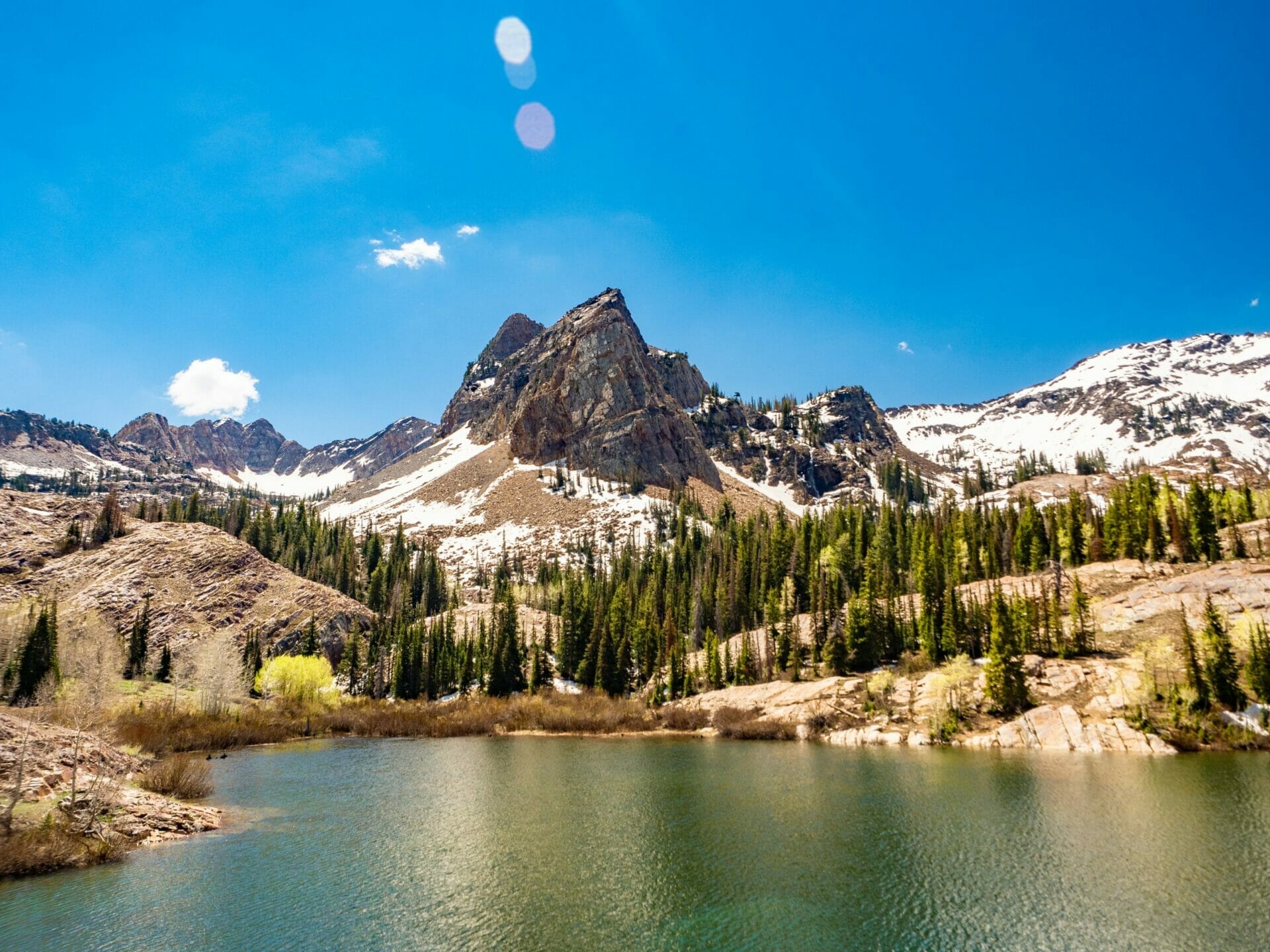 Vanlife diaries #13: Wasatch Mountains & Salt Lake City
Finally heading north and leaving the desert behind, we spent the week exploring Utah's Wasatch Mountains on long day hikes and then checked out Salt Lake City when temps soared into triple digits. We were both incredibly impressed by our time in central Utah and can't wait to come back!
What we've been up to this week
We started out the week with a challenging ascent of Mt Nebo, the highest peak in the Wasatch range at 11,929ft (3635m). The hike itself wasn't terribly long (9.3mi / 15km), but the 3590ft climb to its summit was fairly demanding, particularly when we hit snow and had to kick steps up the side of the peak.
It was a full day on the trail, and we were blown away by the beauty of Mt Nebo, one of only 128 ultra-prominence peaks in the US, as well as the view of the surrounding Wasatch Mountains in every direction.
The summit was also curiously covered with millions (and I mean MILLIONS) of lady bugs, something I've truly never seen before. It certainly added some mystery to our time atop the summit!
If the snow made things slightly more challenging on our ascent, it made them far more entertaining on the way back— we were able to glissade hundreds of feet down the steep face of the mountain, picking up crazy speed on the compact snow and using our trekking poles to slow at the end of each run.
It proved to be a fantastic day of hiking, and it was only Monday!
We spent the next couple days hiking in the central Wasatch Mountains just out of Sandy and SLC. Despite Nebo being much higher in elevation, the northern peaks had significantly more snow cover and therefore we didn't dare attempt a summit without ice axes.
Instead, we hiked out to Red Pine Lake (7mi) and White Pine Lake (10.5mi) from the trailhead in Little Cottonwood Canyon— and despite not actually bagging any new peaks, the scenery easily competed with what we'd seen at Mt Nebo!
At least half of the trails were covered in thigh-deep snow, which also made the journey more interesting (but thankfully kept crowds to a basically non-existent level on these otherwise popular trails). And of course I couldn't resist the chance to swim in a frozen lake!
We agreed that Red Pine Lake was the more visually striking of the two, but that the trail to White Pine Lake was for more scenic— and interesting, as it required a good hour of snow travel each way across a steep slope and quite a lot of off-trail fun.
On Thursday, we headed over to Big Cottonwood Canyon to tackle one of the most popular hikes in Wasatch, Lake Blanche.
I was initially drawn to the trail by photos of the Twin Peaks above a beautiful lake, but we also heard that moose are incredibly common in this area— the promise of a cool swim (which I later learned was not actually allowed, since this is part of the watershed) AND the opportunity to see moose was a strong sell.
And we weren't disappointed, spotting a young moose mere feet off the trail on our way up!
An appointment for our second COVID shot brought us into SLC later in the week, where we hid from the triple-digit-heatwave in a series of air-conditioned breweries and the local mountaineering shops.
It ended up being the perfect break from a long week of hiking, and we were incredibly impressed by the craft beer offerings in a state famous for its teetotallers. All said and done, we visited 6 microbreweries and found something to love at each: Wasatch, Uinta, Epic, Shade, Toasted Barrel, and Ogden River.
To cap off another fantastic week on the road, we caught up with my high-school friend Hyla and her husband Hector for even more brewery hopping and awesome local eats.
It was hard to leave on Monday morning, but we're fairly confident that we'll be back through soon enough to explore more of this amazing state!
Where we stayed this week
Anticipating side-effects from our second COVID shot, we broke from our usual boondocking and free camping to stay in a hotel on Friday— we never experienced any real symptoms, but we DID get to hang out under the air-con on the hottest day of the week, so it was well worth it!
Mt Nebo/North Peak Trailhead near Mona, UT (free; 31 May)
White Pine Trailhead near Sandy, UT (free; 1-2 June)
Boondocking with permission out front of Uinta Brewing in SLC, UT (free; 3 June)
Comfort Inn in northern SLC, UT ($16 with points; 4 June)
Boondocking with permission out front of Uinta Brewing in SLC, UT (free; 5 June)
Boondocking out front of our friend's place in Ogden, UT (free; 6 June)
What we spent this week
Back in brewery country this week, our budget took another big hit— our only consolation is knowing that there won't be many breweries deep in the Sawtooths to temp us over the coming weeks! We also did a massive pantry re-stock in anticipation of being fairly off the grid until July.
Groceries: $254
Eating out (including brewery flights): $305
Fuel: $58
Accommodation: $16
Activities: $0