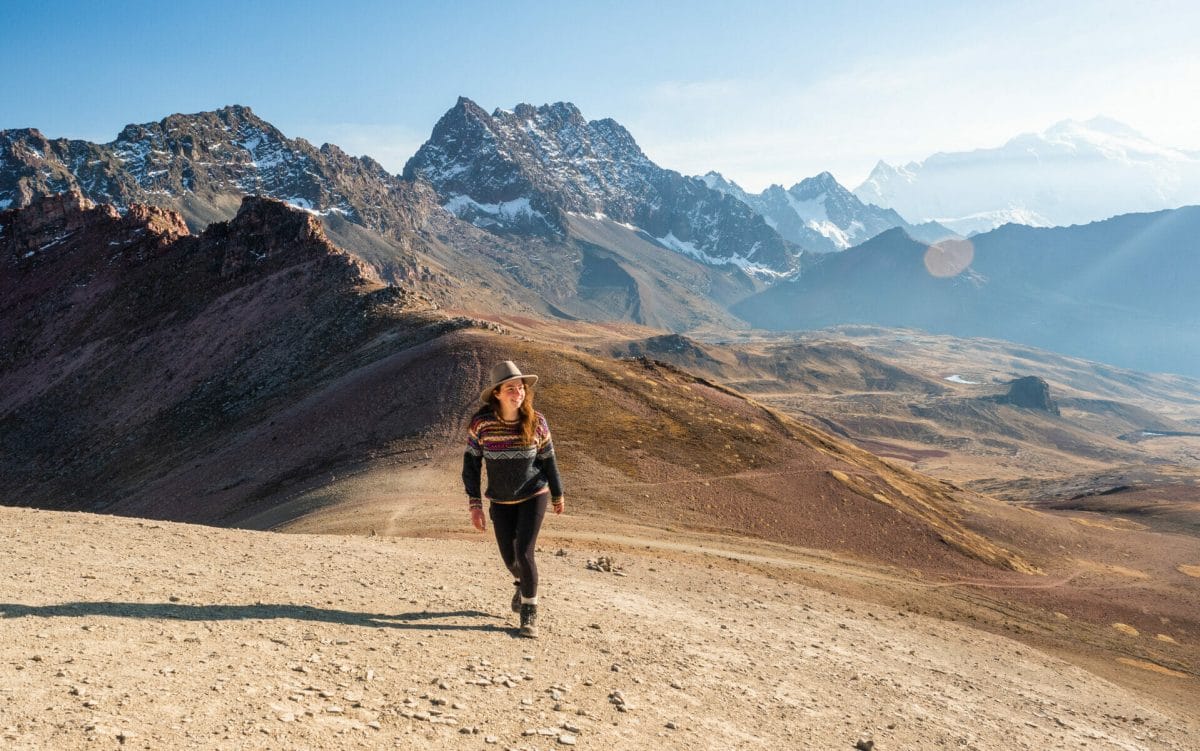 A guide to trekking Ausangate & Rainbow Mountain in Peru
Walking beneath the 6,384m snow-capped peak of Ausangate, it's absolutely impossible not to be swept up in the mysticism and magic of the Peruvian Andes. Couple the jaw-dropping and life-altering scenery of the Ausangate Circuit with a visit to Vinicunca, the surreal Rainbow Mountain newly emerged from a thick covering of ice, and this just might be one of the most spectacular treks in Peru (and there are heaps of strong contenders!). Here's everything you need to know about trekking Ausangate and Rainbow Mountain in 2 days, including how to prepare and what to expect on the trail.
What's in this travel guide
About the trek
Ausangate Circuit
The Ausangate Circuit is a spectacular 70km trek around Nevado Ausangate (pronounced OW-san-got-eh), typically taking 4-5 days for a complete loop. Abridged 2-day (31km) versions of this hike allow those short on time to witness some of the trail's highlights while still saving room in their itinerary for other hikes in the region.
Unlike the Inca Trail or Salkantay Trek, though, Ausangate remains delightfully off the standard tourist track, which means you'll often enjoy these alpine vistas entirely to yourself (or your trekking group). Coupled with the high altitude (rising up to 5,050m and rarely dipping below 4,000m), this is a journey that will delight keen hikers with its staggering scenery as much as with its physical challenge.
Rainbow Mountain
What is now one of Peru's most popular natural wonders, Vinicunca wasn't on anyone's radar until mid-2015, when a massive thaw revealed a rainbow-striped mountain that had been hidden for centuries beneath the ice. Dangerous warning of climate change aside, Rainbow Mountain is one of the most impressive displays of Peru's geological diversity— and thankfully it links up perfectly with the equally amazing Ausangate Circuit for an incredible 2-day adventure.
Booking the Ausangate & Rainbow Mountain trek
It's definitely possible to embark on an Ausangate/Rainbow Mountain trek independently— the route begins in Tinqui, only a 2.5hr (S/10) bus ride from Cusco, and it's considered to be reasonably safe for experienced trekkers. You'll need to have a GPS and good navigational skills, as there are no way-finding signs (and often no trail) to speak of, but the reward is complete solitude in one of the most beautiful places in the entire world!
There's also the option to set out with a trekking company. I far prefer hiking alone and would almost always elect to trek independently, but this trip was acting as much-needed acclimatisation for our 10-day independent Huayhuash Circuit hike and I wanted to limit the physical exertion (by carrying just a small daypack) so I could focus on getting my lungs ready for the next high-altitude adventure. As it turns out, we got really lucky to essentially have a private tour with Flashpacker Connect, just me and my parents with the trekking guide. It allowed us to (almost) feel like we were on an independent trek without actually carrying much weight or doing any navigating on our own!
There are a number of tour operators pushing cheaper versions of this trek, and honestly it's hard for me to recommend Flashpacker Connect outright due to their crazy cost. If your budget allows, the route with Flashpacker was great and the trek was truly incredible, but if you're traveling on a shoestring, you can probably shop around and find a more budget-friendly trek in Cusco that will cover a similar route.
Getting to & from the trailhead
Getting to Cusco
From Lima
Many visitors will catch an inexpensive flight from Lima to Cusco (1.5hr, S/130-300) and then take a S/15-25 taxi from the airport into the city; this is the best option if your main objective is just to get there quickly and comfortably.
My first time in Peru, I was determined to save a few Soles and opted instead to take a 24hr bus ride over the Andes (S/80-120). It ended up being the most excruciating journey of my entire life and I spent most of the day laying in the aisle of the bus near the toilet because I was too sick to even sit up. Likely a combination of severe car sickness, wild driving on windy roads, and the dramatic increase in altitude, I got off the bus convinced that I had made a grave and stupid mistake for the sake of a few dollars. I can't stress this enough: do not take the bus. If you are travelling from Lima to Cusco, look for an inexpensive flight with Latam, Viva Air, Peruvian, or Sky.
Read more: THE ULTIMATE CUSCO TRAVEL GUIDE: 25 AMAZING THINGS TO DO IN CUSCO, PERU
From Arequipa
From Arequipa, buses are well-timed so that you can depart after dinner and arrive to Cusco first thing in the morning (10hrs, S/40-80). Check public bus times here.
Peru Hop also drives the route, including a few interesting stops and some much-needed stretch breaks over the 12hr daylight journey. For an honest comparison of public buses and Peru Hop, check out this post.
Getting to the trailhead
As I mentioned previously, independent hikers will begin the trek in Tinqui, which can be reached by bus from Cusco (2.5hrs; S/10). For those joining a group, you will be picked up at your hotel in Cusco around 4am and driven approximately 3hrs to an alternate trailhead in Alqatari.
At the conclusion of the trek (after hiking down from Rainbow Mountain towards the road), you will be transported back to your hotel in Cusco, usually around 5pm.
Ausangate/Rainbow Mountain itinerary
This is the itinerary we followed on our 2-day Ausangate/Rainbow Mountain trek with Flashpacker Connect, but there are heaps of variations (given the lack of defined trail).
Day 1: Alqatari to Anata via Pucacocha Pass
Distance: 7km
Elevation gain: 440m
Highest elevation: 4,990m
Trail hours: 3hrs
Highlights: Amazing colourful scenery; views of Nevado Ausangate and its lagunas from Pucacocha Pass; only one other person on the trail all day; camping in cute little huts in a colourful valley
Day 2: Anata to Hanchipacha via Rainbow Mountain
Distance: 11km
Elevation gain: 500m
Highest elevation: 5,050m
Trail hours: 4hrs
Highlights: Hiking by headlamp under the stars; amazing views of Ausangate glacier at sunrise; only the second group to arrive at beautiful Rainbow Mountain, well before the crowds!
What to expect on the trail
Terrain/difficulty
While I can't speak for the entirety of the Ausangate Circuit, this section of the trek is fairly undemanding and suitable to anyone of a modest fitness level. The most challenging element is certainly the altitude, which at 5,050m will definitely slow you down (or worse, if you're not acclimatised!).
In terms of the trail, it is more or less non-existent on this trek, necessitating good navigational skills and the use of a map and GPS if you aren't with a guide. Expect lots of nondescript dirt, but thankfully no real rocks or rough terrain to manoeuvre. With sturdy hiking boots and a good set of trekking poles, these 2 days will be a breeze.
Altitude
Reaching an elevation of 5,050m at Rainbow Mountain and involving 2 full days of trekking above 3,500m, some hikers will notice symptoms associated with the altitude, such as headaches, shortness of breath, lethargy, nausea, and difficulty sleeping. It is therefore vital to acclimatise properly prior to setting out on this trek (read more about acclimatisation in this post).
The single best thing you can do to avoid Acute Mountain Sickness (AMS) and its more severe consequences (HACE or HAPE) is to spend time in Cusco before you do the Ausangate Circuit or Rainbow Mountain. Try to set aside at least a few days to bum around town or take day trips to higher elevation, since these will help you acclimatise.
If you don't have time to hang around in Cusco or if you know you've reacted poorly to high altitude in the past, it's also possible to take Acetazolamide (Diamox) to aid your acclimatisation and prevent serious altitude sickness symptoms. My parents weren't totally acclimatised when we did this trek and they were very thankful to have the assistance of some medication. Upon the recommendation of our guide, they also used Agua Florida, which is an Andean herbal remedy for altitude sickness found in basically every shop around Cusco for a few soles (but guides usually have a bottle for you to use).
Andean natives have also been using coca leaves for more than 3,000 years to alleviate symptoms related to the altitude, and bags of coca leaves, coca tea, and even coca candy are now ubiquitous in Cusco. There's no scientific evidence to suggest that coca leaves are an effective prevention strategy for altitude sickness, but they can still alleviate many of the symptoms, including headaches and upset stomach. On a guided trek, you will be provided with coca tea in the morning and evening, but you can also pack along your own leaves or candies for the trail.
Read more about trekking at altitude in this post: HIGH-ALTITUDE TREKKING: A COMPLETE GUIDE TO PREVENTING & TREATING ALTITUDE SICKNESS IN THE MOUNTAINS
Weather
Weather in the Peruvian Andes is typically grouped into two seasons: a cool, dry winter (also called the "Andean Summer") from May to September and a minimally warmer and much wetter summer from October to April. It's possible to do the Ausangate Circuit and Rainbow Mountain trek year round, but I'd strongly recommend the Andean Summer, as you'll be more likely to enjoy clear days and better views of the peaks. In saying that, the mountains make their own weather, so you really have to be prepared for anything and everything!
Partly due to the high altitude and partly due to the enormous glaciers nearby, this trek is cold. Things will heat up a bit as the sun comes out, but don't expect to be "warm", even in summer! Layers are absolutely essential all day, and especially at night when the temp drops well below freezing.
Food & water
On a guided Ausangate/Rainbow Mountain trek, all meals are provided and we found Flashpacker Connect's food to be of the same high standard that you'll find on guided Inca Trail or Salkantay Treks. Our trip included hot breakfast, lunch, and dinner on the first day and hot breakfast and lunch on the second, all delicious dishes with heaps of variety! We ate half of these meals in a basic but cosy mountain hut at our campsite (pictured below), and given the arctic temperatures outside, it was definitely a major bonus to have meals in a warm(ish) indoor setting.
Guided tours also include access to filtered drinking water in the evening. You'll want to fill up your own bottles prior to the first day, but the evening and the following day will be fully covered by the water available at camp.
Campsites
Our 2-day Flashpacker Connect tour included a night in tents at Anata, a beautiful spot not too far from Pucacocha Pass and nicely positioned in front of some spectacular alpine peaks. The tents were set up inside thatched Andean huts, which proved to be a great shield against the intense wind blowing off the glacier (and also added a fun local touch to the evening).
As I mentioned previously, the campsite also included a homey mountain hut in which we enjoyed meals and chilled out after our short day on the trail (in preparation for a 2.45am wake-up the following day), plus a little bathroom shack off to the side. Everything was very basic, but compared to backcountry camping, still rather luxurious!
Packing for your trek
This is a general year-round packing list for a 2-day guided Ausangate/Rainbow Mountain trek. A trekking company will typically give you a duffel that you can pack full of clothes and sleeping stuff (this will be carried by horses and you'll get access each night), and then you will carry water and other personal items you need frequent access to in your own small daypack.
I've linked to all the gear I used below, but if you are looking for more specific recommendations on trekking gear, check out this post: BUILDING THE ULTIMATE OUTDOOR ADVENTURE KIT: THE BEST HIKING & BACKPACKING GEAR FOR WOMEN
To wear on the first day
To keep in your daypack (~25L)
Water bladder or bottle, enough to carry 1-2L of water
Small snacks, like nuts or protein bars (although you will also receive snacks from the trekking company)
Sunnies
Sunscreen
Warm gloves, two pairs if you get really cold
Camera, plus spare batteries
Drybag, to protect your electronics/other valuables in heavy rain
To pack in the duffel (6-7kg, carried by horses)
Spare hiking shirt
Mountain jacket, great for hiking in chilly weather (since you really don't want to sweat in your down jacket)
Spare hiking shorts or tights
Spare hiking socks and liners
Spare underwear
Fleece tights or pants, for sleeping (I wore mine over the top of hiking tights because it was freezing)
Camp shoes, such as sandals or runners to wear around camp
Toothpaste/toothbrush
Body wipes, for a "mountain shower"
Acetazolamide/Agua Florida/coca candies, for altitude sickness
Sleeping bag, rated to -15C or similar; most companies will hire these out for about $20USD if you don't have one with you
Headlamp, helpful for finding your way around camp in the evening
Powerbank, for charging your camera/phone
Read more about trekking in Peru
AUSANGATE & RAINBOW MOUNTAIN TREK (DAY 1): ALQATARI TO ANATA VIA PUCACOCHA PASS
AUSANGATE & RAINBOW MOUNTAIN TREK (DAY 2): ANATA TO HANCHIPACHA VIA RAINBOW MOUNTAIN
HIGH-ALTITUDE TREKKING: A COMPLETE GUIDE TO PREVENTING & TREATING ALTITUDE SICKNESS IN THE MOUNTAINS
HIKING TO MACHU PICCHU: COMPARING THE CLASSIC INCA TRAIL VS SALKANTAY TREK
SAVAGE MOUNTAIN TO MACHU PICCHU: A COMPLETE GUIDE TO HIKING THE SALKANTAY TREK IN PERU
THE ULTIMATE GUIDE TO INDEPENDENT & SOLO HIKING THE HUAYHUASH CIRCUIT IN PERU