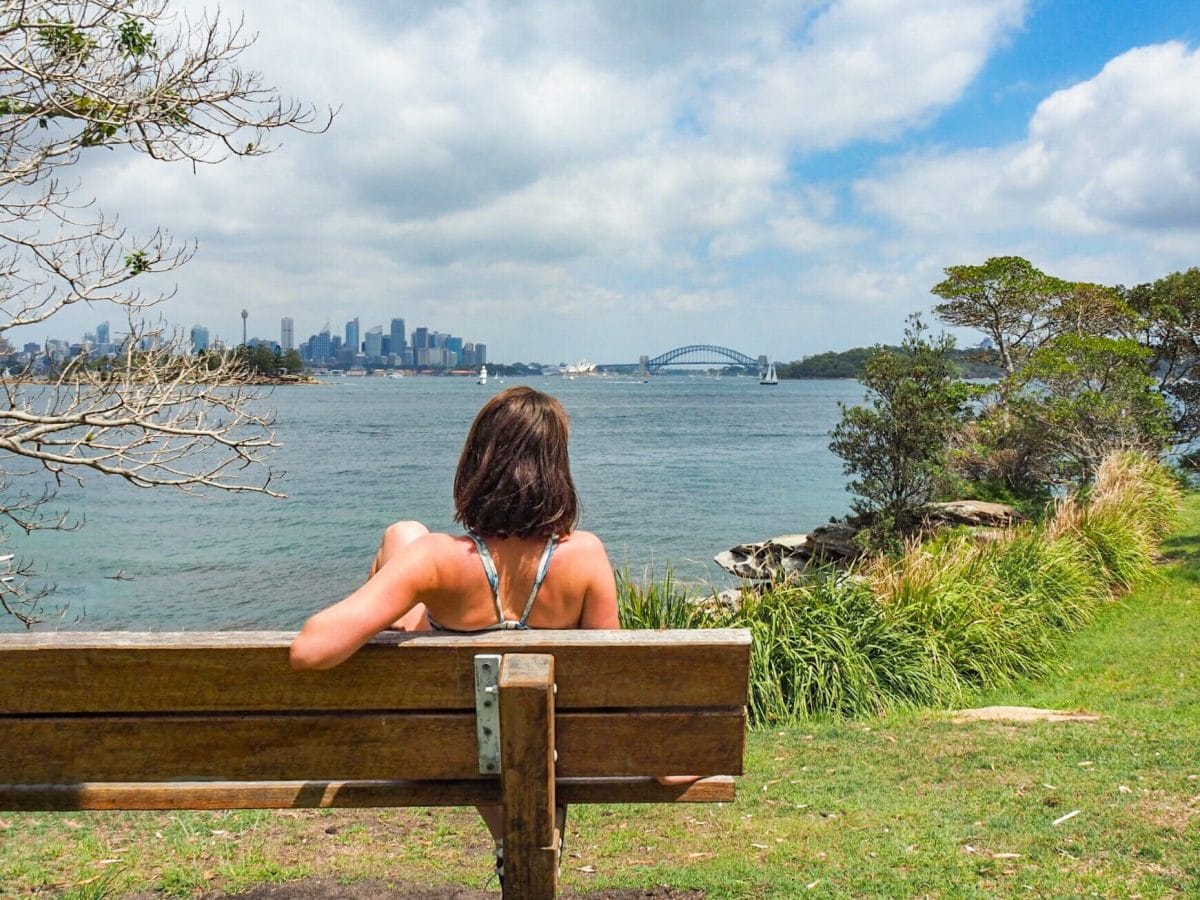 An afternoon stroll from Rose Bay to Watsons Bay
Filled with impossibly stunning views of the iconic Sydney Harbour Bridge and the Opera House, dotted with secluded beaches, and finishing on a bustling wharf full of lively weekend chatter, this is an easy walk with great rewards. Even travelling to and from the walk on one of the Circular Quay ferries, the views of the Harbour are difficult to match and it's pretty obvious what makes these little bays a favourite among locals (the evidence of which you will start to see as you near Watsons Bay). Closer to the Rose Bay half of the walk, however, you'll find plenty of near-empty sand stretches met by glistening blue water that seems to call your name. It's one of life's true mysteries that more people don't know about this walk, but I was happy to discover it this past Saturday with one of my workmates, Diana.
All the details: Rose Bay to Watsons Bay Walk
Getting there
Take a ferry from Circular Quay to nearby Rose Bay (about 10min, $5.80) to begin the walk, which then ends at the Watsons Bay ferry wharf (about 15min back to Circular Quay). If you're driving, park up at Rose Bay and then just ferry back to your car at the end of the walk, but be warned that the traffic and the parking can get hectic on sunny weekends!
Starting point
Rose Bay Wharf, from which it's only a short distance to reach the start of the Hermitage Foreshore track that makes up the first portion of the walk
Ending point
Watsons Bay Wharf
Total distance
About 7.5km from wharf to wharf, an additional few km if including a walk to the Gap or Camp Cove Beach
Walking time
1.5-2hrs including frequent photo stops (but not including swim stops)
Difficulty
Easy, a flat path nearly the whole way and even some occasional footpath/road walking, only a couple steep sections not longer than a few dozen metres that likely wouldn't trouble even a highly unfit person
Accessibility
Very near public transport, consistent mobile reception, plenty of people at beaches along the way, extreme proximity to the suburbs and a number of shops
Food & water
Spots to fill up with filtered water a couple times along the route (including Rose Bay at the start of the walk), food at both Rose Bay and Watsons Bay, food kiosks at some of the larger beaches
Variations
Walk in reverse from Watsons Bay to Rose Bay, start/stop the walk at any of the following points that are easily accessible by car: Hermit Point, Milk Beach, Shark Beach, Parsley Bay Reserve Beach. Also possible to extend the walk to Gap Point, Camp Cove Beach, Lady Bay Beach, and the lighthouse.
My rating
8/10 for the stunning scenery, beautiful beaches, and easy accessibility
Rose Bay
From the ferry wharf in Rose Bay, take a left, walk through Lyne Park, and pass the sailing club's spot on the beach before continuing down New South Head Rd. Rose Bay is actually a lovely spot, and it would be pretty easy to get distracted by the inviting water and spend your entire afternoon here rather than continuing on for the walk. From the sunny beach of the same name, you can rent SUPs or kayaks, which is incredibly tempting, not to mention the scenic flights on offer above Sydney (I'll have to add that one to the list and just hope I come into a lot of money in the near future). If you can manage to wrench yourself away, walk for a few blocks through the town, passing shops on your left, and then turn left on Tivoli Avenue and again Bayview Hill Road, which curves to the right at the water's edge to become Bayview Hill Lane. At this last turn, you'll see a sign saying "No through road" and another saying "To Hermitage Reserve", a good indication that you are on the right track.
Queens Beach, Hermit Bay & Milk Beach
For the next kilometre, the flat path along the coast peaks out through the trees for panoramic views of the Sydney skyline, the Opera House, and the Harbour Bridge. It's difficult to get anywhere quickly when the scenery looks like this, so expect to spend more time taking photos than actually walking on this stretch. A little over 300m from the start of the Hermitage Foreshore Walk, you'll pass the tiny but nonetheless impressive Queens Beach, which is surprisingly empty considering its location (its lack of carpark keeps a lot of people away). Another 300m and you'll wander past Hermit Point before finally reaching Milk Beach, a much more bustling (and car-friendly) beach. Out of all of these early beaches, I'd definitely opt to stop at Queens for a dip and a relax. In fact, it's probably the best beach in terms of a view and low crowds, but the slightly overcast start to our walk meant that we kept going in the hopes of an afternoon burn-off of all that cloud cover (spoiler alert: we got it).
Shark Beach & Parsley Bay Beach
If you manage to make it past the the very tempting Milk Beach, the walk continues up a few steps and past some more breathtaking harbour views (stop at the strategically placed bench for a couple photos, because it would be rude not to). A boardwalk winds along the coast for another 10 or so minutes and then you'll arrive at the end of the of the Hermitage Foreshore path, which pops out on Promenade Road right in front of Shark Beach and Nielsen Park. It would be possible to end the walk here, as it meets up with the road and a carpark, but it's not much longer to Watsons Bay and there's still plenty of beautiful spots along the way for a dip, so just keep on walking.
From Nielsen Park and the end of the Foreshore track, you'll have to do a bit more road walking (following Coolong Road, taking a left on Wentworth Road, right onto Fitzwilliam Road, and following a small path to the left with a sign that reads "To Parsley Bay Reserve") before coming to the beautiful white suspension bridge above the beach. If you're not planning to go any farther than Watsons Bay and you haven't stopped for a dip yet, this would be the spot to do it!
Watsons Bay
From Parsley Bay Beach, you'll be back up on the road just briefly, walking along The Crescent and turning left on Hopetoun Avenue, before popping out at Gibson's Beach Reserve in Watsons Bay. The beach is undoubtedly bustling and really can't compete with all the hidden gems you've passed already, but the reward for your walk is all the fresh seafood and cute bars that dot the shore. I can highly recommend the fish and chips at Doyles on the Beach! If this is the end of your day, either catch the ferry back to Circular Quay, back to Rose Bay to pick up your car, or just walk up to the road and catch a bus to your next destination in city. But, if time allows, continue on just a little farther for more coastal beauty.
The Gap & Camp Cove Beach
From the Watsons Bay Wharf, make your way up the hill (Military Road), cross the street, and climb the stairs to look out over the Tasman Sea from The Gap, a popular Sydney landform created by years of erosion to the sandstone peninsula. There are paths that wind through the larger Gap Park, one of which will take you all the way to the Hornby Lighthouse. Allow about 20 minutes to reach this point, or just cut across the peninsula and visit one of the beaches on the other shore if you haven't yet had enough salt water. Nearer to the point is Lady Bay Beach and closer to Watsons Bay is Camp Cove, a wonderfully sheltered swimming spot with a large (often busy) stretch of sand, a snack and drink kiosk, and some pretty drool-worthy beachfront homes.
Overall impressions: Rose Bay to Watsons Bay Walk
For a walk that I only just heard about (and a series of beaches that I'd never actually heard about), I was pretty blown away by the Sydney Harbour views both along the path and from the numerous swimming spots. This walk was incredibly easy to find, well-signed, and closely located to plenty of food, not to mention very flat and entirely un-demanding. It would be easy to squeeze into a sunny afternoon using only public transport and even better if you're able to make a day of it, swimming at a couple of the beaches and going for lunch/drinks in Watsons Bay at the end. This is definitely a walk I'll be recommending to out-of-towners, and even some of my Wollongong friends, as a must-do!
Love this walk? Check out more Sydney adventures!
THE BONDI TO COOGEE COASTAL WALK
SPIT BRIDGE TO MANLY: STROLLING THROUGH SYDNEY'S NORTHERN BEACHES
BEST OF THE BLUE MOUNTAINS: PRINCE HENRY CLIFF WALK
CHASING WATERFALLS ON THE VALLEY OF THE WATERS TRACK