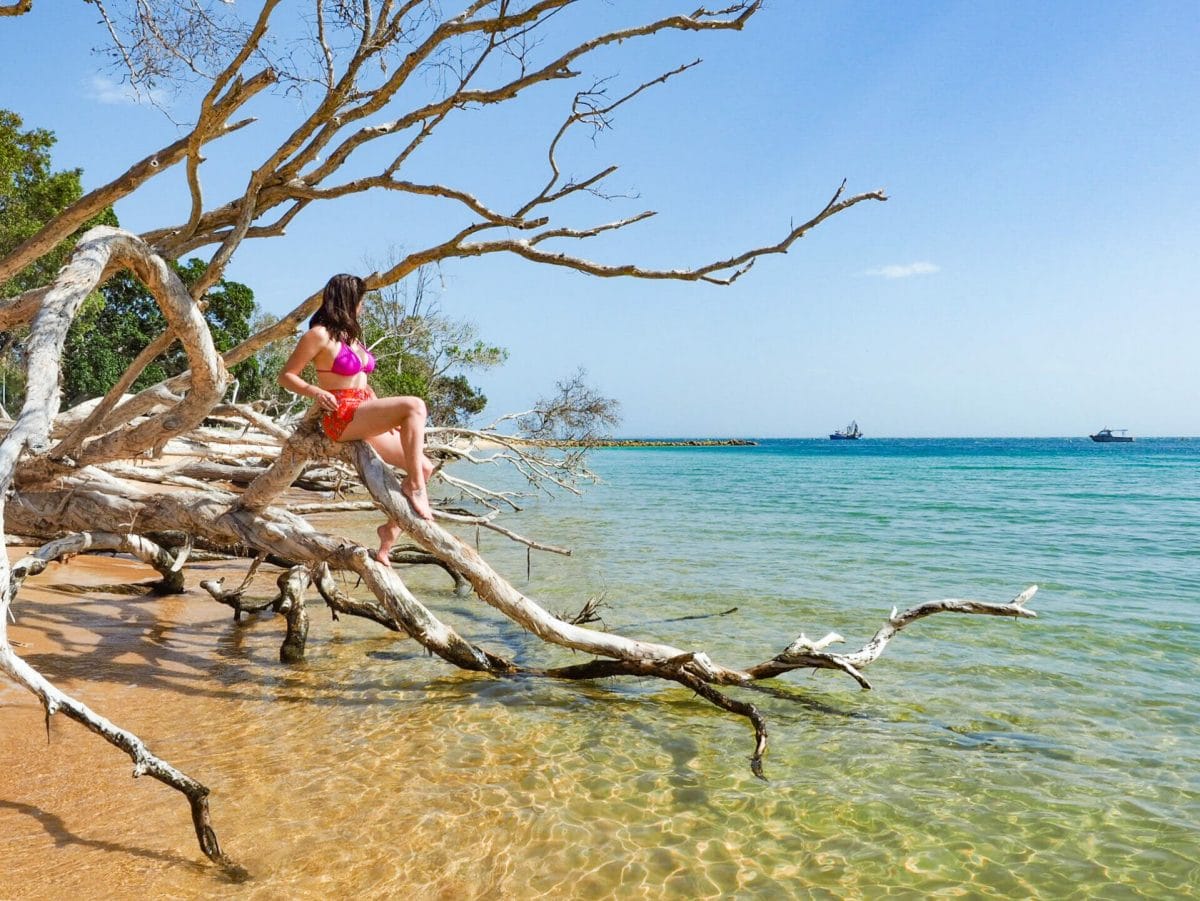 Straddie: The ultimate guide to exploring North Stradbroke Island
Floating just off the coast of Brisbane, North Stradbroke Island boasts some of the most incredible landscapes and stunning coastal scenery you'll find anywhere in Australia, and yet has all the retro charm and relaxed vibes of a little country town. As one of the world's largest sand islands (second only to the infinitely popular Fraser Island), North Stradbroke is dominated by long, pristine beaches with water so perfectly turquoise that it seems almost unbelievable, but even if the views aren't enough to win you over (which they definitely will be), the island is overflowing with wildlife, from turtles and giant manta rays, dolphins and whales, to koalas and kangaroos. Lovingly known as "Straddie" to the locals, North Stradbroke Island may just be Queensland's best kept secret. This quick guide will tell you everything you need to know about visiting Straddie yourself, including how to get there, getting around the island, where to explore, and more.
What's in this travel guide
Getting to North Stradbroke Island
The best way to get across the water to Straddie is to hop on a ferry at Toondah Harbour in Cleveland, which is only a 35min drive from the centre of Brisbane or 1hr from the Gold Coast. There's plenty of secure parking to be had (if you're willing to pay $15), but if you arrive early, there's a good chance you can snag a free spot along one of the nearby residential streets instead. If you don't have access to a vehicle, there's also the option to catch a train out to Cleveland Station and then hop on the free shuttle bus to the ferry terminal (operated by Stradbroke Flyer).
Vehicle ferry
Stradbroke Ferries operates vehicle ferries between Cleveland and the island (Dunwich) every day of the year, with plenty of daily departures to suit any itinerary. The obvious advantage of the vehicle ferry is having complete freedom of movement once you're on Straddie, but the cost of the ferry is pretty daunting for a quick day trip. Unless you're staying for a couple days or planning to go 4WDing on the beach, I'd actually recommend leaving the car in Cleveland and hopping on a water taxi instead!
Departure point: 12 Emmett Drive, Cleveland
Trip duration: 55min
Cost: $59-99 each way for a standard car
Bookings: book online at Stradbroke Ferries
Water taxi/ passenger ferry
There are two different companies operating water taxis/passenger ferries across to Dunwich, and both leave from the harbour in Cleveland, basically right next to one another. At $7 each way, Stradbroke Ferries is the cheaper option (by $3) so it's what I took to the island. However, Stradbroke Flyer offers a complimentary shuttle bus from Cleveland Station, so it would definitely be your best bet if you're catching public transport from Brisbane.
Departure point: 12 Emmett Drive, Cleveland (Stradbroke Ferries)
Trip duration: 20min
Cost: $7 each way (Stradbroke Ferries) or $10 (Flyer)
Bookings: just rock up and pay for your ticket at the Stradbroke Ferries office
Getting around on North Stradbroke Island
Driving on the island
If you've taken your car across on the ferry, you'll have no difficulty getting around, as the whole island is only about 20min wide. Better yet, you can drive across some of the beaches— both Main Beach and Flinders have 4WD access points. There's fuel in Dunwich, Point Lookout, and Amity Point.
Taking the public bus
Even though it sounds a lot more appealing to cruise around the island in your own car, it's actually super easy to use the island bus to get around. For $9.60, you can hop on and off the bus all around the island, stopping at most of the main beaches, walks, attractions, and in both of the main towns (Point Lookout and Amity Point). Annoyingly, the timetable only lists the main stops (Dunwich, Point Lookout, Amity Point), but you can easily figure out the other stops once on the island. The bus timetable is even synced with the ferries, so there's always a bus waiting for you when you get off the boat and the ferry will wait for the corresponding bus to drop off passengers before departing back to the mainland (so as long as you catch the right bus, you'll never miss the ferry!).
We were a little frustrated with the afternoon gaps in the bus schedule, but it worked out perfectly in the end— just make sure you head to Amity Point with plenty of time to get back to Dunwich, since it's a bit of a trip (you have to transfer buses at the interchange and then travel all the way to Point Lookout before finally going to Dunwich).
Cycling
There are also some crazy people who bring their bike across on the water taxi and cycle their way around the island rather than relying on a car or a bus. The roads are pretty quiet, so it's an ideal place to get out on a bike, but be prepared to pedal 20km each way to either Point Lookout or Amity Point.
What to do on North Stradbroke Island
If you only have a single day to explore Straddie, I'd recommend hopping on the bus and checking out Point Lookout's Main Beach and North Gorge Walk, grabbing some lunch in town, and then cruising over to Cylinder Beach. Then, catch the bus out to Amity Point to hang out on the calm beaches, search for koalas in the trees, and watch as wild dolphins swim right up to the jetty. From here, catch the last bus back to Dunwich (via Point Lookout) and sail back to the mainland. One of the most perfect days of all time.
Main Beach
Straddie's iconic Main Beach is one of the first things you'll see upon arriving in Point Lookout, and it's the perfect introduction to this impossibly beautiful island. The sand stretches for about 30km, so this is a great spot to throw down your beach towel, soak up some sun, and hop into the water for a swim/surf. Alternatively, find some amazing views from the beach as you approach the start of North Gorge Walk.
North Gorge Walk
This 1.5km walk is basically a highlights tour of Point Lookout, parading you past stunning beaches and dramatic coastal views before spitting you back out into town. Even though it's a short walk, allow at least an hour to enjoy all the scenery and explore all the cliffs!
Point Lookout town
Point Lookout is actually a charming little town, situated above the picturesque Main Beach and Frenchman's Beach, and dotted with cafes and boutiques that make a great afternoon break. Pop into French Ease for lunch or just grab something on your way through to Cylinder Beach.
Cylinder Beach
Another of Point Lookout's incredible beaches, Cylinder Beach is a 30min walk from the centre of town or only a few stops away on the public bus circling the island. The waves also tend to be a bit smaller here, which makes for a great swimming spot!
Amity Point Jetty
Only a few metres from where the bus drops you off in Amity Point, a jetty stretches into Moreton Bay and provides a perfect vantage point from which to sit and watch wild dolphins playing. They seem to be quite used to humans, so the dolphins will even swim right up to your feet if you're standing at the end of the jetty or dangling your feet off the edge— absolutely do not forget your camera.
Minjerribah Campsite
Only a minute from the jetty, Minjerribah campsite sits on a lovely, peaceful beach (which is actually great for swimming) and is the best-known place on the island to spot wild koalas! Wander through the trees in and around the campsite for a chance to catch a koala snoozing in the trees, something a lot of Aussies go their whole lives without seeing.
Where to eat on North Stradbroke Island
There are a number of cafes and restaurants on Straddie, with 99% of them clustered around the three main towns: Dunwich (where the ferry arrives), Point Lookout (the NE tip of the island), and Amity Point (the NW point of the island). I'd highly recommend French Ease in Point Lookout (try the avocado wrap)! In terms of picking up some staples for camping, there are also a few small supermarkets in each of the towns that sell fresh produce and general grocery items:
Dunwich: Foodworks, Cellarbrations, Spar, Stradbroke Island Butchery
Point Lookout: Foodworks, Point Lookout Seafood, The Green Room
Amity Point: Amity Point General Dealers
Where to stay on North Stradbroke Island
As with all the food, the accomodation options on the island are largely centred around the 3 towns (Dunwich, Point Lookout, and Amity Point). You can find a full listing of available rooms/cabins/campsites on the official Straddie website, but I would definitely recommend Minjerribah Camping at Amity Point, which offers a selection of waterfront unpowered/powered tent sites, caravan sites, and even some cabins. We didn't get the chance to stay overnight on the island, but we hung around the beach right in front of this campsite for quite some time and even wandered around looking for koalas in the trees (that's right, this campsite is the best place to see koalas on the island), so I know where I'll be staying when I come back!
Read more about Straddie!
DRIVING THE LEGENDARY PACIFIC COAST (DAY 4): NORTH STRADBROKE ISLAND
THE LEGENDARY PACIFIC COAST TOURING ROUTE: A COMPLETE GUIDE TO ROAD TRIPPING FROM SYDNEY TO BRISBANE