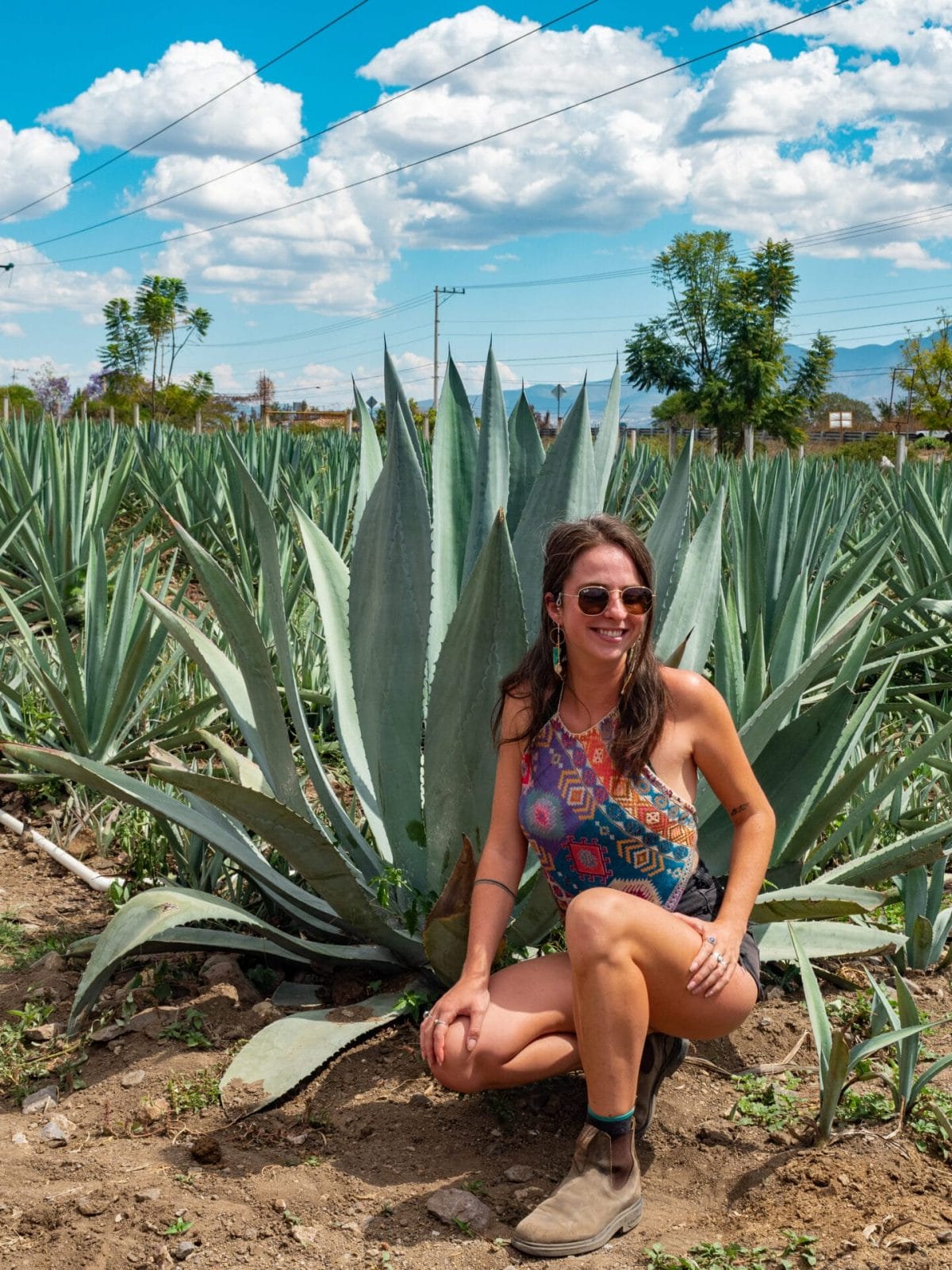 Vanlife diaries #54: Santa Catarina Minas, San Jose del Pacifico & San Matteo, Oaxaca Mexico
Our incredible journey through Oaxaca continued this week as we ventured to yet more mezcal palenques and then into the mystical pine forests of the Oaxacan Sierra, swapping hot afternoons spent among the agave for crisp sunsets at elevation. Everywhere we go, I am overwhelmed by the beauty of this state, a landscape so diverse and cultural heritage so rich that it dwarfs entire countries in its complexity. It's true what they say, Oaxaca is everything.
Teotitlan Del Valle, Oaxaca
Though we'd spent several days of the previous week in Santiago Matatlan, we opted to drive this direction yet again en route to Santa Catarina Minas (another mezcal region, south of Oaxaca City) in the hopes of discovering some off-the-beaten-path palenques.
Our first stop was to Teotitlan Del Valle, a small community known for its textile production and where we spent a pleasant afternoon wandering among looms and naturally dyed rugs on an otherwise sleepy street.
Temazcal in Oaxaca
Once back in Santiago Matatlan, we went for dinner at El Pirul, a bright pink restaurant right on the Main Street serving traditional food that had caught our eye last week. After much friendly conversation with the owner, it was decided that we'd camp out front of his mother's home nearby, and she hopped into our van to navigate us up the hill for the evening.
It turned out that Lucia operates a temazcal, a traditional Zapotec sweat lodge that has formed an integral part of indigenous culture and spirituality for thousands of years.
We participated in a temazcal last week closer to Oaxaca City, but I'd left feeling that some of the spiritual authenticity was lacking— I was convinced that Lucia, with proud Zapotec ancestry (and no Instagram page or English-speaking staff), would offer a deeper experience.
And so I left the van early the next morning, while Dan slept (feeling he'd had enough of the temazcal previously), in the hopes of experiencing the true power of temazcal.
Temazcal (meaning "house of heat" in Nahuatl) refers to a type of rustic dome-shaped sweat lodge that has been used by indigenous communities in southern Mexico for thousands of years as a means of cleansing the spirit and connecting with Madre Tierra (Mother Earth).
Although it may appear at first glance like a sauna, temazcal is a powerful ritual and an amazingly transformative experience, something to be undertaken with intention and respect.
After a ceremony dedicated to the 4 elements— fire, land, water, and air— the temezcalero beats a small drum with the antler of a deer, belting out traditional songs that pay respect to ancestors and the Gran Espíritu.
Ochre-coloured powder from the Pirul tree are rubbed over the face and limbs, and branches are fanned over the body until you are physically intertwined with nature. Mezcal and pulque, the two most sacred spirits in ancient Mesoamérica, are slowly sipped, but only after pouring out the first drops as an offering to the earth.
Finally, the door to the temazcal is sealed & volcanic rocks straight from the fire are piled into the corner to produce intense heat— these rocks are draped with sacred herbs, which have been cleansed according to tradition above the flickering smoke of copal and which fill the temazcal with thick, fragrant steam.
For an eternity, you sit inside and sweat.
You lose yourself in the intensity of the temazcal, rubbing the cool pulp of aloe leaves, juicy oranges, and soft mud directly onto your skin as some small relief from the stifling heat. In the dark, your limbs have no beginning or end.
All the while, the temazcalero beats the drum and sings with surprising conviction, fanning you with herbs and guiding you towards a state of gratitude & clarity that feels almost transcendent.
Zapotecs likened temazcal to a womb— a warm, dark, safe place from which you would emerge, REBORN, into the world with a deepened connection to nature. And indeed, I crawled out of that temazcal into the garden, squinting up at the sun and walking in my own body as if for the first time, feeling completely NEW. This is ancient magic and it's a genuine honour to have experienced it.
Santa Catarina Minas, Oaxaca
Leaving Santiago Matatlan behind, we travelled next to Santa Catarina Minas, another major mezcal-producing region south of Oaxaca City.
And if you're thinking surely you've had enough mezcal by now, well, you'd be mistaken. We are as drawn to the spirit itself as we are to its captivating history, and there's a great capacity for connection that exists around mezcal— so many of our favourite interactions with locals have been at a palenque or over a shared glass of fiery arroqueño.
It is somewhat unique to arrive unannounced at the place where a local family lives and works, possibly for the last several generations, and receive a warm and passionate welcome into their world.
Such is the power of mezcal, and the locals harbour as much respect for the spirit as they do for the process of making it, the joy of sharing it, and the delight of visitors taking a genuine interest in their cultural history.
Before we'd even reached Santa Catarina Minas, Dan was pulling off the road to investigate a colourful palenque he'd spotted from a distance. There was no tasting room (and certainly no tourist infrastructure), just several men sweating as they shovelled hundreds of kilos of agave, but one of them happily hopped into the passenger seat of our van and directed us into the tiny town of San Baltazar Chichicapam.
He delivered us right to the doorstep of Bertha Vázquez, the only female mezcalera we'd yet encountered and one of the sweetest people of all time.
Bertha is probably in her late 70s, and photos were plastered around the very basic room showing her shovelling an incredible mass of agave or cutting down a tepextate that dwarfed her 3 times over— she'd spent a lifetime challenging gender norms in a country rife with machismo and emerged as one of the most respected (and officially certified, as she proudly pointed out) maestra mezcaleras in Oaxaca.
It wasn't much of a "tasting room" either, at least not in the traditional sense, but we were eagerly waved inside and seated on a couch surrounded by 20L jugs of mezcal, which she poured for us by sucking on a small piece of bamboo and siphoning a few ounces into our glasses.
Her children and grandchildren paraded up and down the stairs, coming to ask questions or simply returning from school— the entire family lives on the second level, all clustered around their matriarch. We battled through our poor Spanish just to wring out small details of her life, and when we finally had to leave (after filling our own 1L bottle for a modest 300p), she firmly waved away our tip and instead gifted me a T-shirt with her face on it.
We stayed a couple days and visited several great palenques in Santa Catarina Minas, our favourites being the rough ancestral operation at Sacapalabras, where they poured still-warm wild varieties of mezcal straight from the clay pots into our glasses; Lalocura, where we tasted more than 16 varieties of mezcal; and Los Arellanes, where we were invited into the family home like relatives ourselves.
The latter, unbeknownst to us when we first arrived, was actually the one place Bertha Vázquez had recommended— giving us only the name "Rufino" and saying to ask around town for the location. By pure coincidence, we were seated right next to Rufino and his nephew Luis, both of whom are incredibly respected mezcaleros.
With only a few teeth, one good eye, and nails that looked as if they hadn't been trimmed since the last century, Rufino proudly told us that he'd never been to the doctor in his life— the secret was drinking mezcal (and nothing else) every day.
Although we'd intended to just stop in before carrying on to the next destination, we found the hours flying by and soon ordered dinner for everyone before camping right in their driveway in the van. And when we awoke in the morning, Luis and his sister Lilly whipped up a massive breakfast of eggs, beans, salsa, and handmade tortillas. It was the kind of extraordinary hospitality that seems almost ordinary in Mexico, and surely the best way to wrap up several weeks of mezcal tasting before heading into the mountains.
San José del Pacifico, Oaxaca
Our next stop in Oaxaca was somewhere entirely different: the tiny mountain town of San José del Pacifico.
Although most famous for the magic mushrooms that grow within its high pine forests, the natural beauty and quiet serenity of the area are just as much of a draw.
The town of San José del Pacifico is hardly more than one steep street leading up the mountainside, dotted with a few tiny restaurants and shops selling knit mushrooms and thick beanies. For fungus-related reasons, it's popular among what my mother would call "alternative types", and the result is a very relaxed hippie vibe that beckons backpackers.
For us, San José was also a welcome respite from the heat and a rare opportunity to escape the city bustle for some remote camping out in nature.
As you may have gleaned, what draws most visitors to this little town in the Oaxacan Sierra is the prevalence of magic mushrooms in the high pine forests. There is a long tradition of these hongos being used in spiritual ceremonies and temazcal by indigenous communities, but of course, they are also readily available for purchase around town by eager backpackers.
Enter the convoluted debate about the ethics of appropriating traditions that are not your own by taking mushrooms here, but I believe— as has certainly been my experience throughout all of Mexico— that participating in local rituals with genuine respect, open-mindedness, and in the intended spirit (i.e. as a sacred journey) is deeply appreciated by those fighting to keep their own traditions alive. Learning about new cultures and celebrating their customs is one of the great joys of travel, and when done with genuine positive intent, it can truly honour the natives.
All that to say, please don't come here to just 'get fucked up' and treat the town like a playground; although there are fewer than a thousand residents in San José del Pacifico, it is a true disrespect to them and their ancestors to participate in ceremonial activities with anything but deference and veneration. If you're willing to learn and understand, then it appears to be acceptable.
In my experience, the nature of psychedelic mushrooms is that:
You will get out of the experience what you put into it. Indigenous peoples throughout Mexico consider mushrooms to be a connection between the human world and the divine, as such, are capable of granting you an incredibly profound perspective shift if you go into the journey with intention. These are sacred forests and, channeling love and respect, it's possible to truly see yourself and the world around you in new ways. Western practitioners are just beginning to recognise the power of psychedelics as a powerful mechanism for re-processing trauma and even neural regeneration within the brain, but indigenous communities have known for millennia that fungi have the capacity to truly change your mind. Remain open to the universe and you may just learn something.
You will get the trip you need, but perhaps not the one you want. Going into such an experience with an open mind and vulnerable heart, with respect for the process and the spiritual ritual, naturally exposes you to your own subconscious. For some, the journey may be one of truly falling in love with the world or relishing the deep connections to those around you, but for those harbouring fear or trauma, it can be a journey of darkness, harsh truths, and overwhelming pain as our entire being grapples with realities we may have repressed. Mayans believe that we carry all the truth of the world within us— we already hold the answers we seek, it's just a matter of accessing and accepting them. In this way, mushrooms can be one of the most powerful ways to learn about yourself and reach the answers you seek.
Camped high above the town itself, deep in a forest teaming with vibrant plant life, we indulged in the local custom and I don't think I'll ever look at pine trees the same way.
Incidentally, I would also never look at my relationship the same way, an uncomfortable truth held so vividly in front of my eyes for what felt like an eternity until I was forced to accept that big changes were on the horizon. Because of the energy I brought into it, I wouldn't describe the process as 'fun', but indeed, it was the journey I really needed and would prove to have profound effects for me moving forward.
San Matteo Rio Hondo, Oaxaca
Since we'd camped in the mountains already halfway between San José del Pacifico and the neighbouring (even smaller) town of San Matteo, we decided to drive this way to the coast and include one last stop among the trees.
Like San José, San Matteo has charming hippie community vibe, but is far less touched by backpackers due to the lack of public transport. We only heard about it ourselves from a French woman who'd walked 3hrs each way to the town on the previous weekend— Google Maps didn't even show a connected road, but she assured us that our van would be able to handle the drive.
The most striking thing about San Matteo is all the colourful murals! The central plaza is decorated to look like a honeycomb (homage to the enormous bee population in the area), ringed by no fewer than a dozen individual paintings depicting mushrooms, flowers, waterfalls, bees, and more mushrooms. From an artistic perspective alone, the town is an incredible marvel and we were shocked to find it almost entirely empty this weekend.
Before heading onwards, we stopped in at El Taller, a shop selling local-made goods exclusively from San Matteo ranging from kombucha and home brew to original paintings and woodwork. The staff spoke a bit of English and I got the impression that this remote town in the Oaxaca mountains had probably drawn more than a few writers and artists to its solitary yet inspiring streets.
Where we stayed this week
Camping out front of Holistik Temezcal in Santiago Matatlán, Oaxaca (free; 15 Mar)
Parking at Santo Domingo Restaurante in Santa Catarina Minas, Oaxaca (free; 16 Mar)
Parking out front of Los Arellanes Mezcal in Santa Catarina Minas, Oaxaca (free; 17 Mar)
Camping at El Derrumbe Hospedaje in San Jose del Pacifico, Oaxaca (120p; 18 Mar)
Camping in the forest between San Jose del Pacifico & San Matteo Rio Hondo, Oaxaca (free; 19 Mar)