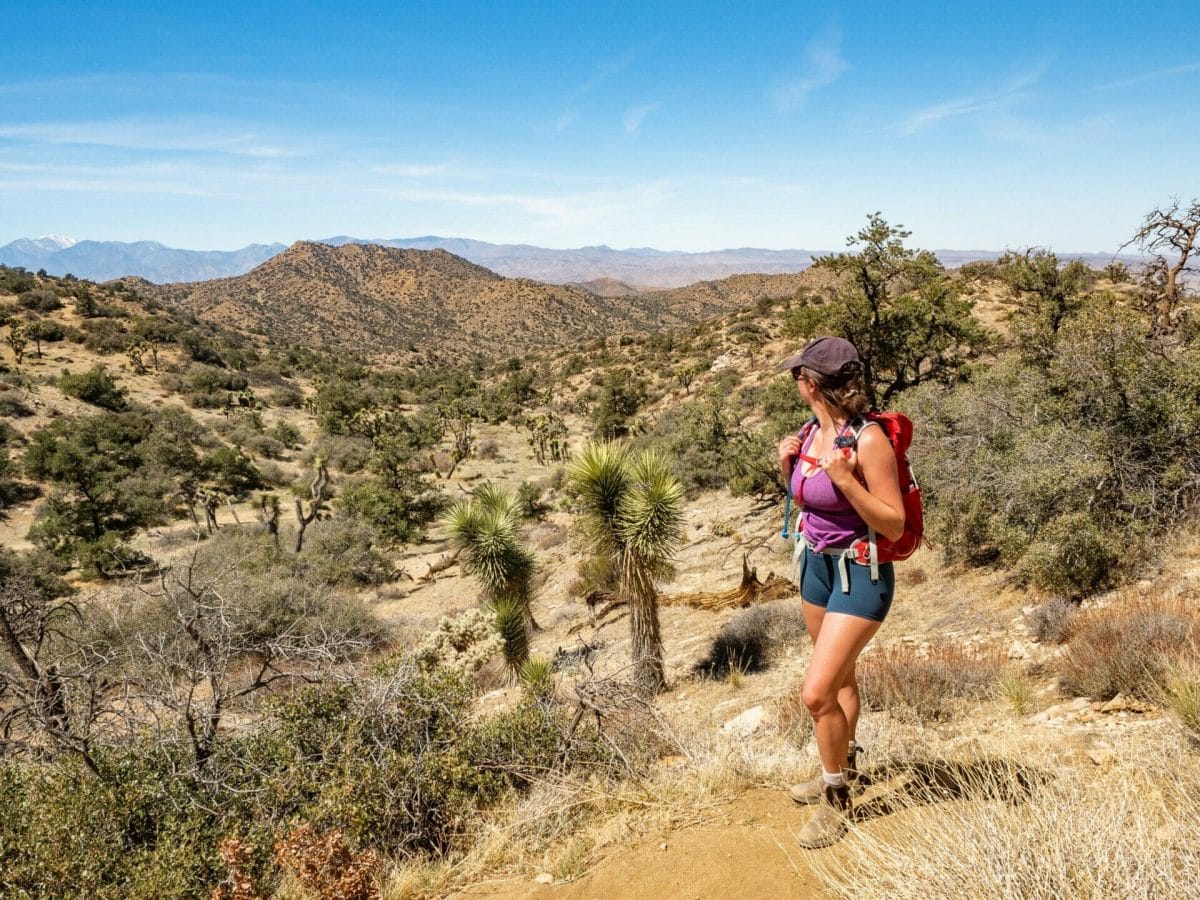 Vanlife diaries #4: Joshua Tree
This week was a little different than our other weeks on the road, namely because we stayed in the same spot the entire time— that's how incredible Joshua Tree is! Dan and I actually met on one of the hiking trails here (Cholla Cactus Garden, to be exact) last November and spent several magical days scrambling and trekking around the park together, but we always knew this was an area that warranted more time and deeper exploration.
Just over 4 months since Dan first told me I'd be a "perfect candidate for vanlife" as we watched the sunset from Oyster Bar in the centre of the park (almost like he masterminded this whole thing from day 1), we're back with all our climbing gear and a list of trails we hadn't gotten to explore previously.
At the same time as we feel like we've really gotten under the skin of this place in the 2 weeks we've spent here, we also know that Joshua Tree is full of hidden gems that would take several lifetimes to exhaust— and that's going to make it bloody hard to leave next week.
What we've been up to this week
Already hanging out in the desert heat of Yucca Valley and 29 Palms at the end of last week, we had a short distance to travel into Joshua Tree National Park on Monday morning to meet up with Dad and Eileen at Quail Springs for some eagerly-awaited rock climbing.
We assembled our gear in the carpark around 10am and then spent the better part of the day hanging out at Trashcan Rock, a top-rope-able face with heaps of beginner and intermediate-level routes.
Read more: THE ULTIMATE 1-DAY JOSHUA TREE NATIONAL PARK ITINERARY: 9 BEST HIKES & SCRAMBLES (POST-COVID)
For our first climb in several years, both Dan and I were impressed to find that we hadn't completely lost our knack— even if there was a noticeable strength casualty in all those otherwise-unused forearm muscles (which we are very much feeling now).
At the time, though, I was largely preoccupied by the pain of new climbing shoes, having left an extremely well broken-in pair behind in Australia and now starting from scratch with some particularly stiff and uncompromising Black Diamonds.
By my 5th climb, my toes were done, as were my sunburnt shoulders, and we retreated into shade cast by the van for a lunch of skillet paninis and cold Chardonnay.
The afternoon called for a new adventure: The Chasm of Doom. It's Joshua Tree's best-kept secret, an unmarked and incredibly claustrophobic route winding and squeezing through one of the park's enormous rock piles— you won't find it on any map, and even with meticulous notes, Dad and Eileen didn't make it further than the half-way point during their last attempt through.
Equally unprepared this time (the pre-buffered 30sec intro to a YouTube video our only source of direction), we set off from the Hidden Valley parking lot in the hopes of conquering the The Chasm.
The palm-covered entrance proved hard enough to find even with video help, and when the directions wouldn't load after the first few steps into the rocks, we were truly on our own.
Read more: 8 AWESOME DAY HIKES IN JOSHUA TREE NATIONAL PARK
Making our way deeper and deeper under the rock pile, hoping that we were heading the right direction but truly not knowing for sure, we shimmied, scrambled, and slithered through spaces that you'd swear weren't large enough for a human.
When we reached The Coffin, a hardly 16in slot in the rock that we'd each be required to scoot through on our bellies, Dad let out an audible "Fuck no".
Mistakenly at the front of the pack, I was made to slide into the crack first and wiggle my way towards a small sliver of light— it was little relief to pop out into a small crevice barely big enough for two people to stand, and even less to have to crawl back into The Coffin to ferry everyone's daypacks upwards.
We all came out panting and frantic, with the exception of Dan, who somehow managed to keep his cool. Not long after, though, he got his own adrenaline rush when trying to squeeze through another narrow crack that wasn't actually large enough for his chest— amusingly nicknamed The Birth Canal.
From here, there was more scrambling over rocks and through caves, but thankfully not too many more tight spaces. When we eventually popped out onto the Hidden Valley trail about 45min later, we were equal parts jittery and elated to have survived The Chasm of Doom.
The following day, we headed out to Indian Cove, a small section of Joshua Tree National Park not accessible from any of the 3 main entrances, to climb on Spider Wall just behind campsite 63.
Despite the awful name, this ended up being our favourite spot, specifically our last route of the day (Poppa Spider) up a very crack- and feature-heavy 5.8+ with a slight overhang— enough to challenge everyone in the group to the point of fatigue.
It was another fantastic day on the rock, made even better by Dad and Eileen joining us, and proved just the refresher that we needed to confidently set up some of our own top-ropes around the park and explore other popular climbing areas.
Over the course of the next several days, Dan and I journeyed into new areas of the park to tackle whichever hike struck our fancy that afternoon— one day that was Willow Hole (11.5km / 7.2mi), another it was Fortynine Palms Oasis (4.8km / 3mi), and we even managed a double-feature along the Panorama Loop and Warren Peak out near Black Rock (12.4km / 7.7mi) in the far NW corner of the park.
Ever since our first visit to J Tree last year, I'd been hoping to tick off Ryan Mountain (4.8km / 3mi), a short but steep climb affording expansive views over the park's many rock-piles and Joshua Tree forests.
It took us the better part of the week to actually get Ryan onto our schedule, and when we did it was in the heat of a 85F afternoon with zero cloud cover, but the hike certainly didn't disappoint. In fact, all of our hikes were spectacular, leaving us sweaty and satisfied at the end of each day.
We wrapped up a fantastic week with another top-roping adventure out to Hall of Horrors, where Dan managed to get some beta from a group of departing climbers and locate a walk-up with several bolts for us to anchor to.
We thoroughly exhausted ourselves on a ledgy 5.9, and I also took quite a lot of skin off my fingers on the grippy monzogranite, but we had the wall entirely to ourselves during golden hour and you just can't imagine a more quintessential Joshua Tree afternoon.
Where we stayed this week
This week definitely marked our simplest camping schedule yet, staying at one spot we'd already camped at last week and spending the remaining 6 days in an awesome area of concentrated Joshua Trees just outside of town. Needless to say, our budget was happy with another week of exclusively free camping!
Boondocking in Joshua Tree wilderness, CA (free; 29 March)
Boondocking on BLM land near 29 Palms, CA (free; 30 March)
Boondocking in Joshua Tree wilderness, CA (free; 31 March – 4 April)
What we spent this week
A week to make up for all other weeks, we spent a whopping $82 during our time in Joshua Tree, which works out to just over $5/day per person! It's been extremely cool to see how little we actually need, and this didn't even take much effort (without the temptation of breweries or wineries in the area)— we drove in and out of the national park each day (rather than hauling across state-lines), ate food already in our pantry and fridge from last week, and even managed to score a delicious free meal at Steak n' Shake due to a mix-up at the counter.
I'm optimistic that, although we certainly won't be doing $5 days consistently, we will manage to keep costs low moving forward thanks to fewer big drives (we drove all the way south in 3 weeks and now have more than 3 months to reverse the journey up north), inexpensive activities (we've still got time on our national parks pass from last year), and more home cooking (necessitated by all our rural camping).
Groceries: $18
Eating out: $0
Fuel: $64
Accommodation: $0
Activities: $0
Some other fun weekly stats
Distance travelled: 355km / 221mi
Amount of time Brooke spent driving: absolutely zero
Successful climbs in Joshua Tree: 11
Hottest day: a blistering 31C / 88F with no shade and no wind