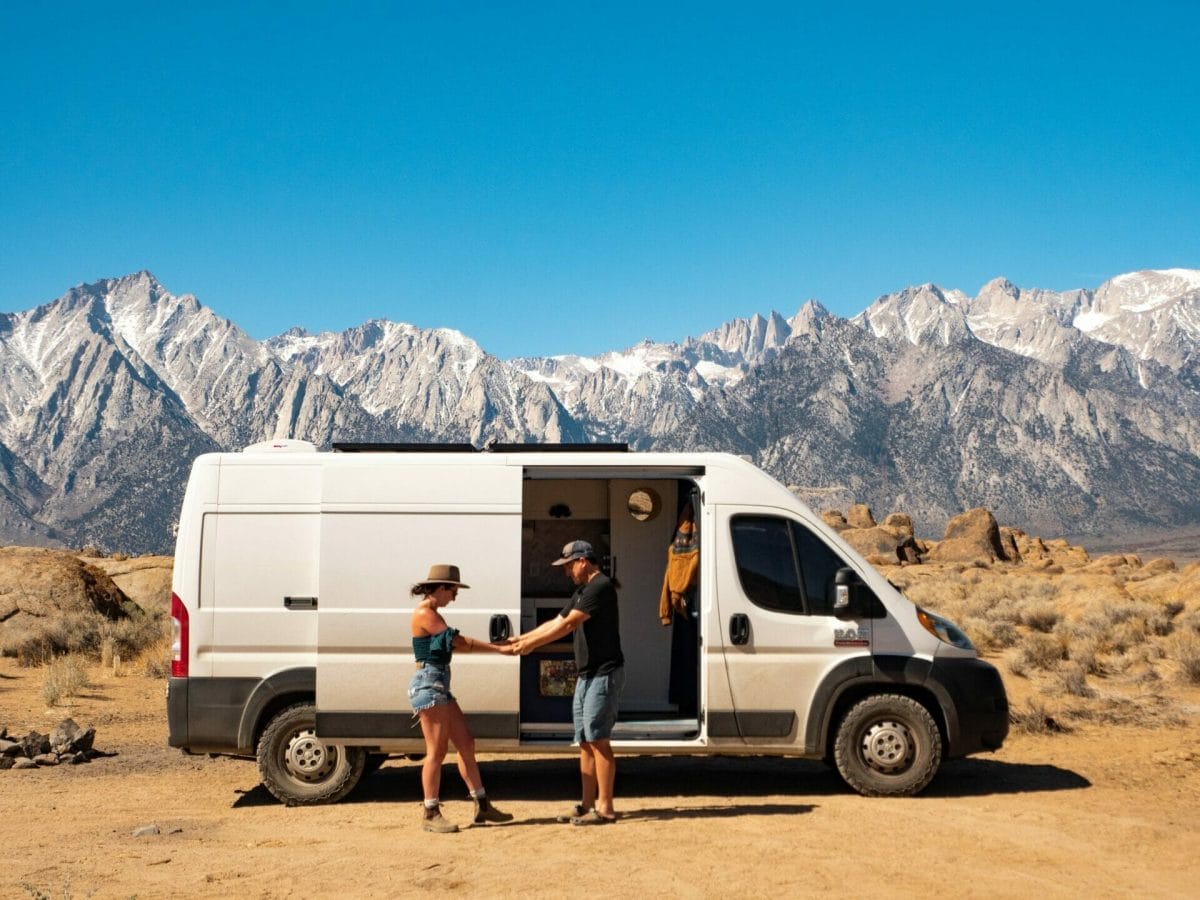 Vanlife diaries #5: Alabama Hills & Death Valley
After leaving our beloved Joshua Tree behind and journeying even farther into the scorching California desert, we spent the week exploring Alabama Hills and Death Valley before finally crossing into Nevada. Despite having visited both of these spots previously, every hike brought new scenery to the forefront and left us wide-eyed in amazement at the diversity of places we thought we knew— queue that familiar feeling of never having enough time!
What we've been up to this week
We started out the week with "spa day" in Palm Springs, which is what we've come to call any day spent at a hotel deep cleaning our dirt-caked bodies and catching up on the maintenance of overgrown body hair. The stay was entirely free thanks to Dan's reward points, but even so, we certainly got our points-worth by splashing around in the pool for the better part of the afternoon and running the hotel ice machine to empty.
Almost the entire next day was then used to run errands around the greater Palm Springs area, arriving to our dispersed campsite (only half as far as we'd intended to make it) well after dark. When we did finally arrive at Alabama Hills the next morning, it was with bright eyes and bushy tails, the effects of spa day in full show.
Alabama Hills is one of my absolute favourite spots in California, an unlikely meeting point between the sunburnt desert and the High Sierras where orange granite warps into long arches that offer a perfect frame of Mt Whitney, the highest peak in the contiguous US.
It's like a miniaturised version of Joshua Tree, the monzogranite and cacti immediately familiar, but with an array of rock features that really do rival Utah's Arches National Park.
For all my attempts at comparison, though, the real beauty of Alabama Hills is that there simply isn't anywhere like it— you can find better climbing, bigger arches, more abundant cacti, and even more impressive peaks, but you will almost never find it all in a single location.
To make matters even better, Alabama Hills is maintained by the Bureau of Land Management (BLM), meaning that it's free to access AND camp just about anywhere within the protected area.
Rest assured that we took full advantage of the opportunity to post-up at some remote pull-out and lounge about outside, but only after a very vigorous day of exploration.
We spent our first morning in Alabama Hills on a scavenger hunt of sorts, searching for rock arches both on and off the trail.
I'd previously hiked to the well-known and oft-photographed Mobius Arch during sunset, but as it turns out, there are easily a dozen other arches scattered about the landscape, and that's only the ones we managed to find.
Undoubtedly, Cyclops Arch stole the show, rising exponentially larger than any other arch in the region and offering such a perfect window onto Whitney that you'd swear it was designed for just such a purpose.
Read more: THE ULTIMATE 1-DAY ALABAMA HILLS ITINERARY: 11 BEST HIKES & ARCHES (+ EASY CLIMBING AT THE CANDY STORE)
On Thursday, we wrapped up an awesome trip into Alabama Hills with some easy top-roping at the Candy Store, an amusingly named group of boulders that proved as fun to climb as they were difficult to find.
With a series of fixed anchors already in place and uncomplicated Class 4 walk-ups, we were set to go for several hours of sweating in the midday sun, only putting our harnesses away when we were too hot to continue (and this was after literally burning my fingers on the rock).
Leaving Alabama Hills behind, we set off to Death Valley National Park, keenly aware that we were trading hot for bloody hot and somewhat fearful of the consequences.
On the recommendation of some of dad and Eileen's friends, our outing for the following day would be a 23km / 14mi summit of the region's highest peak. At 915m, it seemed unlikely to be a challenge in terms of fitness, but current weather reports of 100F in Death Valley left us feeling unsure we'd even be able to leave the van, let alone hike.
Angling to depart the van as early as possible the following morning and beat the heat, we headed up into the hills of Death Valley to camp directly at the trailhead (which is also a free campsite) in Mahogany Flats.
Somewhat distracted by the very 4WD road and our very not-4WD van (and amidst several remarks from Dan that I really ought to research campsites a little more carefully), we hardly noticed the temperature plummeting— by the time we stepped outside, it was a chilly 50F and dropping.
Despite all worries that we'd be too hot to hike, we spent our first night in Death Valley wearing pants and wondering if we should get the heater out of the garage.
As it turns out, the mountains around Death Valley (and our campsite at 8000ft / 2440m) are far from the searing desert floor, a climate all their own in the hottest place on earth, and we needn't have worried at all.
We hiked in jackets all the way to the summit of Telescope Peak, the highest in Death Valley at 11,043ft / 3366m, and even dodged the occasional patch of snow on our ascent.
If the characteristic floor of Death Valley hadn't been visible from every angle, you'd swear you were in a different state, the lush green ridgeline leading to Telescope punctuated with gnarled Bristlecone Pines and dusted in white.
In addition to being a really awesome hike that occupied the better part of our afternoon, this was such an unexpected find in Death Valley and therefore a real highlight for both of us— we'd already visited Badwater Basin, actually the lowest point in the entire US at -282ft, and now to have hiked to the highest point in Death Valley at 11,043ft… quite the perspective.
When we did journey down to the valley floor that night to watch sunrise from the Mesquite Sand Dunes, we were truly awed at the change in landscape and chuffed to have seen a side to Death Valley that few others have.
Read more: THE ULTIMATE 1-DAY DEATH VALLEY NATIONAL PARK ITINERARY: 9 BEST HIKES & VIEWPOINTS (POST-COVID)
I've neglected to mention until this point that it was spring break this week, southern California the apparent pick amongst all of America's families, and therefore places that ordinarily wouldn't be too crowded (who plans baby's first trip to Death Valley in 100F weather?!) were simply exploding with tourists and their sunburnt offspring.
This meant sharing sunset with several hundred of our closest friends. Thankfully, all but us and one other vehicle cleared out by nightfall, leaving us to lay backwards and dangle our heads out of the van to witness one of the most incredible night skies you can imagine.
On our last day in Death Valley, we checked out some of the more popular spots along the main drag, including Golden Canyon and Artist's Palette (the former of which was so hot that we decided to only do the small 3km return rather than the full loop before even reaching the trailhead).
It's always amazing to explore Death Valley and its wild landscapes, but the heat was in full force that day and we were basically human puddles by the time we agreed not to leave the car (read: aircon) ever again.
For all the excitement and adventure of this week, we wrapped it up with a chill day out in the cactus-covered hills of southern Nevada, a stone's throw from Red Rocks (a hint at what's to come next week).
Where we stayed this week
As temperatures have skyrocketed down here in the desert southwest, our outdoor shower is getting a lot more use and, consequently, there's little incentive to spend money on established campsites.
After luxuriating in the (unnecessarily heated) pool at a hotel in Palm Springs, which was entirely free thanks to Dan's never-ending rewards points, we did our usual free camping on BLM land around Alabama Hills and Death Valley this week. Some of these spots are definitely going to make it on the "favourites" list, with incredible mountain views and cactus gardens becoming the new norm.
Roadway Inn in Palm Springs, CA (free with points; 5 April)
Boondocking on BLM land above Ridgecrest, CA (free; 6 April)
Boondocking on BLM land in Lone Pine, CA (free; 7 April)
Mahogany Flat campground in Death Valley National Park, CA (free; 8 April)
Backcountry camping near Mesquite Sand Dunes in Death Valley National Park, CA (free; 9 April)
Boondocking near Crystal, NV (free; 10-11 April)
What we spent this week
Aside from a massive stock-up on liquor before leaving California (which really inflated our weekly grocery budget), we had another quiet week of spending, coming in at a modest $217 per person. Our under-bench storage may be overflowing, but who can pass up 1.75L of gin at $19.99?!
Groceries: $271
Eating out (including beers with meals): $39
Fuel: $124
Accommodation: $0
Activities (including brewery flights): $0
Some other fun weekly stats
Distance travelled: 1117km / 694mi
Amount of time Brooke spent driving: 0, but I really stepped up my efforts as navigator
Hottest day: 38C / 100F in Death Valley (no surprise there)
Margaritas: too many to count