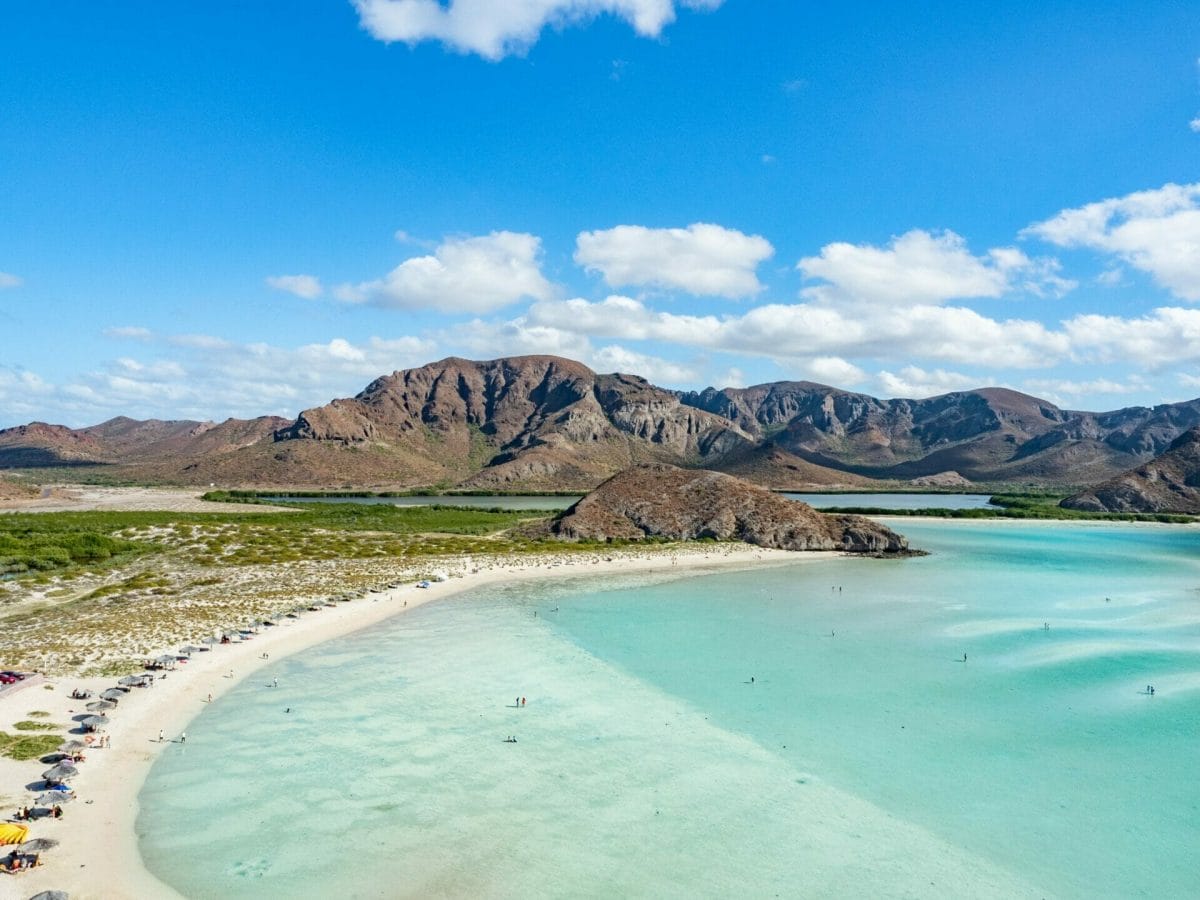 Vanlife diaries #41: Bahía Concepción, Loreto & La Paz, Baja Mexico
Travelling deeper into the heart of Baja California Sur, we discovered several of the peninsula's best beaches and experienced some true magic in between.
From kayaking right out of our van door into the crystal-clear Bahía Concepción to swimming alongside enormous whale sharks in the Bay of La Paz, this was a truly spectacular week on the road and really proved that we can be as active in Baja as anywhere— we passed out cold every night, exhausted from the non-stop activities but so stoked to be here.
What we've been up to this week
Bahía Concepción, Baja California Sur
Leaving Mulegé behind (but not by much), we drove just 20min down the road at the start this week to camp along Bahía Concepción. This would be our first paid site since our hot spring camp in Guadalupe Canyon nearly 2 weeks ago, but at just 200 pesos per night (which we expertly negotiated to 300 pesos or $14USD for 2 nights), we were assured it would be worthwhile to camp directly on a sandy beach.
The view as we approached Playa Santispac was absolutely mind-blowing, our glimpse into the clear turquoise water from the highway enough to cause excited squealing all the way to the beach.
Despite reports that this spot can be incredibly busy (we were expecting to be parked within a few feet of our neighbours, and possibly even offset from the beach by another row of RVs), Playa Santispac, like much of the peninsula, was fairly quiet.
We easily found a spot within spitting distance of the water and still 200m from our nearest neighbours, and positioned our van so that I could run from the doorway into the water in a few strides.
We spent the next couple days at Playa Santispac much like we'd spent our previous days camped at Playa La Gringa and Punta Prieta— walking up the beach and over the hills, going for long morning kayaks to distant islands in the bay, snorkelling through the clear water, and lounging in the sun right outside our van.
The bay's glassy water perfectly lent itself to wildlife spotting, and we saw a sea turtle, sting ray, and a blow fish right from our little inflatable kayak.
We were equally enchanted by the birds that live in the area, particularly a large group of pelicans and other sea birds perched on a sand spit in the middle of the bay that we kayaked out to— these same birds performed nightly acrobatics over the ocean, diving in perfect synchronisation to catch a fish or flying in formation against a yellow sunset.
After several beautiful days spent at Playa Santispac (which ultimately proved the best beach in the entire bay), we checked out nearby Playa Coyote and Playa Requeson— but were reluctant to pay for camping on these more crowded, less desirable beaches when we knew what 200p would buy us elsewhere.
Instead, we drove to the south end of Bahía Concepción and found a perfectly secluded boondocking site on a rocky beach piled knee-deep with pink and purple sea shells.
Read more: THE ULTIMATE BAJA CAMPING GUIDE (+ 35 OF THE BEST VANLIFE & RV CAMPSITES!)
Our rule for Baja has been that we either need to camp in proximity to other vans and RVs OR be completely hidden from the road (so as to prevent crimes of opportunity or anyone bothering us in the middle of the night).
There were no other campers at our beach for the night, but we were completely out of sight from the highway, at the end of a rocky road that no one would have any occasion to drive down— and were therefore thrilled by the discovery.
With a stone fire pit built by previous campers, we enjoyed a delicious curry dinner and red wine in front of a roaring campfire, yet another peaceful and scenic evening on the coast.
Loreto, Baja California Sur
The following day, we continued south for several hours to reach Loreto, an absolutely beautiful historic town on the gulf-coast that is gaining popularity among expats and grey nomads (many from Canada) who travel across the border each winter to escape the gloom.
We were struck by how incredibly clean the entire town was, not a single piece of rubbish on the streets or beaches, and extremely impressed by local efforts to conserve the marine area around Loreto— Parque Nacional Bahía de Loreto was also named a UNESCO World Heritage site for its diversity of wildlife and ecological significance to the peninsula!
Delightfully, the town square was abuzz with Christmas festivities, which only improved into the evening as strobe-lit rides and carnival booths offering colourful prizes drew the entire town onto the plaza.
Almost every building was decorated in Christmas lights, a large tree adorned the centre of the square, and from our perch at El Zopilote Brewing Co, we looked on in wide-eyed amazement, serenaded by a local band covering classic rock from Alan Parsons Project to Talking Heads.
Despite attempts to join a boat tour to Isla Coronado (which did not prove fruitful, due to windy conditions), we spent the morning instead enjoying traditional Mexican brunch of margaritas and chilaquiles— fried tortilla strips served with beans, salsa, cheese, crema, and meat. Basically, breakfast nachos.
As someone who's never enjoyed American breakfast offerings (allergic to eggs, don't like sausage or bacon, and really just prefer to eat leftover dinner in the morning), chilaquiles have been the single greatest breakfast discovery of my life. How am I only just finding out about this?!
La Paz, Baja California Sur
Back on the road, we headed all the way to the capital of Baja California Sur, where we'd be exploring for the remainder of the week.
Aside from flying into La Paz at the start of the year (and basically transiting directly to La Ventana), it was my first time exploring what many travellers have described as their favourite place in Baja.
We typically prefer to be out in nature rather than in a city, but at 300,000 people, La Paz is a very palatable size— and actually the gateway to many of the region's best natural experiences, hence our interest!
The city of La Paz is also surprisingly wonderful, and we loved wandering along the Malecón admiring Christmas decorations, enjoying Baja craft beer at one of the many rooftop bars, and losing ourselves in the local markets (quickly finding ourselves the only foreigners in a sea of Mexicans as soon as we stepped off the beachfront).
We even treated ourselves to dinner at the pricey Bismarkcito, a long-standing restaurant on the Malecón famous for their lobster tacos (which we can now attest are AMAZING).
Whether they were 4x as amazing as the 30 peso fish tacos we had near the local market is open for debate… but we still figured we wouldn't find cheaper lobster in many places and therefore that it was worth the splurge!
And then, finally, the thing I was most excited for in all of Baja: Saturday morning we awoke to a 5.20am alarm and drove north to the marina to meet our guide from Baja Adventure Co, who would be taking us out into the Bay of La Paz to swim with whale sharks as part of a sponsored blog collaboration (the BEST part of operating this website, hands down)!
Read more: SWIMMING WITH WHALE SHARKS & SEA LIONS IN LA PAZ, BCS MEXICO: AN AMAZING TOUR WITH BAJA ADVENTURE CO
In many ways, it's this bucket list experience that put La Paz on the map for adventure travellers— Google "where to swim with whale sharks" and it's routinely suggested as one of the best spots IN THE WORLD to interact with the ocean's largest fish.
Not having swam with whale sharks elsewhere, it's hard to compare, but I CAN say that we were incredibly impressed by the strict regulations and controls in place to protect the sharks and ensure ethical wildlife interactions here in Baja, which is incredibly important to me.
Check out the truly incredible stock photo below to get a sense of scale (since we didn't manage to capture any pictures of ourselves with the sharks in all the excitement!)
There's truly no way to describe the feeling of swimming alongside such an enormous marine animal, but it was immediately reminiscent of the giant manta ray I dove with 2 years ago off the Pacific Coast of Ecuador— grace at immediate odds with their size, amazingly peaceful, and totally humbling.
In all the excitement, we nearly forgot that the tour also included snorkelling with sea lions, which was also amazing (though somewhat overshadowed by the sharks, I will admit).
Still, the entire experience was so incredible and so overwhelming that, of course, I put together a video (below) AND a dedicated post, which you can check out here. Suffice to say that swimming alongside a gentle 30ft shark is an experience we won't soon forget!
We wrapped up the week with a sunny day at the city's best beach, only a short drive from our free campsite on Playa Tecolote.
When in La Paz, everyone will tell you that you simply can't miss Playa Balandra, a sparkling cove of bright white sand and turquoise water set against surprisingly large mountains— a beach that more than lives up to the considerable hype, as we discovered on Sunday.
Despite reports of restricted entry (which is true) and the car park filling by 6am on weekends (which certainly wasn't the case for us, though there was a queue of cars by midday), we arrived at 9am, paid our modest 50p entry fee to the conservation staff and volunteers who maintain the beach, and breezed right on in.
Within a few hours of arriving (during which time we mostly laid in the sun reading), the tide had receded hundreds of metres from the beach, essentially creating a sand bar of shallow water across the cove and around the rocky shores to hidden beaches that are usually only accessible by boat— we'd visited one of these at the end of our whale shark tour the previous day and therefore set off eagerly into the water to test it for ourselves.
Enormous red and black crabs scuttled across the rocks, blow fish darted beneath us, and silver pencil fish drew us deeper into the water. We easily passed a couple hours exploring the bay and snorkelling through the crystal waters.
We also hiked a rough but short trail to the top of a nearby hill for panoramic views of the ocean below (twice, since I wanted the comparison of high to low tide— which was incredibly striking).
From this aerial perch, it's easy to see why most locals and travellers alike consider Balandra to be the city's best beach (not only that, but it recently won a tourism award as the best beach in all of Mexico!)— and we'd certainly have to agree.
Where we stayed this week
This may have just been our best week of Baja camping, and even though we did pay for several sites (a rare occurrence for us), we'd do it all again in a heartbeat!
Camping at Playa Santispac on Bahía Concepción south of Mulegé, BCS (300 pesos for 2 nights; 12-13 Dec)
Boondocking on a rocky beach just south of Playa Requeson on Bahía Concepción, BCS (free; 14 Dec)
Rivera del Mar RV Park in Loreto, BCS (200 pesos; 15 Dec)
Camping in a local expat's yard in El Centenario, BCS (free; 16 Dec)
Parking out front of the MAREA resort in La Paz, BCS (free; 17 Dec)
Camping at Playa Tecolote just north of La Paz & Playa Balandra, BCS (free; 18-19 Dec)
Read more: THE ULTIMATE BAJA CAMPING GUIDE (+ 35 OF THE BEST VANLIFE & RV CAMPSITES!)