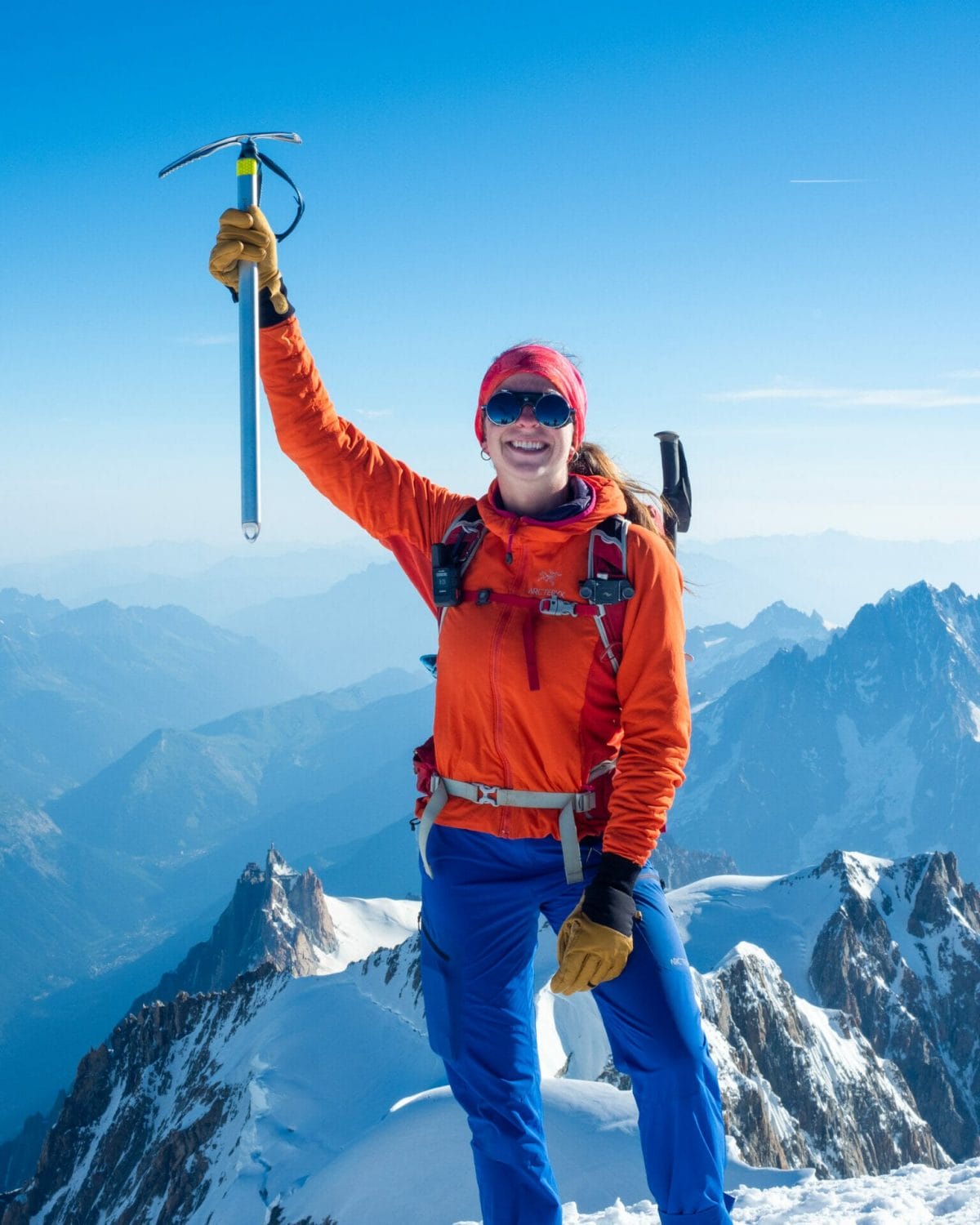 Solo climbing Mont Blanc via the Goûter Route
Seven years ago, I set out on my first ever solo backpacking trip— the Tour du Mont Blanc, a 180km trail that gains more than 10,000m through the Alps. I hauled the heaviest pack I'd ever carried, set up a tent alone for the first time, struggled for 12hrs a day on the trail and came back into town 8 days later feeling like my entire life had just changed (which it had).
This mountain, Western Europe's highest peak, became a symbol of what I could accomplish when determined to push myself beyond my comfort level, not to give in to the fear of the unknown but to rise to the challenge.
I lost blood, sweat, and tears in the shadow of Mont Blanc— but I never in a million years would have imagined that I could climb to her summit, a goal so lofty it didn't even enter into my reality at the time.
When life brought me back to Chamonix this summer, now with years of solo hikes and challenging climbs under my belt, I finally imagined it. A return to the mountain that started it all for me. And after a lot of careful research and consideration, I decided to climb solo, an ode to the way I first encountered her.
If you're just here for the story, skip to the trip report below ↯

Otherwise, read on for a detailed route description and some logistical information about the climb!
Choosing a route on Mont Blanc
Innumerable routes from 3 bordering countries lead to the snowy summit of Mont Blanc, each varying in length and technicality, but as a solo alpinist, the safest route is generally considered to be the Goûter Route (also called the "Normal Route") that ascends from the French side of the mountain, near Chamonix in the town of Saint-Gervais-les-Bains.
It's heavily trafficked (limiting the need for navigation or probing on the glacier), relatively direct, and doesn't require the level of technical climbing demanded by some of the other routes.
Alpine huts on the Goûter Route
There are 3 huts along the Goûter Route that offer overnight accommodation:
Providing the highest night's sleep and the shortest climb day, Refuge du Goûter is a popular choice— which means it's always the first to book up. Staying at Refuge Tête Rousse means you are sleeping 700m lower than those at Goûter, potentially increasing your risk of altitude symptoms, BUT you have the advantage of crossing the Grand Couloir in the dark hours of the morning, when the risk of rockfall is at its absolute lowest.
Climb-time from Refuge du Goûter to the summit of Mont Blanc is just 4hrs and from Refuge de la Tête Rousse to the summit is ~6hrs, so both are entirely feasible for a strong climber.
Perhaps the most difficult part of climbing Mont Blanc is actually getting a reservation at one of the alpine huts along the route, without which you won't be allowed on the mountain— my booking was checked when buying Tramway du Mont Blanc tickets to the trailhead at Nid d'Aigle, about halfway up the trail, at a small guard station just before Tête Rousse, and again when checking in at the hut. These book up AGES in advance, but cancellations do happen, so the best advice is to just refresh the booking system every day until you find a date that will work. I got my booking at Refuge Tête Rousse about 6 weeks ahead of my climb date, after 10 days of refreshing the site.
Safety considerations for climbing Mont Blanc
In my mind, there are 3 primary risks when climbing Mont Blanc:
crevasse/glacier conditions: this is particularly important if climbing unroped, as a fall into a crevasse or the collapse of a snow bridge can be fatal. The Goûter is generally considered to be quite stable, but conditions can fluctuate yearly and even weekly on the mountain, so it's important to consult local guides/climbers to understand the state of the glacier before you begin your ascent. To further mitigate risk, I climbed with a harness and prusiks in case I reached terrain that couldn't safely be crossed without tying to a passing rope team (I didn't need to in the end, but it was great peace of mind).
rockfall in the Grand Couloir du Goûter: the scramble above Refuge Tête Rousse en route to Refuge Goûter leads across a rough couloir that has become notorious for rockfall, particularly in the heat of the afternoon: the so-called "Death Couloir" has averaged 4 deaths and 9 injuries per season for the last 30 years. Sitting at Tête Rousse in the afternoon before my climb, I saw rocks drop approximately every 20 minutes, some as large as cars; to be caught in this rockfall would be almost certain death. Moving quickly through this area is a necessity, but moving early is even better. I left Refuge Tête Rousse at 2.30am, crossed the couloir around 3am, summited by 8am, and was back through the couloir around 11am (just 1hr after the sun hit the rocks).
the elevation: at 4810m, there is a real possibility of experiencing altitude sickness and associated symptoms during the climb. This concerned me more than anything, because altitude sickness has the potential to dull reaction time and impair judgement, both of which could have deadly consequences when you're alone on the mountain. And indeed, I saw several climbers succumb to the elevation, including one who was curled in a ball near the summit vomiting while his guide looked on… The best prevention for this is to spend some time acclimatising before attempting Mont Blanc. I'd recommend sleeping a few nights in a high hut, tackling a training climb or two (Aiguille du Tour and Mont Tondu), and taking the cable car to Aiguille du Midi at 3800m and just wandering about on your rest day.
Wondering whether you're prepared to climb Mont Blanc? Despite the belief by some that Mont Blanc is a long walk, any experienced mountaineer will tell you that "you have no business on this mountain unless you have at least six alpine peaks under your belt". Rather than writing an entire article about preparing for a climb of this nature, I'll just advise a realistic and honest appraisal of your own skills, acknowledging how many inexperienced climbers have died on these slopes. A popular gauge among climbing guides is Mt Rainier, a spectacular glacier climb in Washington State that rises to 4392m and presents some similar terrain to Mont Blanc. I found the Emmons Route up Rainier significantly more challenging than Mont Blanc, so even if you've climbed the more popular DC Route, Mont Blanc should be within your skillset.

And what about soloing Mont Blanc? Climbing unroped doesn't add any technical difficulty to the ascent, but it vastly decreases the safety; without a rope team to catch your fall, you need to be extremely competent in self-arrest, adept at manoeuvring in crampons, confident in scrambling Class II-III in the dark, and experienced enough to make safety-conscious decisions on the fly. If you've never climbed solo before, this is not the place to start.
Getting to Mont Blanc
Either fly or arrive by train to Geneva Airport in Switzerland
Take a bus from Geneva to Chamonix, France
Catch a train from Chamonix up the valley to Saint-Gervais-les-Bains *I'd recommend staying a night in Saint-Gervais-les-Bains prior to the climb; you can connect onto the tramway either down by the Le Fayet/Saint-Gervais-les-Bains train station or up the hill in the town, where most of the hotels are located
Board the Tramway du Mont Blanc in Saint-Gervais-les-Bains and ride to Nid d'Aigle (the Eagle's Nest) *at the time of climbing, this tramway stop was exclusively open to climbers and operating on a reduced schedule
*Mont Blanc Goûter Route description
The ascent (and descent) of Mont Blanc can be broken into several segments, each with different conditions and challenges:
Nid d'Aigle (2373m) to Refuge de la Tête Rousse (3167m): 2hrs
Refuge de la Tête Rousse to Refuge du Goûter (3835m): 2hrs
Refuge du Goûter to Dôme du Goûter (4304m): 1.5hrs
Dôme du Goûter to the Vallot Emergency Shelter (4362m): 30min
Vallot Emergency Shelter to Bosses Ridge to summit (4808m): 1.5hrs
summit to Refuge du Goûter: 1.5hrs
Refuge du Goûter to Refuge de la Tête Rousse: 1.5hrs
Refuge de la Tête Rousse to Nid d'Aigle: 1hr
Nid d'Aigle (2373m) to Refuge de la Tête Rousse (3167m): 2hrs
From the Tramway stop in Nid d'Aigle, ascend around 800m along a rocky trail to reach the hut. The bottleneck of climbers exiting the tram can be pretty extreme, but eventually people fan out according to hiking speed and you'll be able to move a little quicker. Only the very start and the final 5min of this hike are on snow (not glacier), so no climbing gear needed.
Refuge de la Tête Rousse to Refuge du Goûter (3835m): 2hrs
From the Tête Rousse hut, ascend for about 20min minutes on snow (helmet, but no crampons) before connecting to the Class 2-3 rock ridge that you'll scramble all the way to Refuge du Goûter. Shortly after reaching the rock, cross the Grand Couloir— subject to frequent rockfall, this is the deadliest part of the entire climb and the quicker/earlier you cross, the better.
Staying at Tête Rousse ensures that you will pass the Grand Couloir in the dark hours of the morning, so this is ideal for minimising risk; the trade-off is that you're navigating challenging terrain in the dark, but you can afford to take your time a little more here than those traversing in the afternoon.
Once across the couloir, the route continues upwards, following a series of orange dots through the rock. Conditions are generally great for scrambling, and particularly if you're out in front of the guided groups (who will be roped and consequently moving much slower), you can make great time to Goûter.
Refuge du Goûter to Dôme du Goûter (4304m): 1.5hrs
The new Refuge du Goûter is a few minutes off the route, but at the same elevation, you'll ascend a ladder onto the old hut and arrive face-to-face with a towering wall of snow; the remainder of the climb is on glacier, so put on crampons before continuing upwards.
The ascent to Dôme du Goûter is fairly gentle, with several visible crevasses that are easily avoided following the beaten track. Starting from Tête Rousse at 2.30am, most of this section was light for me and the most spectacular part of the sunrise happened when I crested onto the Dôme du Goûter for my first view of Mont Blanc!
Dôme du Goûter to the Vallot Emergency Shelter (4362m): 30min
Now with the summit in clear view, the route drops slightly to the Col du Dôme before climbing via switchbacks towards the Vallor Emergency Shelter (visible in the photo above), which marks the approximate halfway point from Refuge du Goûter.
Vallot Emergency Shelter to Bosses Ridge to summit (4808m): 1.5hrs
The route continues to steepen towards Bosses Ridge, a narrow track of snow that drops off into oblivion on either side, demanding careful footwork and a real head for exposure. The views here are among the most spectacular on the entire climb, looking down at much of the Mont Blanc massif and up at the nearing summit.
In its final moments, the climb flattens to deliver you gloriously onto the highest point in the Alps!
*Trip Report
Setting off from my hotel in Saint-Gervais-les-Baines this Saturday, 8 July at the leisurely hour of 11am, I walked a short distance down the road to the Tramway du Mont Blanc Station to present my proof of hut reservation and receive the "special mountaineer's ticket" that would allow me to travel all the way to the Eagle's Nest, Nid d'Aigle, at 2373m. Tram maintenance has closed this stop to all but climbers for the season, so there was something decidedly exciting about being ushered into a car filled entirely with ropes and axes and glacier glasses.
Within an hour, we arrived at Nid d'Aigle and an absolute torrent of climbers flowed out of the tramway, all marching purposefully up the trail towards Refuge de la Tête Rousse and, some, beyond to Refuge du Goûter. The weather was absolutely phenomenal and I nearly gasped to see Tête Rousse come into view across the snowfield around 2pm, the northwest face of Aiguille du Bioannassay looming large in the background.
In the previous days, I'd climbed Aiguille du Tour, hiked around Le Tour, and spent a day at Aiguille du Midi as part of my acclimatisation strategy, but I was still eager to get to the hut early today for a few extra hours at elevation. With the better part of the day still in front of me (and absolutely no where to be), I settled in for an afternoon of reading, loafing, and general relaxation ahead of what I hoped would be a very early bedtime.
I faced some of the usual alarm that I was climbing alone. Perhaps not as extreme as I encountered on Aiguille du Tour, where several people told me outright that I was foolish and unprepared (how they determined this, it was never clear), but enough to exasperate me somewhat. Mont Blanc is no small task and to underestimate her could be fatal, yet I always wonder whether men arriving to the hut alone are also being queried on whether they have crampons for the climb, because of course, it's not a hike. I can only smile and nod.
Whatever the European hut system takes away from the backcountry experience (and of course it does), there's something pretty wonderful about carrying a light pack free of camping gear, spending a night in a warm bed, and eating a hot meal prepared by someone else. As is often the case before a big climb, though, sleep still proved somewhat elusive, and I spent many hours tossing and turning in excitement in my bunk before finally nodding off around 12.30am to an hour of sleep.
My 1.30am alarm could not have been less welcome, especially as the guided group sharing my bunk room wasn't getting up until 4am, but after a quick round of snooze, I pried myself out of bed (already dressed), shovelled in some of the extremely meagre breakfast, and stomped off by headlamp around 2.30am.
Ascending for about 20min through a narrow packed-track of snow, I soon reached the infamous Grand Couloir. At this time of morning, rockfall is thankfully not a significant issue, but it proves somewhat challenging to navigate across slippery rocks and flowing water in the pitch black, so I'm relieved to finally reach the rock ridge that I'll scramble for the next hour to reach Refuge du Goûter.
Following a line through the rocks is surprisingly easy, thanks to both frequent orange dots and a general high quality of rock that presents many possible routes upwards, never complicating beyond Class 3. By 4.30am, I've crossed the old hut, put on crampons, and taken my first steps onto glacier.
There's something about glacier climbs, begun in the middle of the night by headlamp, thick with anticipation and focus yet extending for hours up a white slope with little variation, that feel so magical to me. The continual upward clomp, little scenery to enjoy in the dark and with no sounds or distractions, seems that it might be wildly monotonous, but I've come to find it almost meditative and I relish in these moments up here on the mountain all by myself.
By about 5am, conditions are light enough that I've turned off my headlamp, electing instead to walk by a combination of moonlight and sunrise glow. Aiguille du Bionnassay behind me is incredibly captivating, but once over the crest of the Dôme du Goûter, I have eyes for only one mountain.
It's my first glimpse of the summit since I began my approach yesterday, and in the golden light of early morning, it's no wonder I've elevated Mont Blanc to such a mystical status.
Now under the warm glow of the early morning sun, my solo journey towards Mont Blanc feels even more surreal, quickly dropping to the Col and then ascending in earnest towards the Vallot Emergency Shelter. Where so much of my climb has felt blissfully solitary, the slopes towards Vallot appear thick with climbers, multiple routes converging here, plus the addition of other climbers who began at Goûter and stopped for a rest.
It's another opportunity for climbers and guides to query me about being alone (which, again, I notice they don't seem to do to the several male soloists I've seen), but I find some satisfaction in being called brave rather than unprepared, though their meaning is still likely the same.
Without a cumbersome rope or anyone to wait for, I easily pass groups as they switchback up the mountain towards the sharp line of Bosses Ridge. This presents by far the greatest exhilaration of the entire route, a knife-edge ridge snaking dramatically up to the summit as both sides fall away to steep slopes and jagged peaks.
Climbing higher through thin air, yet feeling no real affect of the altitude (a true testament to my acclimatisation, thank goodness), I can see Mont Blanc looming ever-closer. There's a fresh wind blowing, but not a single cloud in the sky, the entire glacier bathed in warm sun. By the time I crest the stretch of the ridge and see a flat walkway stretching towards a cluster of people, I'm already crying.
Standing on the summit this morning, brandishing my ice axe like a prize, tears blowing across my cheeks, there's hardly a more tangible representation of how far l've come from the nervous, under-prepared but determined version of myself who first laid eyes on Mont Blanc.
And just like the TMB, this was a journey I was meant to make solo, a sacred pilgrimage to the place that has come to hold an almost spiritual reverence in my eyes. I am beyond thankful for everything this mountain has given me— confidence, ambition, perseverance, grit, wonder, and so much respect.