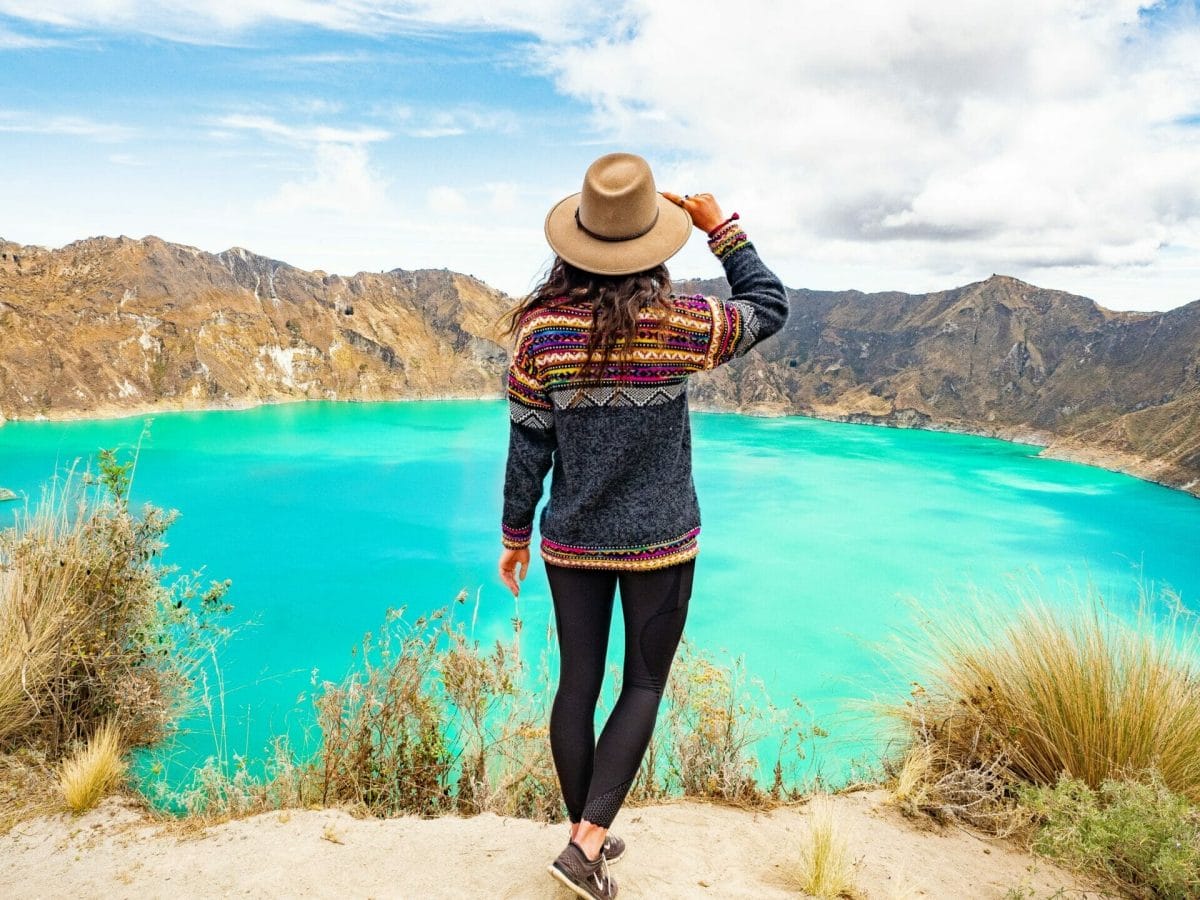 The ultimate Ecuador travel guide
Dozens of active volcanoes, lush Amazon Jungle, UNESCO World Heritage-listed cities, the incomparable Galápagos Islands, and some of the best beaches in South America come together to form this small but amazingly diverse country, a destination quite unlike anywhere else.
Ecuador dazzles, from its incredible food and charming people to its natural beauty and abundance of wildlife, and I can absolutely guarantee that you'll leave feeling like you experienced something truly special here. This travel guide contains absolutely everything you need to know before visiting Ecuador, including when to visit, how to get around, top sights, itinerary recommendations, health & safety, typical costs, a packing list & heaps more.
Ecuador
Population: 17.6 million
Capital: Quito
Language: Spanish— read more about the Language barrier below
Currency: US Dollars— read more about Money in Ecuador below
Power: Type A plug or B plug (same as the 2- or 3-prong types used in America) at 120V
Visa: A free 90-day travel visa is issued on arrival (at the airport) for citizens of most countries, including Australia, America, and UK
Good to know: The Galápagos have a reputation for being incredibly expensive, and as a result, a lot of visitors to Ecuador skip the islands— but it's definitely possible to plan an awesome budget-friendly trip! Check out this post for more details on a land-based Galápagos adventure.
Planning your trip to Ecuador
Best time to visit Ecuador
Despite being a rather small country, Ecuador is amazingly diverse in terms of both landscape and climate, often meaning that one region is experiencing heavy rain while another is quite dry.
In the Galápagos, there are generally just two seasons: a wet, warmer season from December to June and a dry, colder season from July to November. Both water temps and underwater visibility can be better in the wet season, but you'll have clearer days in the dry season and it never really drops below 20, so both are good options. I go into a lot more detail about the best time to visit the Galápagos in terms of weather and wildlife in this post, but suffice to say that anytime is going to be really special. My main advice is to, if possible, avoid high season from November to March and June to August, as the islands will be more crowded, prices will increase, and tours can book out.
Back on the mainland, the Ecuadorian highlands around Quito and the Andes tend to experience their dry season from June to September, whereas the Amazon is (slightly) drier from August to February. Diving with Manta Ray near Montañita (Bajo Cope or Isla de la Plata) is also best from July to October. Like the Galápagos, mainland Ecuador can be a little busier during European and North American holiday periods, but it shouldn't really impact your travels at all.
Getting to Ecuador
Flights to Ecuador
A majority of travellers to Ecuador will fly into Quito through the Mariscal Sucre International Airport (UIO), about 1hr outside of the city itself ($25USD in a taxi).
It's also possible to fly into Guayaquil's Aeropuerto Internacional José Joaquín De Olmedo (GYE), and since you'll probably want to travel between these 2 cities anyway, choose flights based on whatever is cheapest for your dates. It's also worth noting that you can reach the Galápagos directly from Quito or Guayaquil for essentially the same price and flight time.
Flights to Ecuador can be really reasonable if you shop around, with Sydney to Quito as low as $1400AUD return and LAX to Quito usually hovering around $200-400USD. Use Skyscanner or Momondo to check for the best flight prices.
Buses to Ecuador
It's also possible to arrive into Ecuador overland from Peru or Colombia on a long bus. There's a bit of a shuffle involved at the border when you have to disembark, typically walking the final metres into the country via an immigration office to stamp in and out, and then re-boarding the bus on the other side. It's manageable if you have a basic understanding of Spanish and you keep your wits about you.
If you're arriving into Quito overland, you'll most likely come into Terminal Quitumbe, the city's large bus station located about 30min south of the centre. Expect to pay around $15USD for a taxi, or if you have a local SIM card (see Communication & connectivity below), definitely use Uber for a lower fare.
Getting around Ecuador
Transport between cities
Internal flights in Ecuador
Of course it's possible to fly between cities in Ecuador, but it's such a small country that I really wouldn't recommend it over taking incredibly inexpensive and reasonably comfortable public buses. The one exception is getting to the Galápagos Islands, which will obviously necessitate air travel.
LATAM, TAME, and Avianca all operate daily flights from the mainland (Quito or Guayaquil) to Baltra (GPS), which is the main airport for the islands located near Santa Cruz and the route I'd recommend for most people. Read more about flying to the Galápagos in this post.
Public buses in Ecuador
As with most South American countries, Ecuador has a brilliant network of public buses connecting every city, town, and natural attraction, and this is absolutely the best way to get around.
The buses in Ecuador don't usually have a toilet on board or offer the super comfy semi-cama seats that you'll find in larger countries, but they do make up for it by being incredibly inexpensive. The general rule is that you'll pay just $1-2USD per hour of bus travel. You also don't need to reserve tickets in advance, you can just rock up to the station and buy on the day.
Tourist buses in Ecuador
For most itineraries through Ecuador, there's also the option to travel with Ecuador Hop, a new hop-on/hop-off bus service from Quito to Montañita via Laguna Quilotoa, Volcán Cotopaxi, Baños, Riobamba, Cuenca, and Guayaquil.
It's more expensive than travelling by public bus, true, but it has some definite draws— added convenience of hostel pick-up/drop-off, cool extra stops along the journey, and a whole bus of fun backpackers to hang out with. After travelling around Ecuador by public bus and then with Ecuador Hop, I wrote a super in-depth comparison to help you decide which is better for you!
Read more: AN HONEST REVIEW OF ECUADOR HOP
Transport within the city
Taxis in Ecuador
Taxis are an inexpensive way to get around any city in Ecuador (or even between cities if it's not too far, like Montañita to Ayangue), but you need to exercise some additional caution. According to several locals, it's absolutely not safe for a solo female to take a taxi in Quito at night, so either Uber or make sure you're travelling with a group (make friends at the hostel!)
If you do want to use a taxi, either have your hostel call one for you OR use an app like Cabify or Easy Taxi— this will ensure that you're getting into a registered taxi who's far less likely to scam you. These apps also remove the need to negotiate a fare when you have absolutely no idea what a ride should cost. I haven't heard of anyone having safety issues while using Cabify or Easy Taxi, so they can be a great option if Uber isn't available.
Uber in Ecuador
Uber is typically the safest, cheapest, and most convenient way to get around, but it's only in larger cities like Quito and Guayaquil.
Technically, Uber is illegal in Ecuador, so you'll usually have to sit in the front seat so it looks like you're just a pair of friends, but I found Uber to be very reliable and consistently inexpensive. I'd recommend it over taking a taxi in almost every situation (with the main exception being the airport, where it's usually way easier to get a taxi).
Get a local SIM card when you arrive (see Communication & connectivity below) so that you're able to use Uber, as well as Google Maps, to get around.
What to do in Ecuador
Top sights & destinations in Ecuador
I've written comprehensive guides to heaps of destinations around Ecuador, so this is just a brief idea of where to go and what you might do on your trip. Links to more detailed posts are provided throughout.
Quito
The country's high-altitude, volcano-circled capital is one of the absolute best places to visit in Ecuador, with impeccably preserved colonial streets, rich Andean culture, a thriving food scene, and some seriously spectacular views. You'll likely pass through Quito at the start of your trip and/or en route to the Galápagos, so just make sure to set aside a few days to explore this underrated but vibrant city in the highlands.
Cotopaxi National Park
Home to one of the world's highest active volcanos, Cotopaxi National Park is just a few hours from Quito and among the best ways to get outside in the high-altitude mountains of Ecuador. Some of the top activities in the National Park include scenic horse rides through the mountains, beautiful Laguna Limpiopungo, and hiking to the base of the Cotopaxi Glacier at 5,000m.
Laguna Quilotoa
This impossibly-turquoise crater lake situated in the caldera of an active volcano is one of Ecuador's most impressive natural wonders. Whether you have several days to complete the Quilotoa Loop trek or just an afternoon to walk around the rim, Laguna Quilotoa is a definite highlight.
Baños
As Ecuador's undisputed adventure capital, Baños is the best place to go for high-adrenaline activities like ziplining, canyoning, white water rafting, and giant swings, but it's also home to a spectacularly lush jungle full of waterfalls and steamy hot springs. There's an absolutely awesome backpacker vibe here, and somehow the town still manages to feel energetic and unhurried at the same time, without ever being tacky.
Montañita
Montañita is a formerly sleepy village along the Ruta del Sol that is now widely known as one of the best places in Ecuador to surf (and party); slightly less-known is its close proximity to the best diving in mainland Ecuador. Isla de la Plata and Bajo Cope are home to the largest population of oceanic Manta Ray in the world, and an intimate dive in these waters is truly magical.
Guayaquil
Ecuador's largest city is the gateway to the Galápagos Islands, but also a colourful coastal paradise of its own, overflowing with metropolitan parks, vibrant architecture, and unique wildlife.
Galápagos Islands
Among the best places in the world to see wildlife and marinelife, the Galápagos Islands are absolutely incomparable when it comes to scuba diving, beautiful volcanic landscapes, secluded beaches, and encounters with rare species. For both their natural beauty and immense biodiversity, this is one of the most incredible places you can visit in Ecuador and it would be absolutely insane to travel the country without including the Galápagos in your itinerary.
Itinerary recommendations for Ecuador
Best food & drink in Ecuador
Ecuadorian cuisine is amazingly good, primarily consisting of ocean-fresh seafood on the coast and Galápagos, mouthwatering grilled meat on the mainland, aji for a bit of spice, and a lot of delicious starchy sides. I actually found the food to be one of the main highlights of travelling in Ecuador, and it helped that everything was very inexpensive and full of flavour!
Unfortunately, Ecuador is probably a pretty hard place to be as a vegetarian, as almost every dish centres around meat or seafood. The few times I ate with a vegetarian at a restaurant in Ecuador, she was basically just served banana, rice, potato, and egg, which did not seem super appealing. I imagine it's possible to find more vegetable-based dishes if you seek out vegetarian cafes, but it's certainly the meat-lovers who will most enjoy Ecuadorian cuisine.
Here are some of the absolute best foods to try in Ecuador:
Patacones: fried plantains (big green bananas) pressed into flat disc, a common and absolutely delicious side to basically every dish
Ají: a moderately spicy salsa, sometimes a little chunky like pico de gallo, served on the side of every dish in Ecuador
Llapingachos: incredibly delicious fried potato pancakes stuffed with cheese, similar to Colombian arepas
Encebollado: a super flavourful seafood, red onion, and coriander soup
Cuy: guinea pig roasted on a spit, very common in the Andes (including other countries like Peru); it's actually pretty good and worth a try if you can get over the fact that it's a cute little guinea pig
Carne asada: thin beef marinated and grilled to a somewhat crispy texture, absolutely my favourite type of steak in the world
Ceviche: raw fish marinated in lime juice and served with red onions, cilantro, chilli, and corn (similar to the ceviche made in Peru)
Recommended reading for Ecuador
I always love reading about a country before/while I'm visiting! It's a great way to learn more about the history of the places you'll be seeing, but also about the culture, people, and unique landscapes. Here are my top picks for Ecuador:
The Voyage of the Beagle // Charles Darwin: A young Charles Darwin documents his journey around the world on the HMS Beagle, famously sailing through the Galápagos Islands and beginning to formulate what would one day become his Theory of Natural Selection, the most rigorous scientific understanding of human evolution ever posited. Even a century and a half later, Darwin's theories remain relevant, and this is probably one of the greatest books any scientist or keen naturalist can read to appreciate the biodiversity of the Galápagos.
The Queen of Water // Laura Resau: Based on the real life of a indígena girl born in a small Andean village in Ecuador, this novel follows the young life of María Virginia Farinango as she is taken from her home at age 7 and forced to serve a middle-class mestizo family who leads her to resent her heritage and discourages her from pursuing any kind of life beyond that of a "stupid Indian" servant. This is a really inspiring read that will absolutely deepen your appreciation for the classism and racism that once existed in Ecuador, but also for the bravery and resilience of the indigenous people.
Satan Came to Eden // Dore Strauch: A firsthand account of what would later be called "The Galápagos Affair", a series of bizarre happenings (and a disappearance) on Isla Floreana in the 1930s after a group of Europeans seeking to escape traditional civilisation created their own utopia in the Galápagos. Most of these characters, all real people, were probably what I'd describe as mentally unhinged, so you can imagine this makes for entertaining reading.
Galápagos // Kurt Vonnegut: A strange, satirical, and classically-Vonnegut tale about a group of travellers en route to the Galápagos for a nature cruise who, after an apocalypse, become the last people on earth and must then colonise one of the islands to repopulate. This might not be the kind of book that appeals to everyone, but I did actually learn a bit about the Galápagos along the way, and of course also enjoyed the poignant commentary on human egotism (you'll see).
Money in Ecuador
Cash & cards in Ecuador
US Dollars
Ecuador did away with their own national currency, the sucre, back in 2000 due to skyrocketing inflation and now uses the US Dollar as their official currency.
All the notes used in Ecuador are identical to those used in the US, but you won't find a lot of $1 notes in circulation— instead, Ecuador seems to favour gold $1 Sacagawea coins that, although still legal tender in the US, aren't all that common there.
Credit cards
Cards are not a great option for everyday purchases in Ecuador. Debit or credit card surcharges are often as high as 12% and most local restaurants, artisans, and markets won't accept card anyway. As such, it's a good idea to book tours or accommodation in advance whenever possible to avoid paying a huge fee or carrying hundreds of US dollars in cash.
If you do end up paying with card and copping the hefty fee, VISA is sometimes preferred over Mastercard (and definitely over AMEX). I've had cards randomly and inexplicably rejected from certain machines in Latin America, so it's also a smart idea to have at least two debit/credit cards with you, just in case.
For those travelling to the Galápagos, be aware that there are ATMs in Puerto Ayora (Santa Cruz) and Puerto Baquerizo Moreno (San Cristóbal), but no where else. If you're going to Isabela or Floreana, make sure to bring enough cash for your entire stay, as there will be no way to get money without travelling back to the other islands.
Trip budget for Ecuador
Ecuador is an inexpensive travel destination, particularly compared to other countries in Latin America. If you're just exploring the mainland, travelling by public bus, staying in hostels, and doing the occasional paid activity, you can see Ecuador for about $28USD ($44AUD) per day.
For a 8-day, land-based trip to the Galápagos, I've worked out that you need about $1,000USD ($200AUD per day) including flights and national park fees, inexpensive accomodation, lunch and dinner at a restaurant, 2 diving tours, and 2 other island hopping or snorkelling tours.
Some people might say you can do it even cheaper than that, but it takes a lot of effort to get here, so my suggestion is to not scrimp too hard and really make sure you see a lot! Obviously $125USD per day is not sustainable for a long-term trip, but for just one week in the Galápagos, it really is worth it. The mainland is cheap enough to make up for it!
Cost-cutting tips
Instead of buying breakfast at a restaurant, grab a few rolls or pastries from a local bakery for just a handful of centavos!
Look for small local restaurants rather than touristy restaurant and always ask if they have a menu del día— this is an inexpensive daily set menu that usually includes a soup, main dish, and drink for $4-8USD (also a great way to try new local food!). Even many restaurants in the Galápagos offer a menu del día, which helps keep your budget under control on the islands.
In terms of visiting the Galápagos, a land-based DIY adventure is going to be much cheaper than booking a cruise or going through a tour agent. Most excursions can be booked as soon as you arrive on the island and will be a fraction of the price listed online.
If it's an option, always choose the night bus— not only does it maximise your time in each city, but it also saves money on accomodation for that night.
Typical expenses in Ecuador
Dorm bed in a hostel: $10-15USD
Airbnb, whole apartment: $25-40USD
Private room for two: $20-40USD
Lunch at a casual restaurant: $4-8USD for the menu del día
Street food meal: $1-2USD
Dinner at a restaurant: $10-20USD
Drink from a restaurant or bar: $2-5USD
Bottle of water: 50c
Snack from convenience store: 50c-$2USD
Ticket on public transport: 50c-$1USD
Taxi from Quito to the airport: $25USD
Bus to another city: $1-2USD per hour of bus travel
Flights from Quito or Guayaquil to Galápagos: $300-500USD return
Entry to Casa del Arbol: $2USD
Day tour from Quito to Cotopaxi National Park: $49USD
Ecuador Hop pass from Quito to Montañita: $159USD
Practical considerations for Ecuador
Health concerns in Ecuador
Water
The water in Ecuador is not safe to drink straight from the tap, which leaves most travellers to buy several plastic water bottles every single day. Although inexpensive, this is TERRIBLE for the environment, so I'd strongly encourage you to get a filtered water bottle instead, which will allow you to fill up from any water source (bathroom tap, stream, etc) and still enjoy clean, safe drinking water.
Some very sensitive people avoid brushing their teeth with tap water, but I've never had (or known anyone who has had) an issue with this in Ecuador. It is also true that you should avoid ice cubes in places where the water is unsafe, but it should be fine to have ice in your drinks or eat washed vegetables in most restaurants, particularly touristy restaurants.
Vaccinations & medication
For most travellers to Ecuador, there aren't too many diseases you need to worry about and no vaccinations actually required for entry.
Malaria and yellow fever risk are considered to be very low or actually non-existent in all of the country's popular destinations like Quito, Baños, Montañita, Guayaquil, Galápagos, etc, so unless you're planning extensive travel into the Amazon, there's probably no need to take a prophylaxis.
Most doctors will also suggest routine vaccinations like Hep A/B, typhoid, and rabies before your trip, but these are not a requirement to enter the country.
Altitude & acclimatisation
Minor symptoms related to the altitude (and, to a lesser extent, true altitude sickness) is a possibility when travelling in Ecuador, including Quito (2,850m) or trekking up Volcán Cotopaxi (5,897m). These symptoms can be as minor as general fatigue and lightheadedness, and most people probably won't even notice anything until they go up the TelefériQo or actually do some hiking, but it's still good to be aware of what altitude sickness looks like.
If you're doing extended solo trekking (i.e. without a guide or tour group) in Ecuador or if know you have a bad reaction to altitude, I'd recommend getting a prescription for altitude sickness medication from your doctor. For most people, this will be entirely unnecessary, but trekkers should get Acetazolamide (Diamox), Dexamethasone, and Nifedipine and understand how to use them in case of an adverse reaction to the altitude.
I wrote two extremely detailed posts about the different types of altitude sickness and how to prevent/treat it on your trip, so I'd recommend reading both of these for a lot more info:
Safety in Ecuador
Generally speaking, Ecuador is a very safe country, even for solo female travellers, as long as you use common sense and take some basic safety precautions.
Really, the main places you need to be alert are Quito and Guayaquil— it's probably best not to walk around alone at night, always take an Uber rather than a taxi, and keep your personal belongings close in crowded public areas. During the day, I was more than comfortable alone, even carrying my camera, but don't do anything to make yourself a target for petty theft (e.g. don't put your phone/money in a back pocket if you're walking through a crowd of people).
Travelling on public buses, you also need to be very aware of your belongings, such as placing your large backpack/suitcase under the bus by yourself (not letting someone carry it off the bus "to put it underneath for you") and keeping your carry on items in your lap or at your feet. I didn't experience it myself, but there are a number of known bus-related scams in Ecuador, so just make sure to keep an eye on your valuables and you should be fine.
Here are some BASIC and very common sense tips for keeping safe in Ecuador:
Buy a local SIM card and use Google Maps to avoid getting lost in a new city. Read more about that in Communication & connectivity below.
Rather than getting in a taxi off the street, call an Uber, have your hostel call you a taxi, or use an app like Cabify. This is especially important at night or if you are travelling alone!
Ask at hostel reception if it's safe to visit a certain area alone at night before you go out, and if not, make some friends to go with you or wait until a safer time.
Don't carry large amounts of cash on your person and definitely don't carry them in an obvious way. It's fine to bring a purse or backpack around town if you keep a close watch on it (so don't set it down), and you REALLY don't need a ridiculous nude-coloured money belt.
There was no where in Ecuador where I felt like I couldn't have my camera out during the day (and I've got a pretty large DSLR), so as long as you keep a hold on your electronics and pay attention to your surroundings, and you should be fine.
Bring a lock so you can secure your valuables in a locker at your hostel while you're out during the day.
Bus stations in Ecuador, and even buses themselves, are the most likely places to encounter petty thieves, so make sure to hold your bags securely, place any large items under the bus YOURSELF, and keep your valuables in your lap for the ride.
Language barrier in Ecuador
As with most everywhere in South America, there is a very real language barrier in Ecuador and I really wouldn't recommend travelling here without learning some basic Spanish phrases. Any tour guides will speak English, but most waiters, cashiers, hostel staff, taxi drivers, bus station employees, and just general people on the street won't speak a word. Yes, seriously, sometimes hostel reception will not speak ANY English.
The exception to this is the Galápagos, where most everyone works in tourism and therefore typically speaks at least a basic level of English, but it still doesn't mean that everyone does (at one of the hotels I stayed in, none of the staff knew any English at all).
Even just learning how to order food, buy bus tickets, ask for directions, and pay for things in Spanish will make your trip to Ecuador so much smoother (and actually more enjoyable). When in doubt: Google Translate, which can be downloaded for offline use).
Some useful phrases to master now:
Habla Inglés? | Do you speak English?
Lo siento | I'm sorry
Disculpe | Excuse me
De donde eres? | Where are you from?
Me llamo [your name] | My name is ….
Yo tengo venticinco años | I am 25 years old
Estoy viajando por seis meses | I am travelling for 6 months
Yo necesito comprar un boleto a [your destination] | I need to buy a bus ticket to [your destination]
A qué hora es el próximo bus? | What time is the next bus?
Cuánto cuesta? | How much does it cost?
Donde esta el baño? | Where is the bathroom?
La cuenta, por favour | The check, please.
Communication & connectivity in Ecuador
Local SIM cards
I'd highly recommend getting a local SIM card when you arrive in Ecuador, as this will allow you to use Google Maps and Uber to get around (absolutely essential in bigger cities like Quito and Guayaquil). Apparently only citizens can buy an actual SIM card, so you'll probably end up buying a tourist SIM card at a higher rate, but it's still worthwhile!
Movistar tourist SIM cards are available in the Arrivals Hall of the Quito airport for $25USD, which includes 2GB of data, unlimited WhatsApp, and some calling/texting credit (which you probably won't use). I found reception to be perfectly adequate, especially on the mainland, and it was excellent peace of mind to know that I could always pull up maps if I got lost or call a car if I wanted to head back to my hostel!
Wifi access
Most every hostel or Airbnb in Ecuador offers wifi, but outside of this, you can also find free wifi at some cafes and restaurants. This is obviously restricted to more touristy destinations, but there are very few occasions travelling through Ecuador where you wouldn't be able to find wifi somewhere if you really needed it— and the places where you can't, like the National Park, it's probably better to unplug anyway!
You can use an app like Wifi Map to find heaps of free public wifi hotspots or restaurants that offer wifi to customers in any city, including most of Ecuador.
Packing list for Ecuador
I've written 2 different detailed packing lists for Ecuador, so you can check them out below:
More about Ecuador on Brooke Around Town
THE PERFECT 2-3 WEEK GALÁPAGOS & MAINLAND ECUADOR TRAVEL ITINERARY
AN HONEST REVIEW OF ECUADOR HOP
9 AMAZING THINGS TO DO IN BAÑOS: A GUIDE TO ECUADOR'S ADVENTURE CAPITAL
RUTA DE LAS CASCADAS: BIKING THE WATERFALL ROUTE IN BAÑOS, ECUADOR
HIKING TO REFUGIO JOSÉ RIVAS & COTOPAXI GLACIER IN ECUADOR
WHAT TO DO IN QUITO: 12 AWESOME THINGS TO DO IN ECUADOR'S CAPITAL
THE BEST PLACE TO SCUBA DIVE WITH MANTA RAY IN ECUADOR: BAJO COPE, AYANGUE
ABSOLUTELY EVERYTHING YOU NEED TO KNOW ABOUT A LAND-BASED TRIP TO THE GALÁPAGOS (WITHOUT A CRUISE)
GALÁPAGOS PACKING LIST: WHAT TO PACK FOR A LAND-BASED TRIP
GALÁPAGOS ON A BUDGET: SANTA CRUZ ISLAND & PUERTO AYORA TRAVEL GUIDE
A DAY TRIP TO ISLA BARTOLOMÉ, THE MOST PHOTOGENIC ISLAND IN THE GALÁPAGOS
GALÁPAGOS ON A BUDGET: ISLA ISABELA & PUERTO VILLAMIL TRAVEL GUIDE
SNORKELLING AT LAS TINTORERAS ON ISLA ISABELA, GALÁPAGOS
LOS HUMEDALES & EL MURO DE LAS LÁGRIMAS: A GUIDE TO CYCLING TO THE WALL OF TEARS ON ISLA ISABELA
SNORKELLING AT LOS TUNELES: THE BEST DAY TOUR ON ISLA ISABELA, GALÁPAGOS