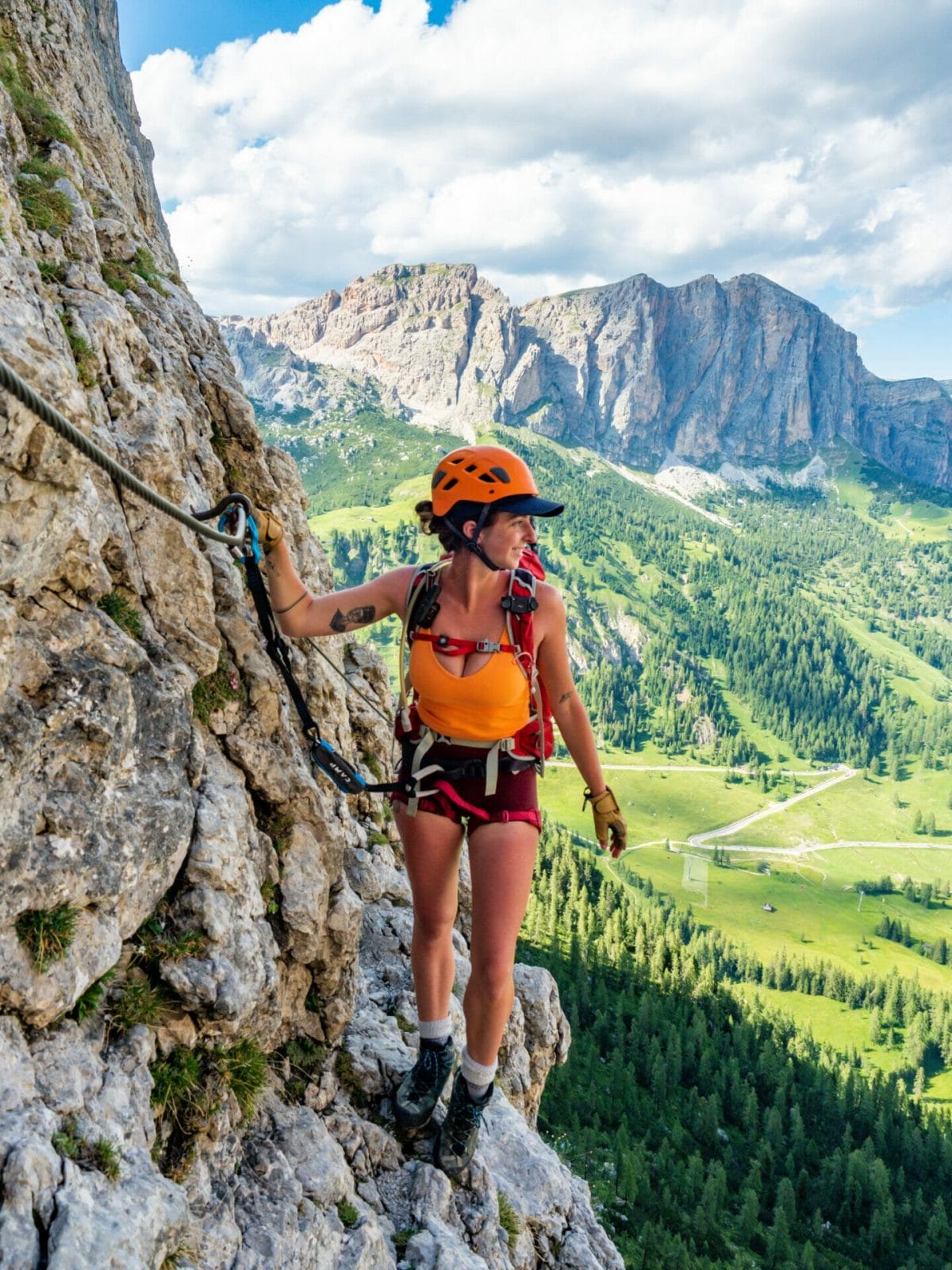 Alta Via 2 (day 3): Rifugio Puez to Rifugio Pisciadú + Via Ferrata Gran Cir, Piz da Cir, Brigata Tridentina
Day 3 is where via ferrata along AV2 really take centre stage, with three excellent climbs possible throughout the day. Even if you aren't tackling my "adventure route" on your own hike, you'll still have some unavoidable via ferrata cables today and may just find that it's more fun than you'd thought!
To the eager climber, I'd also give the following advice: today's via ferrata get bigger and better as you go, so assess how you're tracking when you arrive to Jimmi Hütte and cut the first via ferrata if you have any concerns about fitting all 3 into the day. Whatever you do, do NOT miss Brigata Tridentina up to Piscadiu; this is one of the best via ferrata in all of the Dolomites!
This comprehensive guide to Day 3 of Alta Via 2 contains detailed section times, route recommendations, adventurous side trips, via ferrata, and heaps of insider tips— use it to plan your hike & then refer back on the trail so you always know what to expect!
For a complete Alta Via 2 planning guide, check out this post: COMING SOON
Alta Via 2: Day 3 overview
Stats quoted here are for my recommended "adventure route" that incorporates side trips, summits & via ferrata whenever possible (in brackets, see stats for the standard AV2 route with no additions).
Trail hours: 8hrs (4.5hrs standard AV2)
Distance: 13km (10.5km standard AV2)
Elevation gain & loss: 1450m up & 1155 down (945m up & 645m down standard AV2)
Side trips: Via Ferrata Gran Cir (up & back; 1A), Via Ferrata Piz da Cir (small loop; 2A), Brigata Tridentina (en route; 3B) — rating system
Huts: Jimmi Hütte, Rifugio Pisciadú
Rifugio Püez to Forcela di Cir via Sass da Ciampac (2.5hrs)
Leaving the hut early this morning for an adventure-filled day, the trail first meanders gently along a grassy plateau, peering occasionally to the deep valley floor some thousand metres below.
The scenery is incredibly dramatic, especially as you descend a trail that seems almost to be suspended in the air. After 45min, you'll reach a junction— continue straight for the classic AV2 route, but head left for a recommended alternative that climbs to the summit of Sass da Ciampac for incredible views.
Allow about 1hr from the trail junction to reach the high point at Sass da Ciampac and drop quickly back to the main trail, rejoining just before a wooden gate that brings you into a large rock basin.
After another descent and short climb, you'll arrive to a second gate about 30min later, which marks Furcela de Cir. Surely you'll know it by the surprising number of people, something unusual up until today on AV2— prepare for crowds as you hike onwards. 
Forcella di Cir to Jimmi Hütte (30min)
From the bustling Forcella di Cir, it's a quick drop on a rocky trail to reach Jimmi Hütte, which serves a number of well-rated food and drink options on their breathtaking balcony looking right out onto the striking Sella Group. 
Via Ferrata Gran Cir (1A; 1hr)
Hustling along from the hut, travel about 10min on trail before turning right at a subtlety marked junction (look for a low sign that notes "AVS CIR") and climb up a steep rocky trail towards the day's first via ferrata. If you're keen to move a little faster, look for a spot to drop your big pack off the side of the trail before continuing upwards. 
Allow 30min to the summit of Gran Cir, the highest peak in the Cir Group, and another 30min to return to your pack. The route is only 1A, so it's a nice warm up for the 2A and 3B still to come!
Via Ferrata Piz da Cir (2A; 1hr)
Continue a short distance along the main trail before connecting to another uphill route that leads to Via Ferrata Piz da Cir. It's an incredibly popular (and therefore crowded) route, but for good reason— if you felt that you only had time for one of these first two via ferrata, this would absolutely be the pick.
This 2A is a lot more scrambly than the 1A completed previously, and you'll want to allow about 50min up and 20min down (but expect to be queuing occasionally on your ascent). 
The down path actually goes up and over the summit to return via a different route with fewer cables and more scree. It's short enough, and drops you directly onto the cable car to Passo Gardena (6€; pay on arrival to the lower station).
If time allows, grab a beer at Dantercëpies and enjoy the view!
Via Ferrata Brigata Tridentina (3B; 3.5hrs)
From the cable car at Passo Gardena, it's a somewhat steep 20min ascent to a trail junction in the scree field— by afternoon, dozens of hikers are descending from the via ferrata and the ascent path straight ahead/left (not up!) is practically empty. 
Follow signs towards Rifugio Pisciadú that specify "Via Ferrata/Kleitersteig" (there is an alternate route that requires much less climbing, but where's the fun in that?!). The trail leads you below the high limestone walls and, after about 45min of hiking, onto cables that continue for more than 400m (1300ft) of sustained climbing. 
Before the final stretch (about 2hrs from the cable car), there is a bail-out marked as "easy climb" that avoids the most challenging via ferrata, but also many of the route highlights— stay the course and continue upwards for another 40min!
Built in 1960 by the Italian Army, Brigata Tridentina is considered to be the most popular via ferrata in the Dolomites and we'd heard plenty of stories about long lines and tediously slow crowds, but were entirely alone on the cables by about 4pm— yet another reason this I'd recommend stopping to complete the 2 earlier via ferrata!
Between the hundreds of pegs, stemples, rungs, ladders, and even the iconic suspension bridge connecting Torre Exner and Mur de Pisciadú, Brigata Tridentina was hands down one of the best via ferrata I completed during my month in the Dolomites. 
Difficult sections add intrigue, the exposure is often dizzying, and the views are unparalleled— this is via ferrata at its absolute best, a true marriage between big wall climbing and protected scrambling. 
Once off the wire, it's a gradual 15min ascent to Rifugio Pisciadú, where a well-earned meal and a deep sleep await!
Night 3: Rifugio Pisciadú
Situated beneath the soaring Sella Group and Pisciadú Peak, Rifugio Pisciadú was among my favourite huts (and the approach on Via Ferrata Brigata Tridentina definitely influenced that!). 
The views are wonderful, the dining room is cozy and intimate, the food is simple but hearty, and the rooms are very comfortable— we managed to get a 6-bed dorm all to ourselves, which meant double pillows and double blankets for me. Reserve Rifugio Pisciadú on their website.
Rooms: 33€ (dorms only, but some small dorms & our 3pax had 6pax room to ourselves)
Food: A la carte (approx 10-15€ for dinner, 14€ for 1L of wine, 4.5€ Aperol spritz, 12€ breakfast)
Showers: 3€ for 4min (4-6pm only)
Connectivity: Wifi & weak mobile signal
Alpine club discount: -10€ half board
RIFUGIO GUIDE COMING SOON
Read more about Alta Via 2